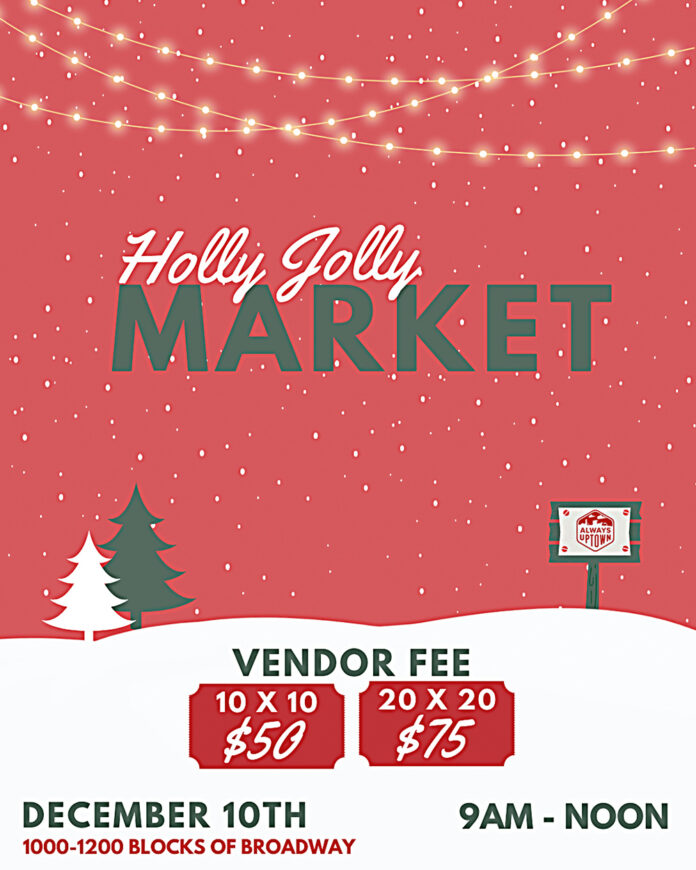 CONTRIBUTED BY
UPTOWN COLUMBUS
COLUMBUS —
Uptown Columbus announced last week its Holly Jolly Market will come this December. Guests will be able to shop for the holiday season, partake in festive activities and visit with Santa.
Uptown hosts the annual Market Days on Broadway from April through November and is now offering this additional one-day holiday market to kick off the holiday season. The Holly Jolly Market will be a one-day holiday market on Broadway open to all vendor types. The market will be held on Saturday, Dec. 10 from 9 a.m. to noon along the 1000-1200 blocks of Broadway.
The Uptown Holly Jolly Market is $50 for a 10-by-10 booth space or $75 for a 20-by-20 space. Vendor spaces are limited and available on a first-come, first-served basis. It's the perfect opportunity to shop for holiday-inspired items and local baked goods or find Santa strolling through Uptown. Guests may pose for a picture with him (or give him their wish lists).
"Why not take the challenge to only shop locally this year by shopping at our Holiday Market or at one of our local boutiques, jewelers, specialty stores or one of our numerous fine dining restaurants?" said Tracey Green, director of communications and marketing for Uptown Columbus. "Gift cards make wonderful stocking stuffers. With live holiday music and a visit with Santa, the Holly Jolly Market will have a little bit of everything for everyone to enjoy."
To learn more about Uptown's Holly Jolly Market or to apply as a vendor, contact Uptown Columbus at info@uptowncolumbusga.com or visitОшибка! Недопустимый объект гиперссылки.www.alwaysuptown.com/holly-jolly-market-vendor-application.