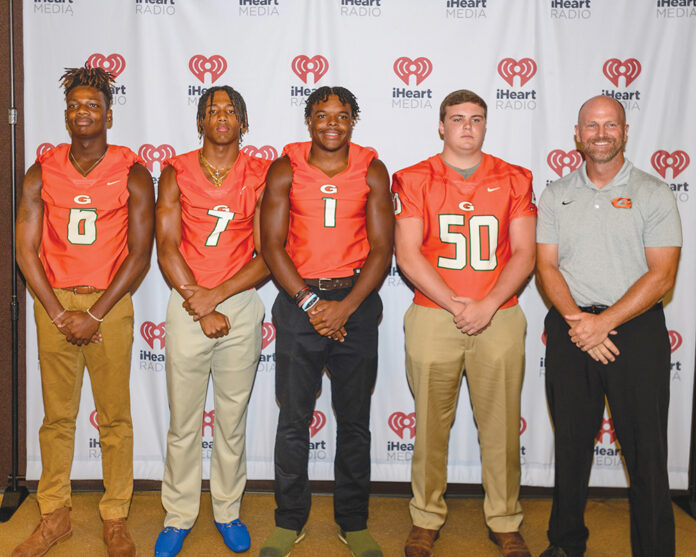 Glenwood Motivated by
Championship Expectations
BY WIL CREWS
SPORTSCREWS@OPELIKAOBSERVER.COM
Losing in the AISA Class AAA state championship game the previous two years, the Glenwood Gators football team has unfinished business.
"Last year was an unbelievable ride that just didn't finish how we wanted it to," said Glenwood head coach Jason Gibson. "The team prior to that set the standard; We have got to get over the hump this year."
Coming into the 2021-22 season, the Gators have to replace three all-state players: quarterback Jackson Griner, running back Kye Robichaux and middle linebacker BJ Snellgrove. The team has been working hard this offseason to make up for the loss in production.
"They have worked their butts off since January," Gibson said. "Probably one of the best offseason weight rooms I've had since we've been there. It's exciting and its pressure. But I don't mind putting the pressure on them – they can handle it."
While Gibson and his coaching staff have raised their expectations, the players themselves have taken an onus and collectively decided to put in more work.
"The state championship [loss] is a taste in my mouth that I want get rid of," said junior wide receiver and 5-star prospect AJ Harris. "I believe that working is how you get to where you want to be. And it's just a blessing to have teammates who buy into that as well. Everybody wants to get back there, and this time, finish it."
Harris was electric for the Gators last season as a receiver, defensive back and return man. His lockdown defense and one-touch scoring ability has made him one of the most coveted players in his class. Despite his recruiting frenzy, Harris is focused on one thing this fall: winning.
"You have to compartmentalize things as far as understanding it's time for recruitment or it's time to lock in with the team and get ready to go win the state championship," Harris said. "Especially with the talent that we have, the standard is to win this year."
While his skills are apparent on the field, Gibson lauds how Harris carries himself off it, too.
"I think everybody in the country pretty much knows who AJ is — he's a special kid," Gibson said. "What I love about AJ — with all the accolades he's receiving and all the offers he's getting — is when we are in the weight room, he's over there in the corner with the ninth grader, and he's got a 5-star prospect in his face cheering him on. And that's why he is who he is."
The type of team-player mentality that Harris possesses has trickled throughout the whole team. And it's one of the reason's the Gators are confident coming into this season.
"As a team, we are very proud to go to state, but it's kind of an expectation now," said senior safety Tariq Maple. "So, we just plan on getting back, working harder and getting it done this time."
Receiver, linebacker and defensive back Ron Beauchamp also understands how important it is to work hard and set an example.
"We got younger folks looking up to us at Glenwood, we got to lead by example," he said. "It's really just second nature now."
Senior offensive lineman Will Graham is another team leader who has witnessed the increased buy-in from the group.
"Everyone as a collective unit started doing more and more," he said.
Many on this Glenwood team have been together for three, four, even five years now. Despite the lofty goals and expectations, the team's chemistry and commitment has fostered an element of trust between Gibson, his staff and the players.
"It's a fine line between being that authoritative figure where you're riding over them all the time and demanding all the time," Gibson said. "The class that we have now, these guys that are sitting here have been with us so long, they know exactly what we want."
Gibson is proud of how hard his team is working — how much they want to finish the job and win state. Ultimately, it gives him confidence going into the season.
"I just can't tell you enough how hard these guys work … they're talking, eating and breathing football 24/7," he said. "We're going to be pretty good."
Glenwood Gators Schedule:
8/20 – @ Bessemer
8/27 – Escambia
9/3 – @ Lee-Scott
9/10 – Valiant
9/17 – @ Springwood
10/1 – @ Monroe
10/7 – @ Hooper
10/22 – Pike
10/29 – Autauga