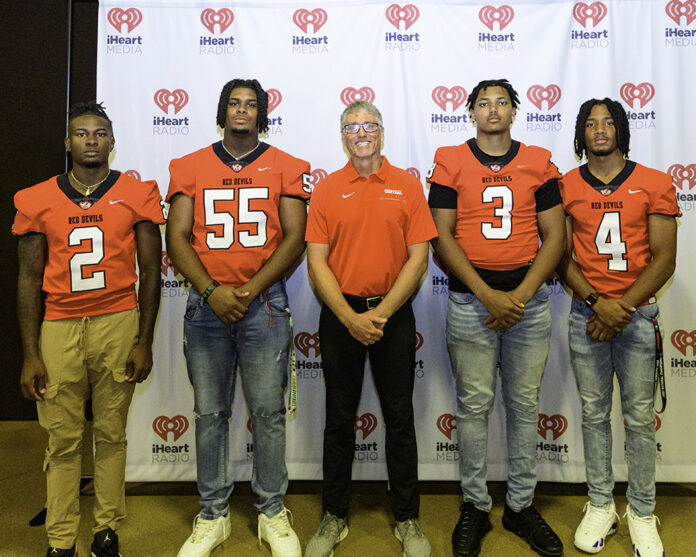 Central Phenix City Reloads for 2022
BY HARRISON TARR
FOR THE OBSERVER
PHENIX CITY ––
After seeing their season draw to its conclusion on the losing side of the 2021 state championship game, the Central High School Red Devils are out for vengeance starting next month. Since ending their season with a bad taste in their mouths, head coach Patrick Nix and company have gone back to work on reloading and developing a schedule which might set the red and black up to return to the big dance in 2022.
"Excited about this season," Nix said. "We've got a great schedule ahead of us. Arguably the best region in the state of any classification. Being in our class with Opelika and Lee coming in, now we have six teams that were in the playoffs last year."
With all of the outside factors set in place, the head coach has had the opportunity to concentrate on developing what he believes to be a championship-caliber roster.
"Very excited about the players we have," Nix said. "We have a lot of holes to fill, a lot of seniors from last year that are off doing their own thing now at different colleges, very proud of them. We are very excited about what we have this coming year and going forward."
On the defensive side of the ball, Nix has one sure replacement for graduated talent: transfer cornerback and UGA commit AJ Harris. The highly touted athlete noted that the coming year presents a multitude of opportunities for success for the Red Devils.
"It's been a great transition," Harris said. "It was definitely a great move and I definitely believe that we have the talent to compete at a state championship. I'm looking forward to getting to compete with my new brothers."
As for Nix, 2022 is a year in which he hopes to display an established culture and shift in mindset for the program as a whole.
"I've always believed that the third season is that hump season," Nix said. "You have a group of guys that only know what we've done. They don't know what's been done in the past, they don't know anything like that, they just know what we've done."
According to the third-year head coach, this season's squad possesses the qualities his staff feels comfortable entrusting power upon.
"I think leadership amongst the players comes when they feel comfortable and when they're empowered," Nix said. "I think that — as coaches — we've empowered this group a lot more because they do know the expectations."
While the region realignment undoubtedly presents new challenges, the head coach remains insistent that his group face quality opponents in the early going, scheduling Hewitt-Trussville as the Red Devils' opening day opponent.
"It's nice to play a team of their quality and to play them early," Nix said. "It will give us an opportunity to see who we are and what we're about in a very good matchup right off the bat."
Central will kick off its season at home on Aug. 19 when the Huskies of Hewitt-Trussville travel to Phenix City in what is likely to be one of the premier matchups in week one of AHSAA football action.