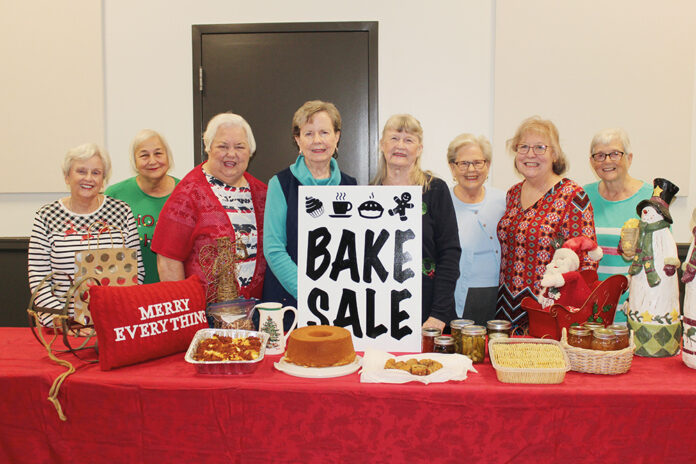 By Ann Cipperly
For over 50 years, the United Methodist Women (UMW) at Auburn United Methodist Church has been baking and cooking for the Christmas Market, originally called a bazaar, with all proceeds going to local missions. Along with baked goods, frozen casseroles and soups, other items include candies, fresh flowers, canned pickles, jellies and jams, arts, crafts and decorations. Over 30 other vendors will also offer baked goods and assorted items.
This year, a food truck will be selling biscuits and sausage, coffee and barbecue. The food truck will be located outside the Epworth Center on South Gay Street.
Proceeds from the Christmas Market go to local missions, including children's after school programs, the women's shelter, Methodist Children's Home, Wesley Foundation, families and many others. They have also helped local families who lost their home in a fire.
Baked goods include layer and pound cakes, cookies, as a well as savory snacks and nuts. Frozen meat and vegetable casseroles and soups are available. The cakes are freshly baked and can be frozen. They also take orders for cakes. Assorted cakes and frozen chicken casseroles have been the most popular.
Among the cakes this year are Mamae's Chocolate Cake with Chocolate Icing, Sour Cream Pound Cake, Cream Cheese Pound Cake, 12 Minutes Pound Cake, Chocolate Pound Cake and others.
Cookies include Alabama Pecan Bread that tastes like pecan pie bars, Cinnamon Peanut Butter, Oatmeal Crunches, Old Fashioned Gingersnaps, Sand Tarts, among others.
Favorite frozen casseroles and soups include American Lasagna, Ground Beef Stroganoff, Chicken and Rice Casserole, Mexican Chicken Casserole, Sweet Potato Casserole, Squash Casserole, Charlotte's Hamburger Casserole, Chicken and Wild Rice Soup, Grammie's Minestrone and others.
Additional food items include Divinity, Peanut Butter Pie, Bishop Bread, Beer Bread, Toasted Pecans, Firecrackers and other candies, pickles, jellies and jams.
During the busy Christmas season, a casserole or soup in the freezer is great to have on hand on a hectic day to simply place in the oven and reheat. Cakes and baked goods are also wonderful to have tucked away in the freezer.
Margaret Stephens is president of the UMW, and Mary Richburg is chairman of the Christmas Market.
"The Market is an event showcasing visual arts, baked goodies, ceramics, woodwork, prints, sewing and multimedia crafts," Mary said. "The UMW has hosted the community event for over 50 years using proceeds to support community areas of need. Come shop, eat breakfast or lunch, and enjoy visiting with friends and talented vendors."
At one time the UMW at Auburn Methodist included nine circles that met at different times. They currently have two circles. These two groups are active and carry on projects, which includes organizing the annual Christmas Market with over 30 vendors.
The UMW 's history goes back 150 years to the Women's Foreign Missionary Society in Boston. Wives of missionaries in India, Mrs. William Butler and Mrs. Edwin Parker, were home on furlough when they spoke to a group of eight women and told them about the
desperate spiritual and physical needs of women in India.
At that time, a male doctor would not treat women, and schooling for girls was almost nonexistent. The group founded the Women's Foreign Missionary Society, raised funds and sent a female educator and doctor to India.
The group later became United Methodist Women. They support local missions as well as foreign missions.
The Christmas Market will be held at the Epworth Center in back of the Auburn United Methodist Church at 137 S. Gay St. Booths will have extra space between them to provide a safer health environment. Parking will be free. Cash, checks or credit cards are accepted. For additional information, contact Mary Richburg at aumcwomenchristmas@outlook.com.
Members of the UMW are sharing a sampling of desserts, casseroles, soup and snacks that will be offered at the bake sale.
Alabama Pecan Bread
Tastes like pecan pie in a bar cookie! A favorite from Louisiana UMW.
Debra-Lyn Rollins
1 cup sugar
1 cup brown sugar
4 eggs, beaten
1 cup oil
1 ½ cup self-rising flour
1 tsp. vanilla
2 cups pecans, finely chopped
Preheat oven to 350 degrees. Lightly grease and flour 9 x 13 inch baking dish.
Using a wooden spoon stir together sugar, brown sugar, eggs and oil in a medium bowl until smooth.
Stir in flour and vanilla. Add pecans, then stir until evenly mixed.
Spoon into prepared pan and bake for 30 to 35 minutes.
Cinnamon Peanut Butter Cookies
Flavin Glover
½ cup shortening
½ cup peanut butter
½ cup granulated sugar
½ cup brown sugar (packed)
1 egg
1 ¼ cups all-purpose flour
3/4 tsp. soda
½ tsp. baking powder
¼ tsp. salt
1 tsp. cinnamon
Heat oven to 375 degrees.
Mix thoroughly shortening, peanut butter, granulated sugar, brown sugar and egg.
Combine flour, soda, baking powder, salt and cinnamon. Add to mixture.
Shape dough into 1-inch balls. Place 3 inches apart on lightly greased baking sheet. With fork, flatten dough in crisscross pattern.
Bake 10 to 12 minutes or until set. Makes about three dozen cookies
Recipe can be doubled with ease.
Oatmeal Crunchies
Margaret Stephens
1 cup butter, softened
1 cup sugar
1 cup brown sugar, firmly packed
1 egg
1 cup vegetable oil
1 tsp. vanilla extract
1 cup regular rolled oats
1 cup crushed cornflakes
½ cup shredded coconut
½ cup ground walnuts or pecans
3 3/4 cups flour, sifted
1 tsp. baking soda
3/4 tsp. salt
Cream together butter and sugars until light and fluffy. Add egg, mixing well. Add oil and vanilla extract; mix. Add oats, cornflakes, coconut, and nuts. Stir well. Add flour, baking soda, and salt. Mix well and form into balls the size of small walnuts.
Place on ungreased cookie sheet and flatten with fork dipped in water. Must be flattened for proper texture. Bake in a preheated 325-degree oven about 12 minutes. Allow to cool on cookie sheet for a few minutes before removing. Makes about eight dozen.
Firecrackers
Ann Whatley
1 box saltine crackers
1 ½ cup canola oil
2 packages ranch dressing
4 tsp. red pepper flakes or less
Put crackers in a brown paper bag or in an appropriate size container with a top. I prefer a square plastic box that holds one box of crackers securely. Place crackers on edge in container standing up.
Mix remaining ingredients. (I use about a ½ tsp. of red pepper flakes or no pepper flakes as I do not like the spicey taste.)
Pour this mixture evenly over the crackers. Put cover on container. Shake crackers periodically for 1 hour so the mixture is distributed over the crackers.
Pack in a container for storage. Serve with cheese or serve alone.
Mamae's Chocolate Icing for Layer Cake
Lyn Woodham
Mamae was my mother-in-law, Mabel Woodham, from Hartford, Alabama. This is a multi-generation all-time family favorite recipe! It's simple and easy to make as long as the humidity is low.
3 ½ cups sugar
Pinch of salt
4 heaping Tbsp. cocoa
1 cup evaporated milk
Combine the four ingredients in a heavy saucepan with a handle. Mix and stir constantly over medium heat until temperature reaches soft ball..
Remove from heat. Add the following three ingredients:
1 stick real butter
1 tsp. vanilla extract (premium Madagascar or Mexican vanilla)
1 cup miniature marshmallows
Stir with wooden spoon until blended. Set the pan in sink that is filled with 1 to 2 inches cold water for 3 to 4 minutes. Stir until good spreading consistency.
Spread on cake layers, adding evaporated milk as needed to the pan to keep the icing spreadable.
If any icing is left over, make candy and add pecan half to each top.
Just Fine Cake Layers for Mamae's Icing
Lyn Woodham
1 box Duncan Hines Butter Cake Mix
4 eggs
1 stick butter
2/3 cup milk
Follow package instructions for mixing and baking cake in 3 round layer pans. Allow to cool before icing.
Sand Tarts
Mary Richburg
Christmas goodies always include Sand Tarts in my family. The recipe is shared from generation to generation with loving memories.
1 cup butter, room temperature
5 Tbsp. confectioners' sugar
2 cups flour
1½ cups pecans, chopped
2 tsp. vanilla
Cream butter and sugar. Add other ingredients. Mix well and roll into small balls.
Bake at 350 degrees for half an hour (check to see if done before as ovens vary as well as size of cookies). Roll in confectioners' sugar while warm.
For variation, form the ball around a chocolate kiss or chip.
American Lasagna
Margaret Stephens
1 Tbsp. fat (oil or butter)
1 lb. ground beef
2 cloves garlic, chopped
6 oz. can tomato paste
Number 2 can diced tomatoes (2 ½ cups), not drained
1 tsp. salt
3/4 tsp. pepper
½ tsp. ground oregano
8 oz. pkg. wide egg noodles (not lasagna noodles)
8 oz. Swiss cheese slices plus 2 additional slices to top the lasagna, if desired. If you wish, you can use a mix of regular and aged Swiss cheese slices.
12-oz. carton regular cottage cheese
Grated Parmesan cheese, optional
Brown ground beef and chopped garlic in fat. Add tomato paste, diced tomatoes, salt, pepper and oregano. Cover and simmer 20 minutes.
Cook noodles according to package directions. Do not overcook. Drain noodles.
In an 11 x 7-inch baking dish, alternate layers of cooked noodles, Swiss cheese slices, cottage cheese and meat sauce.
Top lasagna with two additional slices of Swiss cheese for decoration, if desired. Bake at 350 degrees in a preheated oven for 20 to 30 minutes. Serve with grated Parmesan cheese, if desired. Makes 6 to 8 servings.
Sour Cream Pound Cake
Lorna Wiggins' recipe by Julia Norton
1 cup butter, softened
3 cups sugar
6 eggs
3 cups all-purpose flour
¼ tsp. baking soda
1 cup sour cream
Grease and flour a 12-cup Bundt pan. Cream butter and sugar. Add eggs; beat well. Add remaining ingredients and beat well. Pour batter into the prepared pan.
Place in cold oven, and set temperature at 300 degrees. Bake for at least 1 hour and 25 minutes or until the knife comes out clean.
Old fashioned Gingersnaps
Debra-Lyn Rollins
¾ cup shortening
1 cup sugar, plus additional sugar for rolling
1 large egg
¼ cup molasses
2 cups all-purpose flour
2 tsp. baking soda
1 ½ tsp. ground ginger
1 tsp. ground cinnamon
½ tsp. salt
Coarse sugar, if desired.
Preheat oven to 350.
Cream sugar and shortening until light and fluffy.
Beat in egg and molasses.
In a separate bowl mix flour, soda, ginger, cinnamon and salt.
Gradually add to creamed mixture and mix well.
Shape tablespoons of dough into balls. Roll in sugar and press coarse sugar into top, if desired.
Place 2 inches apart on silicon pad or greased parchment paper on baking sheet. Bake until lightly browned and crinkly about 12 to 15 minutes. Remove to wire racks to cool.
Chicken and Rice Casserole
Judy Melville from Edith Jones
2 cups uncooked rice (cook until just tender) Success and Uncle Ben's rice have been used to make this dish.
Gently warm 2 cans of cream of chicken soup.
Remove from heat and add:
1 ½ cups mayonnaise
½ cup onions, finely chopped
2 cups celery, chopped fine
5 ounce can water chestnuts drained and thinly sliced. I cut the water chestnuts in half.
5 tsp. lemon juice
1 tsp. salt
2 oz. jar chopped pimento, drained
2 7 oz. cans sliced mushrooms
Add rice to all this and gently, stir.
Fold in about 5 cups chicken, cooked, cut into bite size pieces (I use breasts and boil for a good while so that it is tender) Also you can use boneless, skinless chicken breasts cooked in chicken broth in a crock pot.
Pour into a greased 9 x 13 x 2 (I use Pam).
Topping:
Mix 1 cup good cracker crumbs (like Ritz or Waverly wafers) with ¼ cup melted butter or margarine. I crush 1 sleeve of Ritz crackers. (One sleeve has 35 crackers. I use 1 sleeve and a few more crackers) Spoon over the top.
Refrigerate until ready to use.
Bake 45 minutes at 350 until hot and bubbly.
Serves 12+
This makes a lot (makes 3 8 X 8 pans)
It freezes well. If you split it up and make several smaller casseroles, you may need more crumbs for on top.
Toasted Pecans
Ann Whatley
½ cup salt (will be used in water)
Pecan halves
Water
Fill 1 quart jar with pecan halves.
Pour ½ cup salt over pecans.
Cover pecans and salt with warm water.
Soak pecan mixture for 30 minutes shaking periodically to distribute salt.
After 30 minutes, drain water from jar.
Place pecans on paper towels and let dry for at least 30 minutes.
Bake at 300 degrees for 30 minutes or less depending on your taste and your oven.
Note: I do not cook for 30 minutes as my oven tends to cook faster. My suggestion would be to check periodically for doneness.
Grammie's Minestrone in Minutes
Judy Melville
3 links sweet or hot Italian sausage, sliced 3 links to equal 10.8 oz.
1 cup chopped onion
1 can (16 oz.) tomatoes with liquid, chopped
3 small zucchinis, cubed
3 beef bouillon cubes (see note)
3 cups water
2 cups finely chopped cabbage
2 cans 15.8 oz. Great Northern Beans, drained
1 tsp. dried basil
2 Tbsp. chopped fresh parsley
Grated Parmesan cheese
In Dutch oven brown sausage and onion until tender. Add all remaining ingredients except cheese. Simmer one hour. Sprinkle with cheese. Makes two quarts.
I remove sausage from casing and fry it "loose". Sometimes you can find it bulk at the store, rather than links.
Note: Instead of three beef bouillon cubes and three cups of water, you can use three cups beef broth.
Squash Casserole
Jeanette Parker
3 cups cooked squash
2 medium onions, chopped (cook with squash)
Salt and pepper to taste
16 oz. sour cream or 1 cup mayonnaise
1 can cream of chicken soup
2 eggs
½ stick margarine
16 oz. cheese, shredded
Cracker crumbs
Combine all ingredients except cracker crumbs with cooked and mashed squash and onions. Pour into baking dish coated with nonstick spray. Bake 1 hour covered in 350-degree oven. Remove foil. Add cracker crumbs and some shredded cheese. Heat. Serves 8.
Peanut Butter Ice Box Pie
Mary Richburg
3 oz. cream cheese, softened
1/3 cup crunchy peanut butter
1 cup confectioners' sugar
9 oz. carton frozen whipped topping, thawed
1 graham cracker crust
Blend softened cream cheese with peanut butter.
Add sugar and mix well. Fold in whipped topping.
Pour into graham cracker crust.
Garnish with chopped peanuts, if desired. Chill for several hours.
Suitable for freezing.
Bishop Bread
Nita Ward's recipe from Shan Rumph
1 cup sugar
1 ½ cup sifted flour
2 cups chopped pecans
3 eggs
6 oz. pkg semi-sweet choc chips
1 cup candied cherries
1 ½ tsp. baking powder
½ tsp. salt
1 Tbsp. butter
1 tsp. vanilla
Cream softened butter and sugar, add eggs one at a time, beat well. Mix dry ingredients, then add along with vanilla. Don't overmix. Chop cherries and mix with some of the dry ingredients to coat. Add along with nuts.
Bake in a greased and lined loaf pan. 1 ½ hours at 325 degrees or until done. Let cool completely before removing from pan. Slice cold.
Make almost every year for a special friend. She freezes and slices off a bit as a special treat.
12 Minute Pound Cake
Deana Prather's recipe from Shan Rumph
2 sticks soft butter
5 eggs
2 cups flour
1 3/4 cup sugar
1 tsp. vanilla
Measure all ingredients into bowl in any order. Beat 12 minutes on medium speed. Pour into tube pan. Bake at 325 degrees for about 1 hour and 15 minutes. Freezes well.
Beer Bread
Betty Worthington's recipe by Julia Norton
3 cups self-rising flour
1 can beer
½ cup sugar
Combine all ingredients and mix. Pour into a greased loaf pan. Bake at 350 degrees for 45 minutes.
1 stick butter, melted
Pour butter over bread and continue to bake for 15 minutes.
Ground Beef Stroganoff
Suzelle Hare McGehee's recipe from Mary Richburg
1 lb. ground chuck, round steak or hamburger
1 can sliced water chestnuts
½ cup onions, chopped
1 tsp. salt
¼ tsp. paprika
1 small can sliced mushrooms
1 can cream of chicken soup
½ stick oleo or butter
1 tsp. black pepper
Chow Mein noodles
¼ cup red wine, optional (Suzelle used sherry)
1 cup sour cream
Sauté the onions in oleo or butter. Mix beef, salt, pepper, paprika well and add to onions. Cook until meat is good grayish color, but not browned. Drain the meat. Add mushrooms, chestnuts, and soup. Cook on low heat for 5 minutes.
Add sour cream and red wine or sherry, if using, and burn off heat or keep on very low. Serve on rice with chow mien noodles on top. Serves 4-6. Serve with French bread and tart salad. Good dish to freeze. To reheat, place in preheated oven at 300 to 325 degrees for 15 to 20 minutes.
Cream Cheese Pound Cake
Tom Tippet's recipe from Ann Whatley
3 cups all-purpose flour (preferably White Lily)
3 cups sugar
6 large eggs (brown)
8 oz. block of cream cheese
3 sticks butter
¼ tsp. salt
½ tsp. vanilla flavoring
½ tsp. almond flavoring
Remove eggs, cream cheese, and butter from the refrigerator and sit at room temperature for a while.
Cream the cream cheese and sugar. Gradually add the sugar and mix well until there is a creamy blend.
Add one egg at a time and mix thoroughly after each egg is added.
Add the flavorings and continue to mix at a moderate speed.
Sift the flour twice, adding during the last sifting.
Gradually add flour at a slower mixing speed.
Preheat oven to 325 degrees and bake for 1 hour and 25 minutes.
Check cake with a probe toward the end to see if it is cooking thoroughly. If the probe indicates no batter on it, the cake is done.
Remove from the oven and let cool on a wire rack for about 10 minutes.
Note: This recipe was shared by Tom Tippett, a minister from Opelika. He would bring this to the annual Whatley stew cooking. He would time it so that he always brought a warm pound cake. It is a delicious cake. A very good friend of mine, Jo Ann Laney, a member of the Crawford United Methodist Women, also shared this recipe with me.