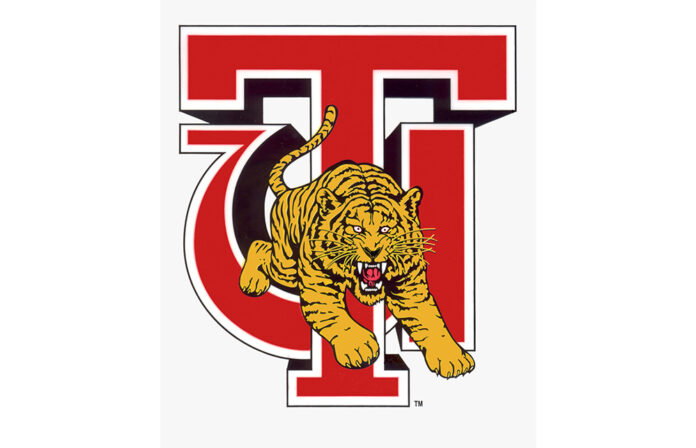 CONTRIBUTED BY TUSKEGEE
Tuskegee University Director of Athletics and head coach Reginald Ruffin finalized his coaching staff with the announcement of five additions for the 2022 season.
The Golden Tigers added a trio of coaches on the offensive side in offensive coordinator Aaron James, wide receivers coach Clinton Smith Jr. and running backs coach James Thompson. Meanwhile, they also brought in defensive coordinator Rashad Watson and defensive line coach Tommie Lewis Jr., who will also handle football operations responsibilities.
James returns to Tuskegee after a year at Division I Bethune-Cookman where he served in the same role. He is no stranger to the Golden Tigers or the SIAC however, as he was an assistant on four SIAC championships with Miles (2011, 2015, 2018, 2019) as well as in 2012 in the Division II playoffs. Prior to Miles, James' career included stays at Lane and Clark Atlanta.
James is more known to Golden Tiger fans as their All-SIAC quarterback from 1998-2001, where he compiled a 42-5 record as a starter. He won three SIAC championships during his career and led the Golden Tigers to a 12-0 season and HBCU National Championship in 2000
Watson joins the Tuskegee staff after coming over from Miles College, where he served in the same role for the previous two years. During his tenure with the Golden Bears, he turned a Miles defensive unit that was at the bottom of the SIAC in 2018 to one of the best in the NCAA Division II ranks. During the 2019 campaign, Miles was nationally ranked in passing yards allowed, rushing defense, tackles for loss, defensive third down conversions, defensive touchdowns, total defense and sacks. Meanwhile, three defensive players were named to the All-SIAC team after allowing just 12 points total over the final three must-win regular season games.
Prior stops from Watson include Benedict, Franklin Pierce, Missouri State and Morehouse. He played four years collegiately at Alabama A&M (1997-2001). Originally from Bessemer, Alabama, Watson is a two-time graduate of Alabama A&M, with a bachelor's degree in business management and a master's degree in business marketing.
Lewis jumped right into coaching upon his playing career and graduation from Alcorn State, getting his start at Southwestern Oklahoma State before stopping at Southern Mississippi and later returning to his alma mater. He has also made stops at Alcorn State, Southern Mississippi and Southwestern Oklahoma State all on the defensive side of the ball after playing three seasons for the Braves.
Smith Jr. joins the staff after a year at Miles where he served as the quarterbacks coach and co-offensive coordinator. In his lone season with the Golden Bears, Smith helped the program earn its third consecutive Western Division crown before falling in the SIAC Championship game.
Prior to joining Miles, Smith proved to be a prominent high school coach in the state of Alabama after six years as the head coach at Hillcrest-Evergreen (Ala.) High School where he led the Jaguars to a 48-29 record and six straight Alabama 3A playoff appearances. Smith and his staff won the 3A State Championship in 2017 after defeating Randolph County, 26-14, setting school records for wins and points scored in a season.
Thompson comes on as the running backs coach after two seasons begins his second season at Alabama State in a quality control position. Prior to his collegiate coaching career, he spent six of those seasons as a head coach at the school level, including three at Pickens County (Tuscaloosa) where he won two region titles and went to back-to-back state championships in 2016 and 2017.
The last three seasons he spent as the head coach at G.W. Carver (Montgomery) posting one of the most successful stints in school history including an 8-0 start in his first season and a city championship in 2020. He posted a 50-22 record overall as a head coach, including a 26-9 region record.
FOLLOW THE TIGERS ON SOCIAL
For complete coverage of Tuskegee University athletics, follow on social media at @MyTUAthletics (Twitter/Instagram) and visit the official home of Tuskegee University athletics at www.goldentigersports.com.