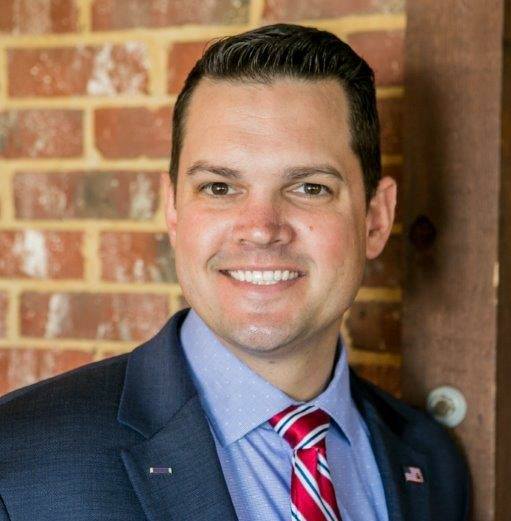 Special to the
Opelika Observer
Todd Rauch, candidate for State Representative in District 38, has always known the path forward was an uphill battle. When he decided to pursue the Republican nomination for State Representative in District 38, it was early January, just five months before the primary election.
As a first-time candidate (and non-politician) with very low name recognition, Rauch knew he had to do four key things in a very short time period:
• Tell people who Todd Rauch is,
• Tell people what Todd Rauch is about,
• Tell people how to pronounce Todd Rauch (it's R-O-W-K by the way), and finally,
• Ask them for their vote. With very limited financial resources, he set his sights on running a lean, but very hard working campaign.
"I believe the way a campaign should be ran is at the grassroots level," Rauch shared, "connecting with voters, learning what matters to them, and personally asking for their vote. I want to serve the people of District 38, being a true meaning of the title, a Representative of the people. What better way to prove my commitment to working hard for them than putting my words into action during the campaign?"
The door knocking paid off in the primary, where he earned 41 percent of the vote, a difference of just 307 votes between the No. 1 and No. 2 spot. Now, Rauch is in a runoff and is focused on earning a majority of the vote come July 17. "We knew door knocking was essential. We have knocked on over 5,000 doors so far, but we expect to surpass 6,500 by July 17," Rauch said. "We hope that each person we've connected with shows up to the polls on the 17 and will also encourage their family, friends and neighbors to do the same. Voter turnout will make or break the results of our election."
If elected, Rauch said he is focused on a few key issues: improving education, fighting corruption, workforce development, and supporting our veterans. "When it comes to education, I want to give our schools and school districts a voice in legislation concerning education. Our district is full of trained teachers, educators, administrators and staff who are passionate and have years of expertise in education. I believe that we need to bring teachers and educators into the decision-making process," Rauch said. Additionally, Rauch is the only candidate in this race who had defended the right to bear arms and promises to continue to defend the Second Amendment if elected. He is also the only Pro-Life candidate endorsed by the Alabama Citizens for Life, the state's oldest pro-life organization.
Rauch went on to say, "I went into the Army at 17 because I wanted to serve my country. After I was wounded in combat in Iraq in 2003, my desire to serve never ceased. I want to continue serving my community and district in a bigger way, by giving them a true voice in Montgomery. I believe we deserve someone who is truly of the people, by the people, for the people, not someone whose campaign is funded by special interest groups in Montgomery."
"The people of District 38 deserve to be at the top of the priority list, and I look forward to doing just that after I'm elected. It would be my honor to earn your vote on July 17," Rauch said.
To read more about Todd Rauch and where he stands on the issues you can visit his website at www.toddrauchforalabama.com or on Facebook at www.facebook.com/toddrauch.