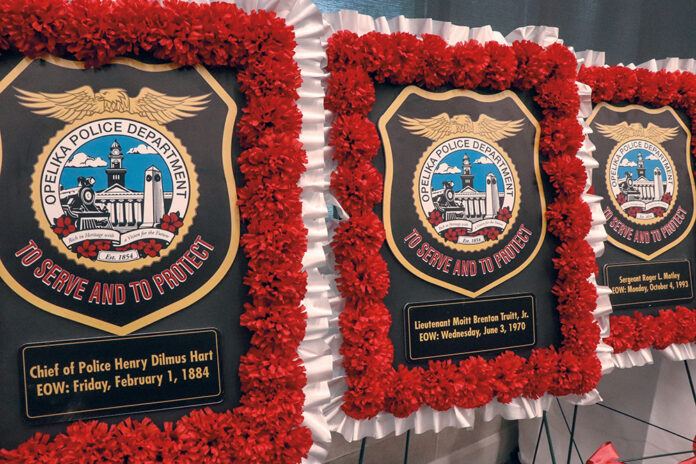 By Hannah Lester
hlester@opelikaobserver.com
On the two-year anniversary of William Buechner's death, the Auburn Police Division, the Opelika Police Department and the Lee County Sheriff's Office held a remembrance event. The event not only honored Buechner's life, but all those the county has lost in the line of duty.
"While everyone else is oblivious to what's going on while we're here right now, we're here because we're family," said Clarence Stewart, aassistant chief with the APD. "That's why."
Honored fallen heroes included those from the Opelika Department, Chief Henry Hart, Lt. Britton Truitt, Sgt. Roger Motley; Lee County Sheriff William Buck-Jones and deputy James Anderson and Auburn Officer William Buechner.
"That's why we're here, to remember them and to celebrate them," Stewart said.
APD Chief of Police, Cedric Anderson, took time to talk about the legacy that Buechner left on Auburn.
"I'm humbled to be able to come before you this morning and fulfill the obligation of the Auburn Police Department which is to always remember the ultimate sacrifice made by Officer William Ray Buechner, Jr.," he said.
Buechner left behind family, Anderson said, his father and mother, his wife and his children.
"William was one of the most devoted law enforcement officers I have ever met," Anderson said.
Buechner was responding to a domestic dispute call on May 19, 2019, when he was killed in the line of duty. The incident injured two other officers.
"There are a lot of things that we can remember about William," Anderson said. "One of the things I will always remember about him is his smile … There was something about that smile that was contagious and it would stay with you the rest of the day."
Anderson described Buechner as a "blessing" in the workplace.
"He will truly be missed," he said. "And this is not just a recognition of him and his ultimate sacrifice, but also the sacrifice that his family has made."
Lee County Sheriff Jay Jones likened Lee County's six fallen law enforcement members to the 800,000 in the country that do their job — and do it well.
"Commonality exists among those that serve their community so well," Jones said. "The six individuals that we honor today, an attempt to make an arrest, investigation of a homicide, checking the welfare at the request of a citizen, a traffic stop, a disturbance call — the commonality is, these individuals were just doing their job.
"Doing what they wanted to do, because they care about their communities, about the people that they serve, about their families. It's appropriate that we honor them today, and that we never forget."
While there are officers who abuse their power and positions, Jones said that the majority of law enforcement is doing a great job.
Jones said that not only should Lee County's fallen be honored — but their families.
"Without those families, without ya'll, we wouldn't have had these fine law enforcement professionals just simply trying to do their job and work for the community to make it a better place," he said. "And our task at hand is here today, and always will be, never to forget their sacrifice and never to forget their families."
Commonality exists in the legacy the six left behind for current law enforcement too, said OPD Police Chief Shane Healy.
"Each of the men gave their lives to help somebody, to help someone who needed something from another person to have a helping hand, to solve a problem, to quell a situation," he said. "The legacy that they leave behind that touches us in law enforcement brings home a trait among each and every man and woman that I see in this room, and the hundreds in this community that are out there on the streets right now and that is to help, to protect, to serve."
Dr. Nathaniel Dunlap, the speaker for the event, explained that he learned the concept of selfless service when he was preparing to join the U.S. Army, and later, law enforcement.
"It then came to me that this selfless service is no different in the field of law enforcement," he said. "It is rooted and it's grounded in the commitment of each person, everyone on the team to go a little bit further when a citizen needs you and it's almost time for your shift to end. Taking away time from your family as you deal with a personal situation from a brother or sister in blue. Or enduring a little bit longer when the community doesn't appreciate you, while at the same time balancing family life, while trying to be the best professional that you can be in this time-honored institution."
Dunlap said that opportunity exists to show appreciation for the six fallen law enforcement personnel by bestowing it on their family members.
"Despite the tone and then tenor of how some people want to paint law enforcement around our nation today, we know that the overwhelmingly majority have the heart for the people that they serve," he said.