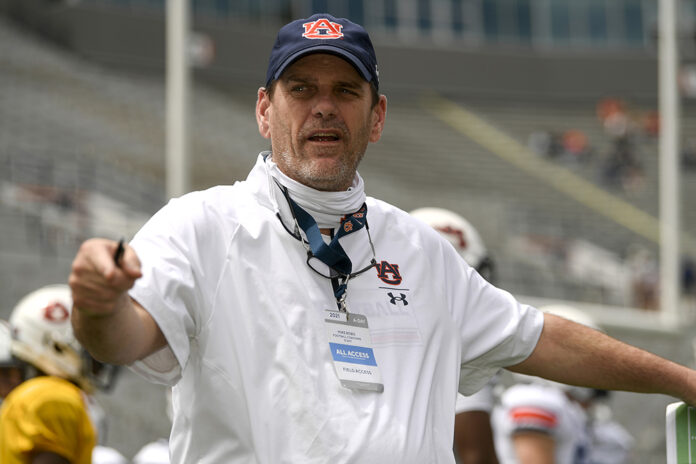 Filling the Vacancies Within the Auburn Football Program
BY Harrison Tarr
For the Observer
In the inaugural year of the Bryan Harsin era on the Plains, fans of the Auburn Tigers experienced every emotion possible. There were highs and there were lows. There was even a point in time that brought forth rumblings of a possible college football playoff berth; the Tigers finished the 2021 campaign at 6-6, leaving much to be desired and more questions unanswered about the state of the program in 2022.
Just days after a gut-wrenching loss to Nick Saban and company in the Iron Bowl, Auburn was informed that offensive coordinator Mike Bobo was vacating his position, leaving the Tigers in need of a new OC for the sixth consecutive year. Immediately after the news of Bobo's departure came the announcement of running back Shaun Shivers, wide receiver Elijah Canion and EDGE Caleb Johnson's decisions to enter the transfer portal.
All of this news comes in the midst of rumors swirling regarding the future of three-year starting quarterback Bo Nix who has been public about his uncertainty about what the 2022 season looks like.
Auburn fans are justifiably uncertain — and likely stressed out — about the direction their beloved team is heading. They have far more questions than they have answers.
While there is sure to be more noise coming from the transfer portal and the conversation surrounding the future of Nix, one vacancy remains which is likely to be filled sooner than the rest, especially given the fact the Tigers still have a bowl game to compete in.
The Tigers need a new offensive coordinator. Here's a handful of candidates the orange and blue faithful should keep an eye on:
KENDAL BRILES (OC, ARKANSAS)
The departure of Bobo and the implementation of a completely "new era" on the Plains could be the perfect fit for Kendal Briles. At 39 years old, Briles is widely considered to be one of the brightest offensive minds in college football dating back to his tenure with Baylor under his father Art. Since then, all Briles has done is put together explosive offenses regardless of the level of talent he's given to work with. His work with Sam Pitman to turn around Arkansas in just two years is yet another example of his immediate impact.
DAN MULLEN
The University of Florida's decision to cut ties with Dan Mullen came as little surprise to most given the results his team posted in 2021; his lack of success at the helm of the Gators — however — still confuses anyone who followed his tenure at Mississippi State. While his experience in play calling and quarterback development at the SEC level is likely an enticing attribute to Harsin and company, Mullen does carry baggage. Just last month, he implied that recruiting was not a priority for him when his team is mid-season, a quality that Auburn cannot put up with while attempting to recruit against the likes of UGA and Alabama.
JEFF LEBBY (OC, OLE MISS)
As in any coaching search, names often get floated around that may seem like a bit of a stretch. Jeff Lebby is certainly one of those in this situation; Auburn should still give him a call. The Ole Miss offense has been flat-out impressive in 2021 and — thanks to an ironic loss to Auburn — the Rebels fell just short of stating a legitimate argument that they belonged in the college football playoff. Lebby has no known connections to Auburn or Harsin but it certainly could not hurt for the Tigers to give him a call.
JOE MOORHEAD (OC, OREGON)
It's not every day that fans get the pleasure of looking at two former Mississippi State head coaches in one job search. Joe Moorhead succeeded Mullen at the helm of MSU in 2018 and saw his tenure reach an abrupt end following the 2019 season, sending him packing to be the offensive coordinator at Oregon under Mario Cristobal (A name that was thrown around during the Auburn head coaching job search in 2020.). The Ducks' offense has been on fire, averaging 33 points per game in 2021 under his supervision.
ERIC KIESAU (RECEIVERS COACH, AUBURN)
The idea of promoting current wide receivers coach Eric Kiesau is one that has slipped the mind of many Auburn fans, especially since nobody is familiar with Harsin's tendencies to hire from within to this point; he was — however — the go-to guy when the Tigers decided to cut ties with Cornelius Williams and served as OC to Harsin at Boise State from 2019 until the duo headed south for Auburn. It is hard to imagine a world where Harsin hasn't at least given any thought to running it back with Kiesau.