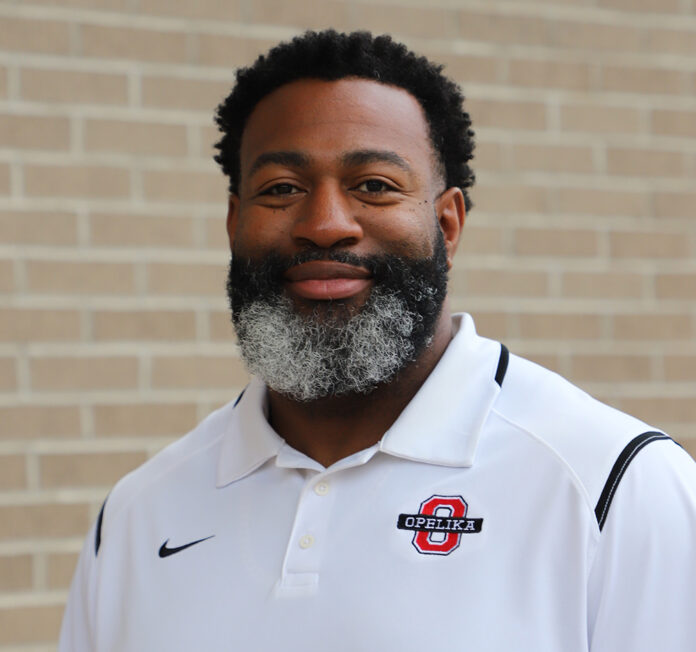 By Wil Crews
sportscrews@opelikaobserver.com
"The team is a family and I hold that in a high regard," said Opelika High School track & field coach Jimmy Johnson. "I don't want to let my family down."
Johnson was recently awarded the title of Alabama Boys Track & Field Coach of the Year by the National Federation of High Schools (NFHS) Association. It is the second time Johnson has received the honor, with the first coming back in 2016-17.
"It's a huge honor," Johnson, who ran track for Opelika in the 90s, said. "Here in our state, track and field is not one of those sports that gets a lot of recognition but we have a lot of great talent in our state. With the coaches that are around us, to be selected over guys like that, it speaks volume and it very humbling to me."
Johnson was nominated by the Alabama High School Athletic Association as "most deserving for this honor". He was selected by the NFHS based on the criteria of: coaching performance in the 2020-21 school year, lifetime community involvement, school involvement and philosophy of coaching.
Johnson arrived at Opelika in 2010. At the time, he described the program as "really down".
Within in four years, the Bulldogs finished as runner-ups in the 2014 state meet — something that Johnson uses as a teaching moment to this day.
"That year right there we should have won," Johnson said. "Just to be able to use that as a coaching point every year, that has helped us. It added fuel to the fire."
Eleven seasons since his arrival, Johnson has turned Opelika into one of the premier track and field programs in the state and helmed seven state championship teams for the Bulldogs.
"Every year your message is different because your audience is different," Johnson said. "Because you are Opelika, you have got to perform to your best. You got to expect that everybody is going to bring their A-game because they know the history of our school and program."
This season, Johnson and the boys' track & field team won the AHSAA Outdoor and Indoor State Track & Field Championships, contributing to his selection as coach of the year.
"The bond that I have with these guys is very strong," Johnson said of his team. "The guys know it's hard, but at the same time they don't want to let me down, so they go out there and do anything and everything that I need them to do. They know I have their best interest in mind.
This group of kids last year, a lot of them I moved up when they were in the eighth grade year. So, they were able to participate and get to know what's going on. By the time they were juniors and seniors, they were super leaders."
When evaluating his success at Opelika, Johnson always comes back to the family-like atmosphere that he instills in his program.
"They are my kids and I will do anything in the world for these guys," he said. "For them, as an athlete, to know that they have someone one their side that is trying to help them, it makes them want to perform more. We have a very strong bond."
The family aspect that Johnson has built within his program extends to his coaching staff and the Opelika community as well.
"Over the years it has grown," Johnson said of his teams' presence in the community. "Being from Opelika made it a whole lot easier. All of the coaches, with the exception of one or two, they graduated from Opelika High School. I have coaches that have been with me since I got here. I was able to contact people who actually walked these halls, played these sports, and get them more involved."
Johnson said his teams regularly go to elementary schools in the area to speak about track and invite local youth to their home meets.
"We do a lot of things to try and help the young kids stay interested in track and want to do it when they get here," Johnson said. "That community involvement, if we didn't have it, I'm not sure where we would be."
Johnson also serves as an assistant coach on the Opelika football team and helps lead the art club with another staff member.
In each of his endeavors, that word "family" is what Johnson always circles around to. It reminds of him why he really does what he does, continues to set the Bulldogs up as one of the best track and field programs in the state and what earns him titles such as coach of the year.
"When we go out and practice, I'm practicing them to the level where whenever you go somewhere, I don't care where, I want to set them up with success," he said. I want to have them college ready. If they choose to go into the workforce, I want to have them ready based on what they have done on the track. They don't have to do track. They chose to do track. So while I got them out there, I'm going to be a father figure, a role model … I'm going to be that person that they can look up to. I'm going to be that person that they know is not going to let them down and in turn they feel like they can't let me down."