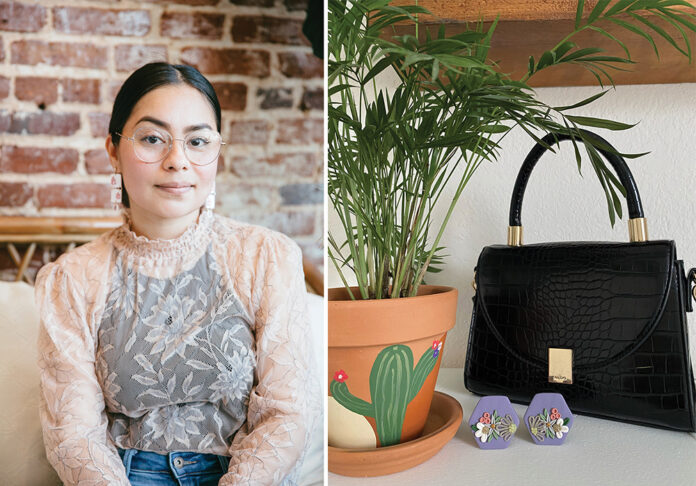 By Hannah Lester
hlester@opelikaobserver.com
Most people love a good DIY (do it yourself). Laura Pegueros decided to take her passion for crafts and turn it into a viable business making jewelry — Heavenly Designs.
Now, she sells them inside The Well. The Well is Opelika's newest venture — incorporating women-run businesses and products into one inclusive experience on Avenue A.
"It started as a hobby but something in me felt like I needed to do something more with a purpose," Pegueros said.
Everything about the business is purposeful. Even the name — Heavenly Designs — is a tie to something meaningful for Pegueros, she said.
The hope is that women can identify themselves in the jewelry, she said.
"I want women to wear them and think about it, not just to wear something to make them feel pretty, but also to have something meaningful for them," Pegueros said.
She has a jewelry series based on the fruit of the spirit, for example.
"Let's say 'love' … so when they wear that, they can feel the love," she said.
The jewelry is made from polymer clay using different cutters and tools, Pegueros said.
"There's so many things you can do with polymer clay," she said. "It's so exciting to make them and have them in different designs."
Pegueros hopes to have an online presence for her jewelry soon, but for anyone hoping to purchase — her work is sold inside The Well.
"[The owner] said that a lot of people have been commentating about my earrings and for me, this is the first place where I've sold them," she said. "So this is just the beginning."
The Well is more than a collection of businesses — but an experience.
"There's something else in this place that [makes] you want to be here," Pegueros said. "… and it kind of fills you."
The Well is located at 824 Ave. A, Opelika and is open:
Monday: 2 p.m. – 7 p.m.
Tuesdays – Thursday: 7 a.m. – 7 p.m.
Friday – Saturday: 10 a.m. – 10 p.m.
Sunday: 10 a.m. – 2 p.m.
This is the fourth in a series of articles on the different businesses that are located inside The Well.