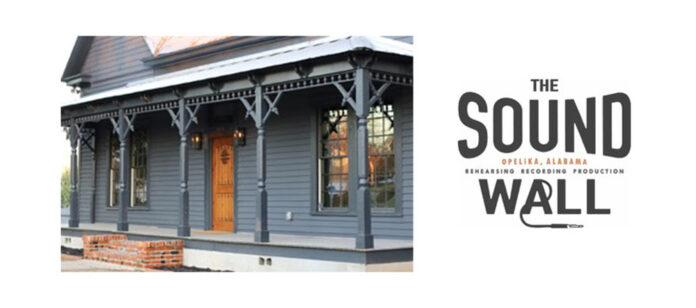 By Maggie Caraway
For the Opelika Observer
Hosted and presented by The Sound Wall, four musical events will be held during the month of June. These events feature a number of talented artists, garden party, a silent auction, food, drinks and more. Enjoy the inspiring yet cozy atmosphere The Sound Wall creates while listening to euphonious music, eating top-notch food and appreciating the company of others during the month of June.
The Sound Wall is located at 605 Ave. B in Opelika, Alabama.
The Sound Wall was born from a rock/folk couple's dream of having the ultimate space for working and living. Rob and Jen Slocumb, otherwise known as Martha's Trouble, spent many hours on the road touring and performing and often found themselves in need of a rehearsal space. After realizing rehearsing from their house and renting out storage spaces was less than ideal – and dreaming of a place where their creativity could blossom, they purchased a historical Victorian-style home in downtown Opelika, Alabama. The building needed many hours of labor to make the space even livable including new plumbing, new electrical, heating and air conditioning in conjunction with other things. After a year, Martha's Trouble had turned their dream into a reality and was ready to welcome artists searching for the same thing they were – a space to be creative.
In a convenient spot, located one and a half hours from Atlanta and two hours from Birmingham, artists have found solace within the bones of the Sound Wall. The building creates a homey environment for artists to record, rehearse, create or simply be inspired. With two studio rooms on the first floor, a one-bedroom apartment on the second floor and a gourmet kitchen there is more than enough space to house people looking for the perfect music-infused escape.
About the Events
Award-winning singer-songwriter Korby Lenker takes the stage on June 4 at 7 p.m. Aside from recently creating and starring in the scripted series called "Morse Code," Lenker has graced the stage for years. He has worked hard for his success by winning the Rocky Mountain Folks Fest Contest, MerleFest, Kerrville and becoming a New Song Contest Finalist. Additionally, Lenker has shared the stage with music legends Willie Nelson, Ray Lamontagne, Nickel Creek and others. Tickets are $10 and available at eventbrite.com.
Accomplished artist Bryan Elijah Smith takes the stage two days later on June 6 at 6 p.m. Smith's unique sound has been compared to Bruce Springsteen, Kings of Leon and even Gregory Alan Isakov. Smith's newest work, 12-track album "In Through the Dark," won second place in the Chris Austin Songwriting Contest at MerleFest 2019 as well as first place in the Unsigned Only 2019 international songwriting contest and is featured in the Netflix hit series "Virgin River." Tickets are $10 and available at eventbrite.com.
June 19 is an exciting day at the Sound Wall because the Inaugural Garden Party benefiting the Sound Wall Music Initiative takes place at 7 p.m. Enjoy a night in the garden under lantern-light. The night's events include catering by Chef Chris Wilton, a cash bar, silent auction, concert by Dan Navarro and Ben Danaher and a whisky tasting supplied by John Emerald Distilling Company. Becoming a party host and filling a table for eight would lead to several benefits including a VIP pre-party meet and greet with the night's artists, the ability to name and decorate your table and the potential to win a prize for the best tablescape.
Rounding out the month of June is Texas native, Ally Venable, taking the stage on June 24 at 7 p.m. Venable's goal is to bring the light back into the music industry that was plagued with darkness during the pandemic that hit last year. Her recent release "Heart Of Fire" ignites a sense of hope that we all could use during these times. Influenced by Stevie Ray Vaughan and Miranda Lambert, Venable landed a spot on the Top 10 charts and ETX Awards, but the biggest moment of her career was earning the No. 2 spot on Billboard's Blues chart for her album "Texas Honey." Still in her early twenties, Venable's musical career looks bright. Tickets are $20 and available at eventbrite.com.
The Sound Wall is located at 605 Ave. B in Opelika, Alabama.
For more information or questions, contact Krista Mettler at kristamettler@skyemediaonline.com.