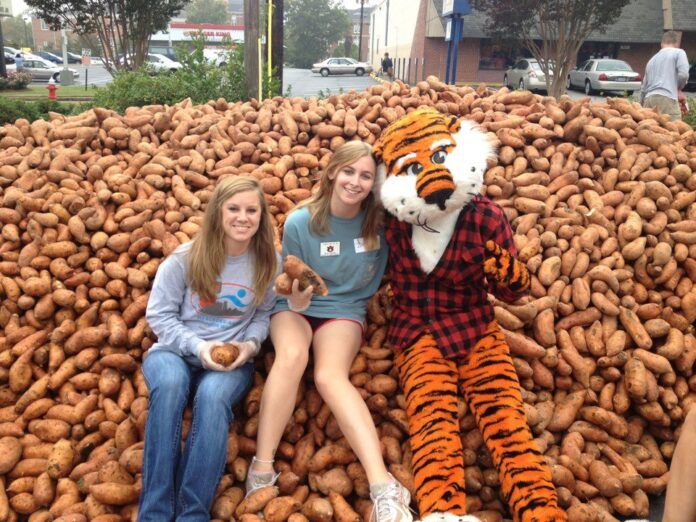 Story By Will Fairless
Photos Contributed by the East Alabama Food Bank
Christmas is a time for good food, good company and generosity. For recipes to help with that first component of the holiday season, turn to page 48.
Unfortunately, many churches and other organizations have moved away from in-person volunteering options this year, but there are still ways to get involved, and there are always opportunities to donate money remotely.
The Food Bank of East Alabama (355 Industry Drive, Auburn) is always in need of volunteers, particularly over the holiday months.
"We have had an employee out for surgery and recovery and being shorthanded has caused us to only be able to offer morning volunteer slots, but we hope to return to our normal volunteer hours as soon as possible," said Tina Tatum, the volunteer and program coordinator at the Food Bank of East Alabama.
Volunteers are required to use the bank's online signup calendar (foodbankofeastalabama.com/donate/volunteer/) and can come in during the mornings on weekdays from 7 a.m. to noon.
"The Food Bank is a centralized warehouse that stores and distributes donated and purchased perishable and nonperishable food items," the website said. "We distribute food to low-income people through member agencies that serve the ill, needy and infants. The Food Bank works to reduce food waste, feed hungry people and raise public awareness of issues related to food and hunger."
Tatum added that volunteers are encouraged to commit to two-hour shifts and that the work involves sorting food donations by category and boxing those donations for distribution to the agencies the food bank serves.
Habitat For Humanity
Auburn and Opelika have two offices that serve the area. One is is the Auburn Opelika Habitat For Humanity Affiliate Office, which builds houses.
The second works to support affiliate offices all over the state of Alabama; there are about 30 offices which support 45 counties.
"We operate on the four pillars of support," said Brandon Dixon, executive director for Alabama Habitat for Humanity. "We do advocacy work, we do resource development, we do training and education and we do disaster response. So those are kind of the four channels through which our efforts are funneled."
Additionally Habitat for Humanity utilizes ReStores. The ReStores provide home improvement items, such as building materials or furniture. The purpose is that the items are sold for much less than they would be at retail.
"We encourage everyone to come out and see us to shop, donate and volunteer," Dixon said.
The Auburn-Opelika ReStore is located at 3831 Pepperell Parkway and is open from 9 a.m. to 5 p.m. Monday through Saturday.
"We take in donations from the community, Auburn, Opelika and even out into the far reaches of Lee County," Dixon said. "We bring those items in, we get them cleaned up, try to fix them up and then we sell them to the general public at a discount. And then we use the proceeds from those sales to help build habitat homes, not only here in Lee County but also all throughout the state of Alabama."
To donate items, people can drop them off at the store, at the loading dock on the side of the building or schedule a pickup at (334-737-6400).
Volunteers are used in this ReStore to help pick up items and refurbish items, Dixon said.
To volunteer, Dixon said community members should either stop by the ReStore or call the store manager (334-737-6400).
"I've been with habitat now for almost a decade, a little over nine years, and so for me, the mission of the organization, what it stands for and what it does, I've found to be very rewarding," Dixon said. "I would say that everyone who volunteers and works for Habitat feels the same way. A lot of the people from the community who shop, who donate, who volunteer here feel that way as well because they know that their time and their resources are going toward a great cause."
Local Churches:
St. Mary's Catholic Church (1000 4th Ave., Opelika) has volunteer opportunities at the end of every month, when it packs boxes of food to distribute to those in need. Volunteers usually either transport food from a food bank to the church or unload that food from the cars and pack it into boxes to be distributed.
Normally, the last Thursday of every month is when food is delivered to the church and packed into boxes, then the following Saturday is when those boxes are distributed. Those days might change during the holiday season.
St. Mary's is also in need of volunteers on other days and for other tasks, so those wishing to volunteer should call the parish (334-749-8359) and ask for Sister Olivia for more information and specific dates. Prospective volunteers can also visit the church's website (stmaryopelika.org).
First Baptist Church (301 S 8th St., Opelika) encourages anyone to donate to its annual Angel Tree program. For more information, visit the church's website (fbcopelika.com).
Heritage Baptist Church (1103 Glenn St., Opelika) does not currently have any projects going on that could include people from outside the church, but Pastor Thad Endicott shared the following advice on giving time during the holidays:
"What I have found is that phone calls, emails, cards, text messages and personal visits to family, friends and neighbors are especially important this year, as many people have felt disconnected because of COVID," he said. "It may not seem like a big thing, but just letting people know that you care for them and are thinking of them means so much."