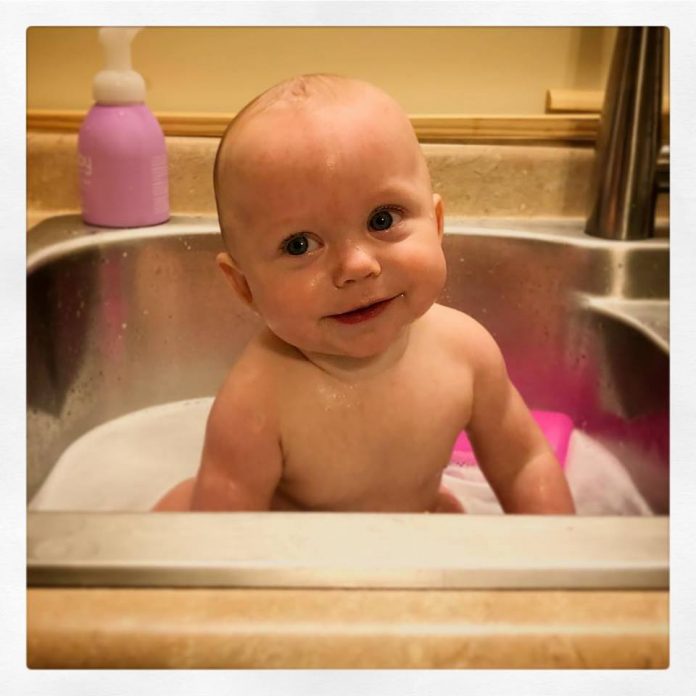 By Lucy Fuller
You have to pull the cord exactly three times for the light to come on in the kitchen. Don't turn it off by the switch, because then the fan will turn off. It gets hot without the fan. To turn the light off, you only have to pull once.
Old houses are quirky.
The birth of this old farm house took place around the turn of the century. We decided to inhabit it before the birth of our daughter, Abigail. I was so sick during the pregnancy that we were unable to follow through with our plan.
Abigail surprised us with an early arrival. Our current residence grew smaller with an infant, a pre-teen, three dogs and a cat. After settling in with the new responsibilities of caring for an infant, we decided it was time. We hopped into the car and made the 40-minute drive to the old farmhouse and walked around. The inside was littered with cans of paint and paintbrushes from where we began the renovation process a year earlier. There was no power, so the house smelled of old wood, forgotten memories and loneliness.
Something inside of me told me this was home. This was our home.
I was aware of the workload that was in store for us in order to prepare it for our family. Nevertheless, it felt right. I had a peace about it. It was almost as if God whispered in my ear, "It's time," and for the first time in my adult life I answered Him back and said "okay." I turned to Jody, smiled and said, "Let's move".
We came back the next day and began phase one of clean up. We started with the yard. We cut, we pruned, we weeded, we poured sweat and we felt excited. We then made it a point to drive up here every day thereafter to work on the inside. Painting, tearing out cabinets, fixing pipes, doing what we could with what our limited budget would allow. Within 10 days, we started moving in furniture and appliances, and I began decorating.
Jody's grandparents raised their family in this house. Furthermore, Jody's dad was born in this house, a house which held moments of laughter, tears, pain, struggles and triumph. This old house has seen a lot in its 100 years. My only wish is that it will see at least another 100.
I lived in Auburn on the same street for a majority of my childhood and early adult life. I sold my house when Jody and I married in 2014. The new owners were in the middle of demolition and had set several appliances and items out in the yard. I mentioned to Jody what was going on and begged him to go retrieve what he was able to from the "throw away" pile. Something told me that I needed to keep a few things, especially the kitchen sink. It just didn't seem right leaving it there.
I went through a lot while I was living in that house. The walls held many secrets. It was the house where my older daughter was raised. Emily and I shared so many "firsts" in that house: her first laugh, her first words, her first steps and her first bath in the kitchen sink, which, by the way, was the first thing I had Jody grab from the pile of rubbish in the front yard.
He must have thought I was half crazy for wanting to keep it so badly, but little did he know what memories it held. I must admit, it was a nice sink: stainless steel, double basin, deep, and a spray nozzle built into the faucet, which was very handy.
The sink sat in storage for several years collecting dust, because I knew I'd want to use it again someday. It may seem silly to some people, but to me, it was important.
When we decided to make the move to the farmhouse, also known as Terrapin Slide, we knew we'd have to make improvements and updates to turn the house into a home. Painting was my first concern. We had started painting months before now. The rooms were littered with dried out paint brushes, half-full cans of paint and half-painted walls. We finished painting. "The Slide" got its name from Jody's late father due to the fact that this part of the county is so slow it "slides like a terrapin."
We continued a pretty vigorous process of a "mini" renovation. We tore out cabinets, made a few small improvements to the bathroom, and added new countertops in the kitchen. We also installed the kitchen sink I had saved all of those years.
Renovation and relocation is hard on a tight budget, but we are making it work. We are using what we have and saving for what we need. We are truly blessed. Everything is coming together and we are really enjoying making this house our home.
We are almost entirely moved in. We have moved our big pieces of furniture and are now at the stage of organizing. Its starting to feel like home. Its starting to feel like our home.
I will never forget our first night in our new (old) farmhouse. I bathed my second baby in my beloved kitchen sink. I smiled as I wrapped her up in her towel and held her in my arms. My heart was full. I didn't flip the light switch, because I didn't want to turn off the fan. It gets hot when you turn off the fan. I gently pulled the cord once to turn off the kitchen light, and, just like that, we were off to bed.
That was our first night together in our little country home.
I'm so glad I saved that kitchen sink.
Lucy Fuller is a lover of nature, animals, gardening, and old houses. She is a full time mother and wife. She currently resides in Dadeville with her husband, two daughters, 3 dogs, and cat. She may be reached at fullalove2017@gmail.com.