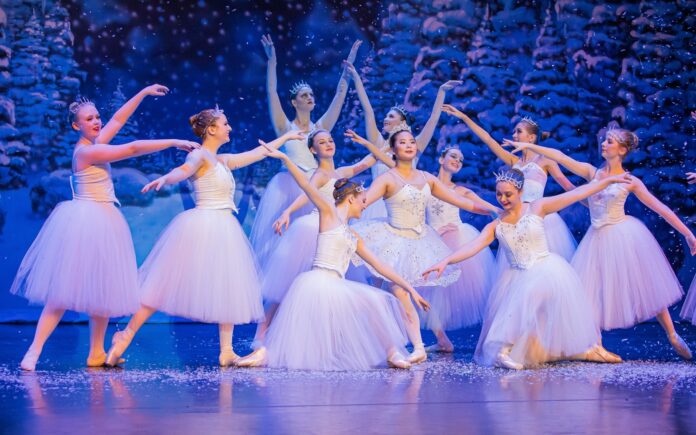 Story by Abby Driggers
Photos Contributed by East Alabama Community Ballet
Theatre inspires human connection — the moments of exchange between performers and their audience.
The holiday season is the time of year for productions, shows and lots of singing. Talented artists in Lee County have found innovative ways to provide that same experience safely during the coronavirus pandemic.
Everything has looked a little different in 2020 and performances for the holiday season will be adjusted too.
"The Nutcracker" is a staple of the holiday season, but this year, the East Alabama Community Ballet will present the show digitally.
"We believe that this is an important event for our community and our dancers," said Allie Dyleski, artistic director for East Alabama Community Ballet. "So much has been cancelled, it was important for us to work really hard to make this happen in some way or another. For months, our dancers had to take classes online and didn't get to see their friends and teachers in person and it's just not quite the same.
"So many of their recitals and competitions were cancelled and we just couldn't bear the thought of cancelling "The Nutcracker" too. Our production brings together dancers and choreographers from studios all over town. After months of isolation, having a sense of community again and doing what we all love together has been great."
The production will go straight to DVD for purchase and will also be streamed at different locations, according to a statement on the East Alabama Community Ballet website.
"This won't be the production we're used to in the theater with a live audience, but this is an exciting opportunity to challenge our creativity as dancers and choreographers and to create something we normally wouldn't be able to do," the website said. "We will be hiring a professional production crew to film and produce a high quality, movie-version of "The Nutcracker.""
There is the potential for an outside show at some point in December, but a date has not yet been announced.
Auburn Area Community Theatre
The Auburn Area Community Theatre (AACT) will perform "A Christmas Carol" at the Jan Dempsey Community Arts Center from Dec. 10 through Dec. 13. It is the company's first Christmas production.
Although most people are familiar with "A Christmas Carol," AACT is putting a different spin on things.
The production will be performed as a radio play. Now, this doesn't mean that those who purchase tickets will listen to the show in their own homes. Rather, each actor will perform as though they are on the radio.
Artistic director Andrea Holliday and director Terry Kelley said the show will feel natural as a radio play — characters can easily interact while physically distanced from one another at separate microphones.
"What I like about this show for this particular time that we're going through, is that there's the interaction between the characters," Holliday said. "We can cleverly dress the stage as this 1940's radio station and actually achieve a good bit of physical distancing."
Seating arrangements will be modified, and all recommended protocols will be followed at the time of performances. Tickets are $10 for adults and $8 for students and seniors.
Kreher Preserve and Nature Center
Want some fresh air?
The Kreher Preserve and Nature Center will host "A Holiday Walk in the Woods" Friday, Dec. 18 and Saturday, Dec. 19 at 5 p.m. and on Sunday, Dec. 20 at 10 a.m.
The production is also put on by the AACT and will feature local performers. The show takes audience members on a walk through the Kreher Preserve and Nature Center to different stops where they will watch different kinds of performances, from spoken word to song.
Tickets are $5 per person over the age of three. Full tour groups at a specific time are available for purchase for $70.
To purchase tickets, donate or learn more, visit auburnact.org.
The Opelika Theatre Company:
The Opelika Theatre Company has had to adjust to the pandemic as well, but never fear — the show must go on.
The company was rehearsing for "The Addams Family" when the pandemic closures began in March. Marty Moore, the executive artistic director, quickly realized there was no way to keep attendees, cast and crew safe. They moved rehearsals online and postponed to Oct. 17.
"We had our last rehearsal on March 17, and we were so tickled because we had gone through the major numbers and everybody was clicking," Moore said. "And then it happened. Everything shut down."
The Opelika Theatre Company held a summer showcase, socially distanced, at the outdoor amphitheater at Opelika Sportsplex instead, at the suggestion of a cast member. The event featured local talent and was so successful that the company decided to host a winter showcase as well.
"It gives performers an opportunity to showcase their talents during a time when people need it," said Assistant Director Libby Herring. "We were also able to fundraise to run our shows and other events."
The Winter Showcase will be held at the Opelika Sportsplex on Dec. 13 at 3 p.m. Entry is free; however, donations are encouraged.
Auburn University:
The Auburn University Department of Theatre, during the spring semester, looked for new ways to present the winter portion of their season. The result was AU Theatre at Home — pre-recorded digital performances distributed digitally to patron's electronic devices to view at their leisure.
Faculty, staff and students spent the summer rethinking the ways they rehearse, audition and perform after moving to remote learning in March.
The 2020 December production of "Little Women" will be adapted to a radio play and made available to view via AU Theatre at Home for the week of Dec. 7 through Dec. 13. Tickets are $15 and can be purchased through the department's website.
Director Daydrie Hague said she hopes patrons will assist the theatre department by tuning in and watching.
"You find these ways through these moments of performance to find something that feels like [the kind of community] that we all are so desperately missing through this moment where we can't be together as much as we would like," Hague said.
Katie Pappas, cast as one of the Marsh sisters in "Little Women," said she is excited about the opportunities digitized performances provide.
"A radio play gives the cast an opportunity to focus so much on voice acting," Pappas said. "But for others, I'm really excited because this is like an opportunity for people like my grandmother, who is blind, to get the full performance that she may not have had in another way."
Arts Association of East Alabama
Like community organizations all across the country, The Arts Association of East Alabama is moving forward by postponing season openings until 2021. The association will hold performances soon after the holiday season, however.
The Israel Symphony Orchestra will perform on Tuesday, Jan. 26 from 7:30 p.m. to 9:45 p.m. and a Tribute to Aretha Franklin will preview on Monday, Feb. 15 from 7:30 p.m. to 10 p.m.
Performances will take place at Opelika Center for the Performing Arts at Opelika High School, located at 1700 Lafayette Parkway in Opelika.
For more information, please visit eastalabamaarts.org or email at info@eastalabamaarts.org.