Contributed
by the Collegiate
 Things have been buzzing at the Collegiate Hotel with more than $10,000 raised from the sale of its "AU-BEES" honey-based margaritas to create the Bee Excellent Fund at Auburn University's College of Agriculture.
Auburn University Alumni and Collegiate Hotel Owners, Brian and Kim Wirth, are announcing the creation of the fund to support the work of the AU-Bees Lab and have committed to donate $1 to the lab for every AU-BEES margarita sold at the hotel.
"It's unconventional, but we love finding unique ways to connect with the community and the university," Kim said.
"Two years ago, we met the AU-Bees Lab team and loved their energy and work ethic and thought why don't we use our passion for hospitality to support their passion for bees." 
The simple idea to create a honey-based cocktail for a cause resonated with Collegiate Hotel customers and the AU-BEES Margarita was an overnight success becoming the number one selling cocktail within a few months. This success has led the Wirths to donate a minimum of $10,000 a year to The Brian E. and Kimberly A. Wirth Family Annual Fund for Excellence in the College of Agriculture.
"We are exceptionally grateful for this incredible investment from our friends at the Collegiate Hotel, just down the street from us on Ag Hill," said Paul Patterson, dean of the College of Agriculture. "By supporting the AU-Bees Lab, the Bee Excellent fund will be instrumental in both the education of our students and the health of our community for years to come."
Geoffrey Williams, assistant professor and graduate program officer, said, "We have graduate students doing research in the AU-Bees Lab, we have undergraduate students doing research through their Undergraduate Research Fellowships and we also hire undergrad research technicians who work in our lab, so we have a number of opportunities for students, and everyone in the lab is really working together on projects helping us promote Auburn's mission of teaching, research and extension."
"In one word, it is amazing," Williams said of the fund. "I really, really appreciate it. The existence of this fund solidifies how the AU-Bees Lab is really a microcosm of Auburn overall in that our lab connects with the community and exists to be an asset to the public. The fact that we're connected to the Collegiate Hotel in this way really solidifies that. It seems like an unconventional partnership, but it is meaningful for us."
At the discretion of the dean, annual gifts may be used to support the strategic initiatives of the Auburn Bees Lab Program. This includes but is not limited to program research, faculty and student travel to conferences, student employment and equipment to advance apiculture, etc.
"We can't give away our recipe, but bees are attracted to bright colors, so we crafted the cocktail with a special tea that transforms to a beautiful purple when brewed. This and our hibiscus salt "pollen" rim, seem to be equally successful in attracting customers," Kim added.
A community event to celebrate the fund's creation and the third anniversary of the Collegiate Hotel's opening was held Friday, July 23 from 7 to 10 p.m. The event was free to the public, 21 years and older. There was be honey tastings from local vendors, Opelika distillery John Emerald onsite with craft cocktails featuring honey and of course, lots of purple AU-BEES Margaritas.
The Collegiate Hotel is a boutique hotel that opened in downtown Auburn in 2018. Auburn alumni Brian and Kim Wirth transformed the former Wittel Women's dormitory into a unique property boasting 40 luxury rooms and a rooftop bar with amazing views of Auburn's famous Samford Hall. Learn more at www.staycoho.com.
 The Auburn University Bee Lab is housed in the College of Agriculture's Department of  Entomology and Plant Pathology. Also known as the "AU-Bees" Lab — named after Auburn's mascot "Aubie" — its mission is to understand and promote bees through research, instruction and outreach with activities that benefit the local community while educating the public on the vital work of pollinators.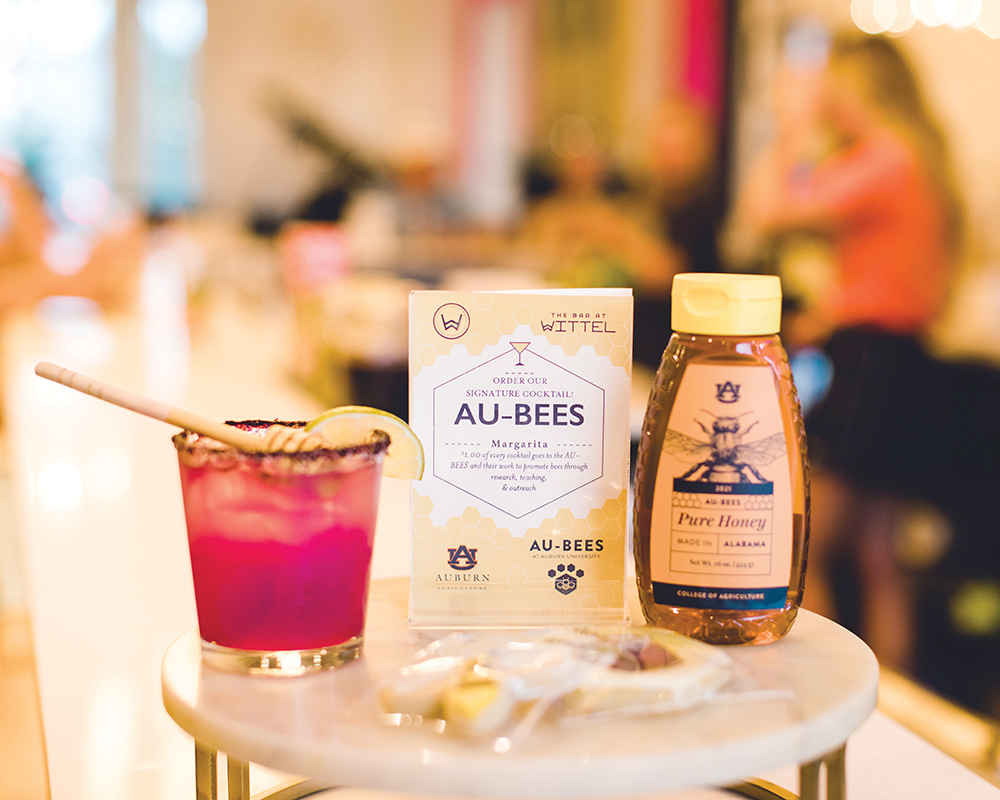 The AU-Bees Lab hosts visitors including students, local stakeholders and international guests who can see the lab's honeybee hives, observation hive, drone petting zoo, bee hotels and native pollinator specimens.
The lab's research program aims to promote the health of insect pollinators in Alabama and beyond by executing specific activities that fall under several stakeholder-identified priority areas.