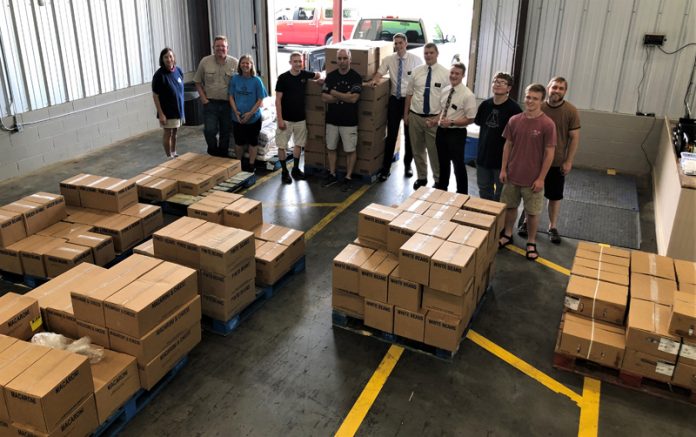 Special to the
Opelika Observer
Times are tough. Lives are being affected. Health is of utmost importance. People are losing jobs. Kids are home all day, every day. Food is a challenge. Food security is at issue and The Church of Jesus Christ of Latter-day Saints wanted to do something about it.
This weekend, the Saugahatchee Ward of The Church of Jesus Christ of Latter-day Saints delivered more than 5,000 lbs. of fresh food (value of $5,000) to the Food Bank of East Alabama.
"We've had a great partnership with the Food Bank of East Alabama and Auburn United Methodist Church, one of the Food Bank's distributors. Knowing the incredible need that exists right now, we want to be a part of the solution," said Bishop Curtis Hansen, lay leader of the Saugahatchee Ward in Auburn, Alabama.
Martha Henk, Executive Director of the Food Bank of East Alabama, noted the crisis is serious, "Food banks are finding that their food donations have dropped by half and there is a serious challenge securing enough food to meet the demand. Before the pandemic, roughly one out of every eight/nine Americans struggled to stay fed. Now, as many as one out of every four are projected to join the ranks of the hungry!"
Food Bank of East Alabama serves Lee, Macon, Russell, Tallapoosa, Chambers, Barbour, and Randolph counties. Normally, the food bank distributes to their 260+ member agencies in these counties, and they have several different programs listed on their website. During the pandemic, only about 30% of their food pantries are still operational. Lee County's pantries are ok; it's the other counties that are in worse shape. To combat this challenge, the Food Bank has been doing more mobile food pantries, where they partner with a non-profit/church and show up with a truckload of food for direct distribution to the community. They have also done two drive-through direct distributions of perishable food at the Food Bank warehouse, which they've never done before. The first one served 300 households and the second one had 374.
Hansen further said, "The Food Bank of East Alabama has a huge positive impact on food security for community members in their eight-county coverage area in East Alabama. No one should ever have to go without food; that is why we chose to donate to them during the COVID-19 pandemic—they have a broad impact in our region."
For additional information or to contact Bishop Curtis Hansen, please call 334-750-8408 or email hansecj@gmail.com.