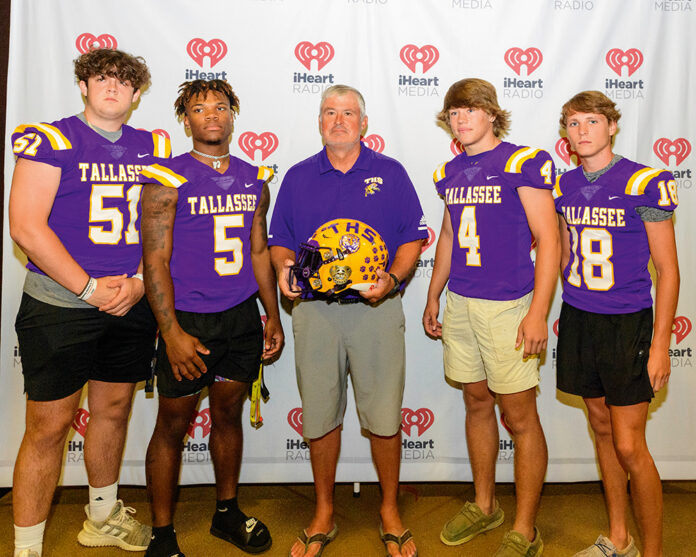 By Harrison Tarr
For the Observer
TALLASSEE —
At most levels of football, it is traditional that teams schedule their biggest rivals at or toward the end of their season, depending on the classification and region of the two foes. The idea makes sense: Give each team the opportunity to figure out its identity and put on a show in the regular season finale.
At Tallassee High School, head coach Mike Battles and the Tigers do it differently. The group plays their rival Reeltown Rebels in week one, spending their entire offseason preparing for the season opener and planning to gain both momentum and bargaining rights in the early going.
"You can go 9-1 at Tallassee," Battles said. "But if you lose to Reeltown, it's like Alabama-Auburn."
Entering his 11th season, Battles has seen a multitude of team dynamics. He is of the belief that the 2022 group is worth keeping an eye on for their attitude and work ethic.
"When you've coached as long as I have, teams are different," Battles said. "It's really fun coaching when they're having fun doing what they're supposed to do. Everyone thinks that coaching is about pushing and motivating — and you've got to do that — but when they're self-motivated and push each other it's fun to coach."
According to the Tigers' play caller, Tallassee practices have been nothing short of a leadership clinic.
"This group is consistently pushing each other and holding each other accountable," Battles said. "That's not something that everybody does this day in time; everybody is all about 'me, me, me' but this bunch holds each other accountable and they've done really well."
The communal outlook has served well when it came to renovating a disbanded offense and adapting to a philosophy built upon committee rotations.
"We'll have more people involved," Battles said. "We'll play about four backs, it's just going to be more by committee … we're going to have to do a good job as coaches to make sure we don't get single-minded."
Per Battles, the senior class has played a vital role in getting their teammates on board with both their brand of football and in stepping up to fill holes left behind by last year's graduates.
"These seniors, they saw what the last senior class did," Battles said. "We always tell (the seniors): This is your team.' It's not my team. Lord willing, I'm going to get to coach next year; but this is their last year. However well we do will be determined by your leadership. I think this bunch understands it."
Simply put, the class of 2023 wants to live on as legends within their community for years to come.
"They have their minds set that they want to be one of those teams where 10 or 15 years from now whoever's coaching — or me — says, 'Hey, you remind me of that 2022 bunch,'" Battles said. "I think that's the mindset they've taken. Their work ethic shows it."
The Tigers will open their season against the Rebels of Reeltown on Friday, Aug. 19, at 7 p.m. in a battle for bragging rights amongst their families and peers.