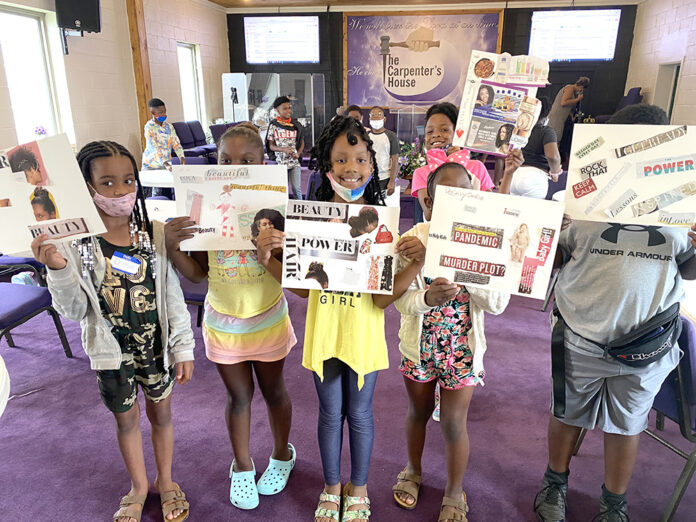 By Wil Crews
sportscrews@opelikaobserver.com
Summer is here and the nonprofit Girls S.T.E.P.S Inc., is hosting a free summer camp for girls and boys grades 3-12.
"In order to be more impactful and meet the needs of all, we decided to remove any barriers that may cause families not to enroll their children," said Girls S.T.E.P.S Founder Tiffany Gibson-Pitts.
"Childcare is very expensive and can be overwhelming, especially when more than one child is involved; therefore, we did not attach a fee for our summer sessions."
With three different sessions running from now until July, the aptly-named Stepping It Up Camps aim to address the academic and opportunity gaps of youth who live in some of Opelika's most disenfranchised areas of town. As part of its curriculum, Stepping It Up Camps provide reading and math support, career exploration, African-American history, art education and mental health awareness.
Session 1 has already begun but registration is still available on a first-come, first-serve basis. Session 1 runs on June 2, 9, 16 and 23, from 10 a.m. to 2 p.m., and is available for boys and girls grades 3-8. The session is broken up into groups of children grades 3-5, and children grades 6-8. Session 2 is for girls and boys grades 9-12 and runs on July 1, 8, 15 and 22 from 10 a.m. to 2 p.m.
Pitts, her assistant director, roughly 10 Girls S.T.E.P.S advisors and a few teen advisors are helping to run to the camps. Campers can expect to receive age-appropriate lessons and participate in fun activities and field trips.
For example, Pitts said the middle school participants will be conducting a book study on "Choose to Win," by Dr. Frankie Bell, while the younger groups will be reading short stories. Math multiplication games and various educational, but fun online programs are implemented as well.
"Each morning starts off with a chant for both groups and our participants create Vision Boards for their first art project," Pitts said. "Since boys are a part of our camp, we have a different male each week come out and address the group."
Just a few of the field trips planned include travelling to Tuskegee University, the George Washington Carver Museum, Booker T. Washington's home, the Tuskeegee Airmen National Historic Site and the Rosa Parks Museum.
Furthermore, Pitts said she is planning college visits for high school sessions in July.
"Those sessions will focus on college/career prep, understanding grade point averages, testing and proper class placement," she said. "The theme of that session is 'Making the most of your High School Years.'"
Having previously held summer camps from 2017 to 2019, around 85-90 school-aged children are served each year. Due to COVID-19 restrictions, camps were not held in 2020. The 2021 summer Stepping It Up Camps are being held at The Carpenter House on 410 W.E. Morton Ave. in Opelika. Lunch and snacks are provided.
By participating in these camps, Pitts said she hopes campers will "have a different world view, thus sparking an interest in change." Additionally, she said the camp's vision is for "all children to be successful," and that "they just need the appropriate tools and people to help them reach their highest potential."
To register your child, go to www.gstepsinc.org. For more information, contact Pitts at 333-444-5869.