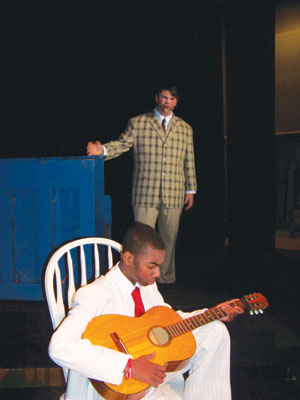 The cast and crew of the Opelika High Theatre Society's one-act musical, along with several other talented classmates, are state-bound after receiving high praise and ranks at the district Trumbauer Drama Festival held Saturday, Nov. 5.
"Take the Repeat," the one-act musical written by OHTS director Revel Gholston and former student Wesley Ballew, took top prize at the competition in the one-act category and will be the district's sole representative in the category at the state competition in Florence to be held Dec. 1 through 3.
Veteran actors who qualified twice for state were Erin Slay, Ragan Nicole Davis, Brandon Lockhart, Acton Cole, Mary Grace Sasser, Ashley Robertson, Thomas Barnes, Peter Strickland and Stephanie Downing.
Three novice actors also qualified twice: Jonathon Johnsick, Auburn Terry and M.J. Burton.
Veteran actors Jackson Wheeles, Sarah Ann Keeter and Carol Ann Guice each qualified in one event for the state competition.
Gholston said he was especially pleased to see several novices qualify an event for state, including many newcomers to the theatre program.
Those novices included Adriane King, Brittany Vallely, Keri Kelley, Mary Cathryn Parker, Emily Johnston and Tabria Goode.