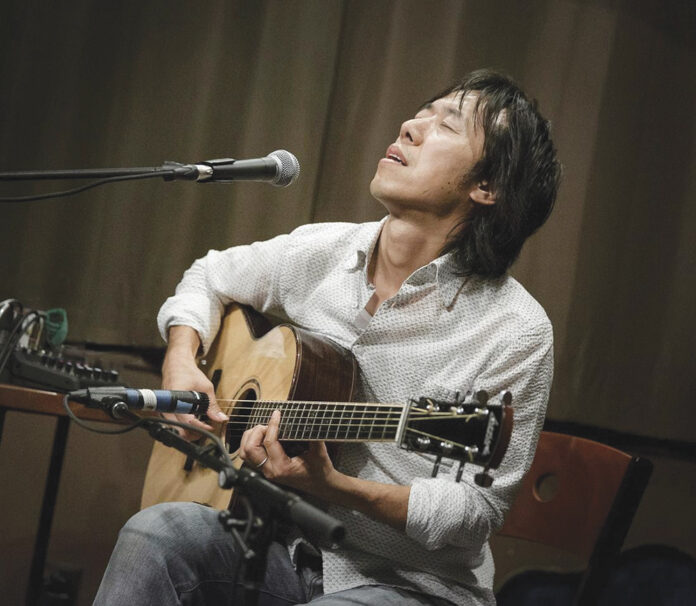 Contributed by Sundilla
Sundilla will welcome award-winning guitarist Hiroya Tsukamoto to Auburn on Friday, January 28. Showtime at Pebble Hill (101 S. Debardeleben) is 7:30 p.m.
Advance tickets are just $15 and can be found at Spicer's Music, Ross House Coffee, and online at sundillamusic.com; admission at the door will be $20.
Hiroya is a one-of-a-kind composer, guitarist and singer-songwriter from Kyoto, Japan. He began playing the five-string banjo when he was 13 and took up the guitar shortly after.
In 2000, Hiroya received a scholarship to Berklee College of Music and came to the United States. He formed his own group in Boston "INTEROCEANICO (inter-oceanic)" which consists of unique musicians from different continents including Latin Grammy Colombian singer Marta Gomez. The group released three acclaimed records, and Hiroya has released three solo albums. In 2018, Hiroya won 2nd place in the International Finger Style Guitar Championship.
On stage, Hiroya has been described as "Eclectic, immersive and mesmerizing" and "a one-of-a-kind guitarist and composer." Hiroya has the unique capability of engaging an audience thru a personable and genuine approach that transfixes his audience and almost transcends his capabilities as a guitarist. In addition to his prowess on the guitar, he is also a skilled songwriter, a poetic spirit and an engaging story teller.
For more information, including videos, go to www.sundillamusic.com.
Sundilla is a 501(c)3 non-profit organization, with an all-volunteer staff. Started in 1993 with an outdoor concert on the lawn at Pebble Hill, Sundilla started holding most of their concerts in the AUUF Fellowship Hall in 1996, thanks to the generosity of the AUUF. In 2017 Sundilla became the first, and so far only, venue to be presented with a SERFA Award for Contributions to Folk Music by the SouthEast Regional Folk Alliance.
In 2013 the first episode of The Sundilla Radio Hour was aired on WTSU in Troy. Since that time, the Sundilla Radio Hour has grown into a weekly show that is aired in Alabama, Georgia, Florida, New York, Colorado and Alaska.