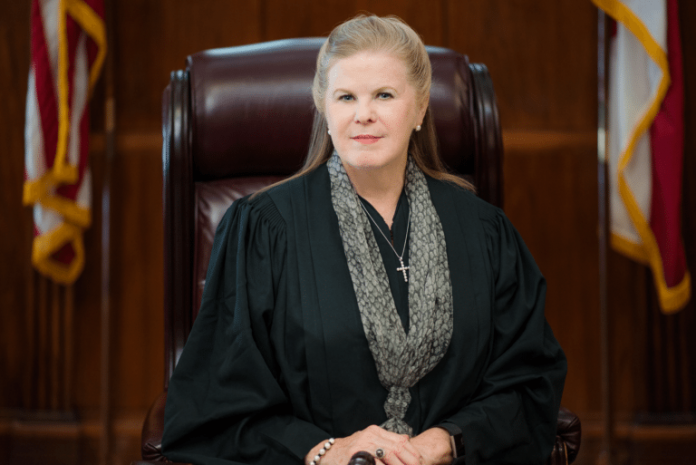 By Morgan Bryce
Associate Editor
Former Alabama Supreme Court Chief Justice and current Democratic gubernatorial candidate Sue Bell Cobb visited with Opelika Observer staff last Wednesday to discuss her ideas and platforms to tackle statewide issues.
Following is a background on Cobb and an overview of her core beliefs and values that will guide her as Alabama's governor if elected.
Background
Born in Louisville, Kentucky, Cobb and her family relocated to Alabama's Conecuh County when she was six months old.
Growing up in the rural community of Evergreen, Cobb said she enjoyed time with family, music, school and horses.
After graduating from high school, Cobb returned briefly to her home-state to attend Asbury College. She later transferred to the University of Alabama, where she majored in biology and minored in history. It was during her time in Tuscaloosa that she discovered her calling and passion for law.
Early career
Following her graduation from Alabama's law school, Cobb's introduction to a legal career began when she was nominated by then-Alabama Gov. Fob James Nov. 5, 1981, to fill the vacant district judge seat for Conecuh County. At 25 years old, Cobb became the youngest trial judge in Alabama's history.
During her nearly 14 years in the position, Cobb said she used her position to focus on the safety of Alabama's children, public safety and sentencing reform, among other issues.
In 1994, Cobb ran for and was elected to the Alabama Court of Criminal Appeals, where she spent two terms as a criminal appellate judge.
Alabama Supreme Court
Cobb made history in 2006 when she became the Alabama Supreme Court's first-ever female Chief Justice.
For the next five years, Cobb said she worked ceaselessly to streamline legal processes and increase the number of active drug courts in the state. By the end of her tenure, 66 of Alabama's 67 counties were operating their own drug courts.
Change in life path
On June 30, 2011, Cobb announced her retirement from the position to spend more time with family and tend to her mother, Thera.
"After being a judge and accomplishing a lot of what I set out to do, my mother became very ill and I made the decision (to retire) to be with my mother," Cobb said.
Despite her departure from everyday political affairs, Cobb said she maintained a vigilant eye on Alabama politics, and she said the things she witnessed prompted her to run for the governorship.
"I made the decision to run for governor because I'm truly concerned about some basic problems that have been plaguing us not for years, but for decades, and even centuries. I think the people of Alabama are prepared and ready for a governor who will tell them what they should hear and not just what they want to hear," Cobb said. "Lee County helped elect Doug Jones, and I think people are understanding that party is not the end-all be-all, but instead a vehicle by which I can run for office."
Platforms
According to Cobb, the health and wellbeing of Alabama's youth would be one of her top priorities if elected governor, and would start improving that by implementing a statewide lottery system.
Deemed by Cobb as the "Life Long Learner Lottery," she said her lottery plan would provide many intrinsic benefits to the state.
"Our citizens are going to Tennessee, Georgia and Florida, and we're supporting the education of students in those states. I'm for a lottery because we're already spending the money that way … and the polling overall shows a 65-35 (percent) majority or better in some areas that are in favor of one," Cobb said. "The money that would be in that, $300 million give or take, would be spent in three ways: one, to fully fund k-4 classes and childcare programs for children ages 0-3; secondly, fully fund career technical or vocational education and third, pay the gap for Pell Grants."
Another cause near and dear to Cobb's heart is the treatments of both drugs and users in the state.
Cobb said she strongly favors the legalization of medical marijuana and reduction of jail time for inmates arrested on non-violent, drug-related charges.
"A lot of Alabama's drug laws are out of step with the nation, and we need more appropriate penalties for non-violent offenders and non-violent drug-addicted offenders," Cobb said. "What I want is a law passed that says that every single person arrested is drug tested … and based on the results of that drug test, if they're facing a non-violent offense, that they would be given the opportunity for long-term drug treatment."
Following are some other issues that Cobb hopes to address if elected governor:
– pass legislation to address the overall sanitation and cleanliness of Alabama's water supply
– construct toll roads in certain parts of the state to address Alabama's declining roads, bridges and infrastructure
– create evening reporting programs for troubled students to keep children active and away from destructive behaviors, habits or activities
– boost the state's overall economy through cutting-edge workforce training programs to incentivize global industries to invest in Alabama.
"(For years) we've had failed leadership in Alabama. I want people to believe in us again, I want them to understand what government is and I want them to be able to connect the dots," Cobb said. "And, I want them to understand that we are going to have a prosperous and safe community once we learn to invest and believe in ourselves."
For more information, visit www.suebellcobb2018.com.