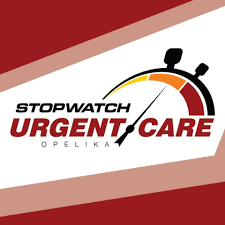 Special to the Opelika Observer
Stopwatch Urgent Care is conducting drive-up coronavirus (COVID-19) testing at five locations across northern and southeast Alabama, including its Opelika and Ladonia locations.
Daily drive-up testing hours are Monday through Friday from 8 a.m. to 6 p.m. and Saturday and Sunday from 9 a.m. to 4 p.m. Testing includes a medical evaluation, and all major insurance plans alongside Medicaid are accepted.
It is recommended that patients contact their local clinic to reserve a spot (https://www. stopwatchurgentcare.com/locations), but unscheduled drive-ups are welcome on a first-come, first-served basis. This service has no charges for insured individuals as the testing process is fully covered by their insurance providers, and individuals can now qualify for testing with or without symptoms of COVID-19 as studies have shown that the rate of asymptomatic carriers is between 25-50%.
Auburn and Phenix City Stopwatch Urgent Care locations are still open for non-COVID-19 related illnesses and injuries. Each location offers no-appointment-necessary visits with licensed providers for treatment of minor illnesses and injuries.
"Across the country, we've seen a rapid decline in emergency room and urgent care visits. Statistically, people should still be experiencing urgent care illnesses and injuries, but they just aren't coming in to visit. We feel that people are worried to be seen at an urgent care, but we are taking the necessary steps to limit exposure to the virus," said Mark Morgan, director of Operations of Stopwatch Urgent Care.
People are currently neglecting their own medical care in an attempt to avoid exposure within clinics which is leading to other illnesses going untreated and prescriptions not being properly refilled. Stopwatch Urgent Care utilizes stringent sanitation and infection control procedures while also following CDC Infection Control guidelines in their cleaning regimens in order to minimize this risk of exposure and ensure that people have access to the care they need.
Services include digital X-rays and lab capabilities on-site alongside remote telemedicine. Most insurance is accepted for these services, and there is a self-pay option for those without insurance.
For more information and updates, visit stopwatchurgentcare.com.