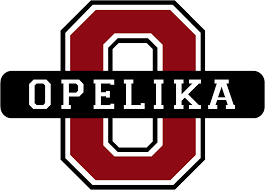 By D. Mark Mitchell
Like most sports this time of year, Opelika High School's softball team postponed or cancelled several games because of rain. The Lady Bulldogs, under first year head coach Randy Belyue, were able to play three games last weekend.
OHS lost games to Stanhope Elmore, Brewbaker Tech and Rehobeth in the "Wetumpka Invitational" in Wetumpka.
OHS v. Stanhope
Stanhope defeated Opelika 9-4 in extra innings. Offensively, Dreamer Denmark led at the plate with three hits, including a single, double and triple. McKay Yountz and Kayla Fourtanbary had singles and one RBI apiece. Leah Barnes and Maddox Wynham stole two bases in the loss. Yountz pitched seven innings, recorded 10 K's, allowed three walks and one earned run in the circle.
OHS v. Rehobeth
Opelika lost 5-0 to Rehobeth in three innings, because the 75-minute time limit expired. Rehobeth's coach called numerous timeouts, slowing down the pace of the game. Nylen Thomas recorded the lone hit and added a stolen base for Opelika. Daysia Jones pitched 2 and 2/3 innings, allowing five hits, five earned runs, two strikeouts and walking two batters. Erin Estes pitched 1/3 of an inning, allowing two walks.
OHS v. Brewbaker Tech
The Lady Bulldogs were shutout by Brewbaker Tech 9-0. Yountz recorded Opelika's only hit. Pitchers,
Sanai Stringer pitched 1 and 1/3 inning, allowing six earned runs. Ava Parker pitched 1 and 1/3 innings in relief, allowing two earned runs.
Coach Belyue is pleased with the way his team is improving, especially with the lack of games played.
BASEBALL
The OHS baseball team improved to 8-5 after beating Oak Grove and Northridge at Tuscaloosa County High last Saturday.
OHS v. Oak Grove
The Bulldogs separated from Oak Grove after erupting for seven runs in the fifth inning on their way to an 11-2 win.
Jackson Harris earned the win, pitching 5 and 2/3 innings and allowing two runs and three hits. Hunter Weston pitched one and 2/3 innings in relief. Offensively, Latrelle Gullate and Andrew Parr led with two hits apiece. Brooks Bryan, Brayden Thomas, Julian Duke and Paul Goodman added hits. Goodman and Duke
collected two RBI's apiece. Nine players scored runs for the Dawgs.
OHS v. Northridge
The Bulldogs scored four runs in the last two innings to slip by Northridge 7-6. Six Opelika batters recorded hits, Gullate, Harris, Thomas, Kory Mccoy, Goodman and Weston. Duke scored two runs.
Thomas earned the win in relief, throwing three scoreless and hitless innings. Parr started the game, pitching four innings, striking out four with one walk.
Opelika is scheduled to play Daphne (5 p.m.) and Saraland (8 p.m.) on Friday night at Bulldog Park. The Bulldogs play Theodore and Faith Academy on Saturday beginning at 10 a.m.
ALABAMA HIGH SCHOOL ATHLETIC ASSOCIATION
The AHSAA Central Board of Control approved changes to winter sports for the upcoming 2020-21 and 2021-22 classification year. Bowling expanded from one to two divisions and wrestling created a balance based on number of schools. Basketball and indoor track did not change.
The changes to bowling and wrestling were established because of an increase in schools participating.
Wrestling saw the most growth among schools in the last four years. The new classification will be, 1A-4A, 5A-6A and 7A by themselves. Bowling will now have 1A-5A and 6A-7A for boys and girls. This will allow smaller schools a better opportunity to compete.
Basketball will continue to operate by the same classification system.
The AHSAA will realign spring sports after the completion of the 2019-2020 school year.
DIXIE BOYS BASEBALL 13-15 REGISTRATION
The Opelika Parks and Recreation Department Baseball registration runs from March 15 through April 13 for 13 to 15-year-olds at the Opelika SportsPlex.
Registration is $45 per player for Opelika residents and $50 per player for non-Opelika residents. Individual Registration fee includes a team jersey and hat. All players will be placed on a team.
Pre-made teams consisting of 13 to 15-year-olds may register for $750 per team. All teams will get one to two games per week and one to two practice sessions. The season will run eight weeks during May and June.
Registration must be made in person at the Opelika Sportsplex Monday through Friday from 8 a.m. to 8 p.m., Saturday 8 a.m. to 4:30 p.m. and Sunday from 1 to 5 p.m. For more information, contact Melissa Martin at 334- 705-5560 or send email to Mmartin@opelika-al.gov or Mitchell at 334-787-1514 or send email to foxonthemark@yahoo.com.
D. Mark Mitchell is sports director for iHeart Media, Alabama Dixie Boys State Director and vice president of the A-O Sports Council.