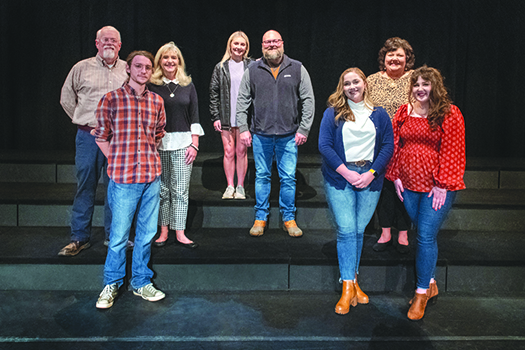 CONTRIBUTED BY SUSCC /BY KATIE LAMAR JACKSON
WADLEY —
For many area residents, attending the annual Christmas show at Southern Union State Community College is a favorite holiday tradition. For some of those residents, however, performing in the show is also a family tradition and part of a lasting community legacy.
Such is the case for at least three families that will be attending "Everyone's a Kid at Christmas," the 2022 holiday extravaganza to be performed Nov. 29 through Dec. 2 on SU's Wadley campus by the college's renowned Show Choir.
On stage at Brazeal Auditorium those nights will be Joseph Anglin, Karsen Kinman and Jenna and Lauren Fuller, all of whom have parts in the show. In the audience will be their parents, Darren and Kim Holloway Anglin, Deanna Davis Fuller and Andy Kinman, all of whom are former Show Choir members.
Though the parents treaded the boards of that stage a few years back — the Anglins in the mid-1980s, Deanna Fuller and Andy Kinman in the 1990s — they all remember fondly and clearly what it was like to prepare for and perform in this illustrious holiday production. They are also all thrilled that their children are now part of the Show Choir's legacy.
The Show Choir is one of several SU-sponsored performance groups, all of which trace their roots back to the college's beginnings as Bethlehem College, a small Bible school founded in 1922 to offer area residents a well-rounded education that included a strong emphasis on music, dance and other fine arts.
The choir itself, however, only dates back to the 1970s when SU's music director, Jimmy New, began laying the foundation for an ensemble-style "show choir" that combined choral singing with choreographed dancing. By the time the Tom Brazeal Auditorium first opened in 1979, New had developed an eager and talented pool of Show Choir students ready to take the stage for full-fledged productions.
Over the decades since, New and his successors, the late Ann B. Caldwell and current SU Music Director Dr. Trey Rayfield, built the Show Choir into a stellar program known for its sell-out Christmas and spring shows. The choir also performs frequently across the state and region and has a biennial invitation to perform at Carnegie Hall in New York City.
Earning a slot in Show Choir is a competitive process, but SU's music scholarships have always helped provide a steady supply of talented students for the program each year, including two generations of Anglins, Fullers and Kinmans.
All four parents attended SU on music scholarships, and each arrived on campus with some musical experience but little formal training.
Darren, who grew up in Roanoke and played bass guitar in the SU Jazz Band from 1985 to 1987, said he came to Southern Union without any firm career or life plans. "I didn't have a focus," he said — that is until he saw Kim, who arrived the following year from Woodland to play bass clarinet in the band. It took a little time, but eventually Darren got her attention, too, and they've been together ever since. Though both had been in high school bands, they still had a lot to learn from SU's exceptional and supportive faculty, who also recruited them for Show Choir — Kim to be a singer and Darren to play in the band.
Deanna grew up singing in church and with her well-known Chambers County gospel singing family. At the age of 18, she and three cousins also formed their own gospel quartet and traveled around the Southeast singing, but she had no formal training when she arrived at Southern Union in 1992.
"Mrs. Caldwell told me, 'You cannot read a lick of music,'" Deanna said. "I said, 'No ma'am, I know I can't.' But I had a very good ear, and she was very patient with me."
Caldwell helped Deanna qualify as a member of the Southern Union Sound, a smaller campus singing group, and later the Show Choir.
Andy Kinman also sang in church and came from a gospel background — his family was a well-known Alexander City-area group that often sang with Deanna's family. Though he had been offered a scholarship to Central Alabama Community College in Alex City, after visiting Southern Union's Wadley campus at the urging of a friend, Kinman was sold.
"I fell in love with the place," he said, adding that it was at SU that he truly found his voice and had an opportunity to explore different kinds of music, thanks to the school's knowledgeable and talented faculty.
"The educators were top-notch," Darren said of his experience at Southern Union, "But they were also wise when we needed encouragement in choosing the right path."
Kim agreed, adding, "Mr. New and Mrs. Caldwell knew our talents more than we did."
Deanna noted that they learned not just about music and other academics at SU, but also many personal and professional life skills that have served them well ever since.
"I think a big part of growing up is done here," she said. "Our teachers brought us in and raised us up."
Participating in Show Choir, which requires teamwork and cooperation, was part of that education, but Show Choir also gave them confidence and a chance to shine, which can be a rare gift.
"This program gives students a chance to be part of the A team," Kim said, noting that many students in rural areas of the state don't have access to arts education programs. Southern Union ensures those students "don't fall between the cracks," she said.
Lauren Fuller understands that firsthand.
"Our high school barely had anything for the arts," Lauren said, "so I felt overlooked and underappreciated. It's amazing to get here and feel like you're somebody because without the arts I don't know who I would be."
Of course, all four parents hoped their own children would end up at Southern Union, too, and all four offspring did, each of their own accord.
Joseph was attracted to SU's strong theatre program and "I also liked the idea of doing something that was generational," he said. But when Joseph came for scholarship tryouts, he was so impressed with Rayfield and that he happily got involved with the music program and Show Choir in addition to theatre.
Karsen planned to attend Southern Union all along because she was drawn to its smaller community college experience. But having a father and an aunt who both sang in Show Choir, she also wanted to carry on that family tradition. "We didn't have a choir in high school, so I didn't have any experience with it," she said. Being part of Show Choir has taught her a lot about her own talents and the breadth of talent around her, too. "I love it," she said.
"I've always wanted to come here because ever since I was a little girl, it has been my dream to be in Show Choir," Lauren said, a sentiment echoed by Jenna. And the experience has been a dream come true. "It's been amazing to come here and be taught and get to do what we love," Lauren said.
For the Fuller sisters, who are freshmen, this Christmas show will be their first big performance. Both have been active in community theater productions, so they are no strangers to the stage, but neither have performed in front of an audience as large as the Christmas show promises to bring. "It's exciting and scary at the same time," Jenna said.
Lauren agreed, but added she feels confident. "We've been rehearsing so much, and I think we've really got it down," she said.
Even though she's a sophomore with one Christmas show already under her belt, Karsen said being in the show is still a little anxiety-inducing.
"It's what Southern Union is known for, and it's the one I've always heard about growing up," she said. "It's such a big deal and I'm in it!"
Joseph, also a sophomore, is reveling in the lead-up to the show. "This is the part that I like most about it — it's when all the pieces start coming together," he said.
Looking back on their experiences, the parents can readily recall those pre-show jitters. Andy remembered being "scared to death" before Show Choir performances because, though he had confidence in his singing ability, the footwork was a challenge.
"I'm not a dancer, and it was good for me to just sway in the right direction," he said.
They all have memories of wardrobe glitches and other hiccups and of the hours spent practicing, but what these parents and children alike treasure most are the lifelong connections they make through Show Choir.
"There are people I met in the choir that have walked with me through some of the best moments and the worst moments of my life," Andy said.
The parents and children also agree that the Show Choir — and entire fine arts program at Southern Union — is an invaluable, irreplaceable experience that serves students well in life, whether they pursue careers in the performing arts or something else. It is, they said, truly a lasting and powerful legacy.
"What's truly impressive to me is the standard of excellence that was set long ago and is met consistently year to year to year," Andy said. "That's what's special about this choir at this school, and it should not be overlooked."
"It's a treasure to have something of this level of quality available in our area of the state," Darren said, adding that the level of support offered to Joseph and other students is "a blessing that you can't buy with money. I hope my grandchildren will get to be part of it one day, too," he added.
Alumni Show Choir members will have an opportunity to join the current choir on stage for one of this year's songs, a fitting tribute to the lasting legacy of the Show Choir and SU's 100-year commitment to providing the area an education that embraces knowledge and creativity.
Tickets to "Everyone's a Kid at Christmas," which will begin at 7 p.m. nightly Nov. 29 through Dec. 2 in Brazeal Auditorium on Southern Union's Wadley Campus, are available online at suscc.edu.