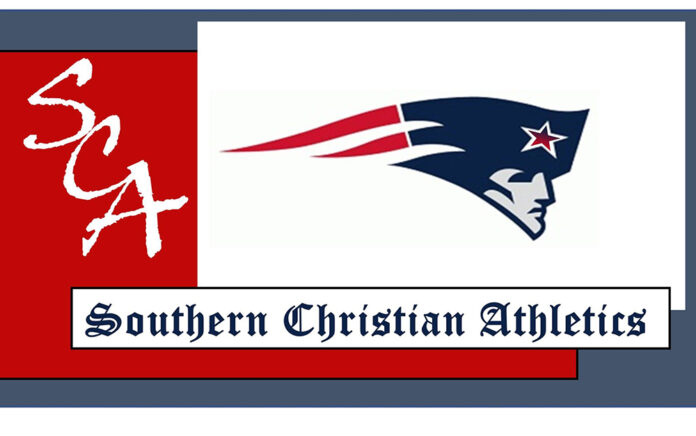 BY WIL CREWS
SPORTSCREWS@OPELIKAOBSERVER.COM
The Southern Christian Patriots varsity football team defense forced three turnovers but were outmanned by the Oneonta Redskins Friday, losing 49-12 and falling to 0-2 on the young season.
The Patriots fell behind early and failed to overcome a dominant Redskin rushing attack in their comeback attempt. Facing the state champion runner-ups was always going to be an uphill battle for the second-year program that is Southern Christian, but the admiral performances from the team's leaders provided some positives to reflect on moving forward.
Offensively, senior Daniel Adams led the way for the Patriots, passing for 60 yards and rushing for another 54. Sophomores Josiah Frick and Levi Marchio added an additional 26 and 75 yards, respectively. Adams had a 3-yard touchdown scramble in the third quarter to open the scoring for Southern Christian and Marchi had a 20-yard touchdown reception in the final quarter to close out the Patriot's scoring.
Defensively, the Patriots were led by freshman Noah Freeman, who led all tacklers will 11 individual takedowns and one sack. Adams, Marchio and Joshua Adams each followed with seven tackles. Josiah Frick racked up nine tackles in the first half before exiting the game with a foot injury.
Despite Oneonta's success in the rushing game, the Patriots pass defense found success in the form of interceptions from Marchio and fellow sophomore Carter Scott. Additionally, eighth grader Jagger Scott added five tackles and forced one fumble which was recovered by Marchio.
This week, the Patriots travel to face ACSC conference powerhouse Evangel in Alabaster, Alabama. The Lightning are 2-1 on the season and averaging 48.3 points per game, and allowing just 19.
The Patriots "are hungry for a win," said Southern Christian Athletic Director Jason Scott.
The Southern Christian junior varsity was in action this weekend, too. The Patriots ended the game just a few yards short of pay dirt and fell to conference opponent Lighthouse Christian, 22-16.
Jackson Dooley was 5-for-6 with 79 yards passing, 77 of which were to his favorite target, running back Jagger Scott.
Overall, Scott was leader for the Patriots on Friday night. The tailback tallied up an additional 130 yards on 14 carries and accounted for both of the Southern Christian touchdowns.
Defensively, the Patriots struggled to affect the game against a pass-heavy Lighthouse offensive attack. Scott also led the way on defense with a team-high five tackles, followed closely behind by River Nelson and Elijah Bailey. Tripp Vaughn grabbed the only interception of the game while also adding three tackles.
The Southern Christian Patriots junior varsity now sits at 1-1 and the varsity 0-2 in the early stages of their second inaugural season.