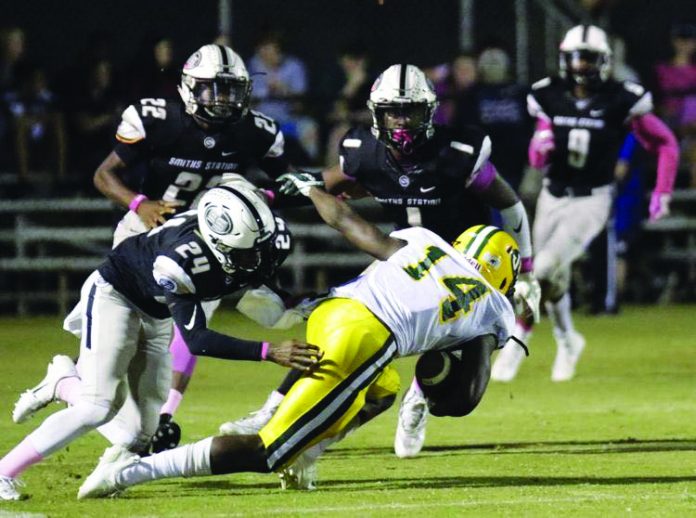 By Morgan Bryce
Associate Editor
Another heart-pumping finish and defensive red-zone stop propelled Smiths Station to a 23-17 victory over Jefferson Davis last Friday night at Panther Stadium, improving to 5-2 overall and 2-1 region play.
Tied 17-17 late in the fourth quarter, the Panthers pulled ahead on a powerful 23-yard touchdown run from D.J. Moffett.
Jefferson Davis quarterback Curtis Wilson connected with Reginald Summage twice on the game's final drive to keep the Volunteers' hopes of winning alive. Positioned inside of the Panther's red zone, four-straight incompletions doomed their hopes of a comeback, ending with a severely overthrown Wilson pass to Tavares Womack.
"I can't tell you how proud I am of these kids, and I tell you what, I had to go the doctor last week and I may have to go again this week because they are about kill me," joked Smiths Station Coach Mike Glisson after the victory.
Both schools posted back-to-back three-and-outs to start the game. On their second drive, sophomore Smiths Station quarterback Corey Minton piloted the Panthers to the Volunteer 3-yard line, but was stuffed on a keeper on fourth down to end what once had been a promising drive.
More missed opportunities from both teams prevailed until early in the second quarter, following several big gashes of the Volunteer defense by Panther running back L.C. Harris. Jefferson Davis bowed its neck defensively in its own red zone to force a 32-yard field goal attempt by Taylor Walker which split the uprights.
Late in the second quarter, the Volunteers mustered a scoring drive of their own, relying on consistent throws from Wilson to Womack to advance into scoring position. With 32.3 seconds left in the half, Wilson plunged into the endzone from a yard out to give his team its first lead of the game.
Following a fiery halftime speech from Glisson, the Panthers opened the second half with a sense of urgency, scoring on their first drive with a beautifully woven 16-yard TD run by Kyran Hall to extend their lead to 10-7.
Another botched offensive series by the Volunteers and short punt gave the Panthers momentum and great field position, relying on a well-balanced dose of runs from Harris and Moffett to move the ball. Moffett capped off the drive with a head-first TD drive from two yards out.
The next score came early in the fourth quarter, as Jefferson Davis kicker Juan Cardenas booted a 30-yard field goal to cut the Smiths Station lead to seven.
Fewer than four minutes later, the Volunteers were able to capitalize and score again following a Panther fumble. Wilson scored his second TD of the night from three yards out to tie the game 17-17.
"That's a good football team over there. I know their record (1-5 overall) isn't great, but they've dealt with injuries (the whole season)," Glisson said. "There ain't no easy wins in our region, and it's a fight every Friday night. We're going to enjoy this win tonight then come back in here early Monday morning to get ready for Auburn."
The Panthers will travel to Duck Samford Stadium for a pivotal 7 p.m. regional tilt v. the Tigers. Auburn sports a 6-0 record, dominating opponents all season and winning by an average of 26 points-per-game.
Duck Samford Stadium is located at 1600 E. University Drive.