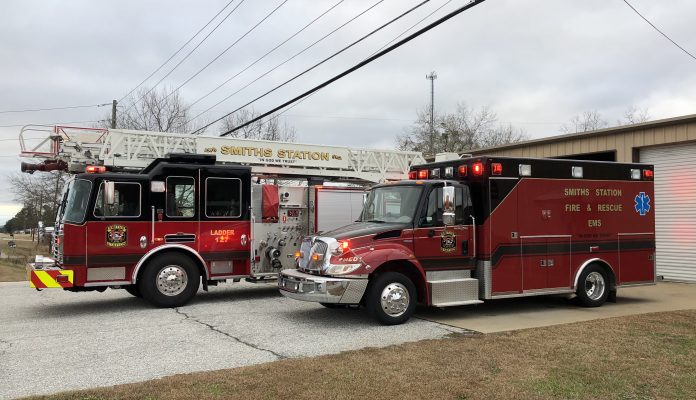 By Morgan Bryce
Associate Editor
Beginning Feb. 1, the Smiths Station Fire and Rescue Unit will begin offering citizens access to its own fire-based ambulance service.
SSFR Deputy Chief Daniel Sexton explained that Smiths Station has been sharing two ambulances with neighboring communities and counties since 2012. East Alabama Medical Center and Care Ambulance of Phenix City have each offered a shared ambulance to the Smiths Station community.
"We're really excited about offering this service, which is called 'fire-based ambulance service' in industry lingo. It's great to know that when seconds count in life or death situations, our citizens are finally going to have an ambulance that is dedicated to the Smiths Station community," Sexton said. "We are ALS1 licensed, and we will offer the exact same paramedic level of patient care that is offered by the Care and EAMC ambulances. In addition, we have purchased two Zoll automated CPR machines that other ambulances in the area do not have, and these machines really deliver great results when it comes to patient survival rates and outcomes."
Funding for the new vehicles was provided by proceeds from the fire district's fire-fee fund, which was renewed and increased in 2012.
Sexton added that the new service has a full backup of all equipment, including a second ambulance to fill in, in case of a mechanical breakdown or other issue. The new ambulance service will also have similar policies to the other two existing services: a patient's billing for ambulance transportation will be handled through insurance, including Medicaid and Medicare; conscious patients will have their choice of hospitals, including EAMC, Midtown Medical Center and Saint Francis in Columbus, Martin Army Community Hospital at Fort Benning and Jack Hughston Memorial in Phenix City. Unconscious patients or those who are victims of certain types of injuries will be transported to the nearest appropriate hospital in accordance with state laws and regulations.
Smiths Station Mayor Bubba Copeland and District 3 Lee County Commissioner Gary Long said they believe the addition of the community's own ambulance is a huge step toward progress.
"First and foremost, the outfit at the Smiths Station Fire Department is a top-notch bunch. They're very professional, and I constantly tell other cities that I would pit my volunteers against their full-timers," Copeland said. "It's going to mean faster response times for the citizens, it'll be beneficiary to save lives for heart incidents or emergency situations and it'll be great for the overall well-being and health of the city."
Long praised both Sexton's – and SSFR Chief Joe Walden for their efforts and dedication to the city they serve.
"It became my mission way back in 2008 (when I became commissioner) to see to it that we had an adequate ambulance service. I commend Daniel and the fire chief both for working as hard as they have to see this thing till the end," Long said. "I'm excited. It's a good-looking ambulance, and it is adequate for what we need. I'm glad that they care enough about our community to make sure that we're protected with an ambulance service."
SSFR has six stations spread across the community, serving a fire district with a total population of more than 35,000 people. With the exception of the new paramedics and emergency medical technicians, the department is 100 percent volunteer.
For more information, call 334-521-2221.