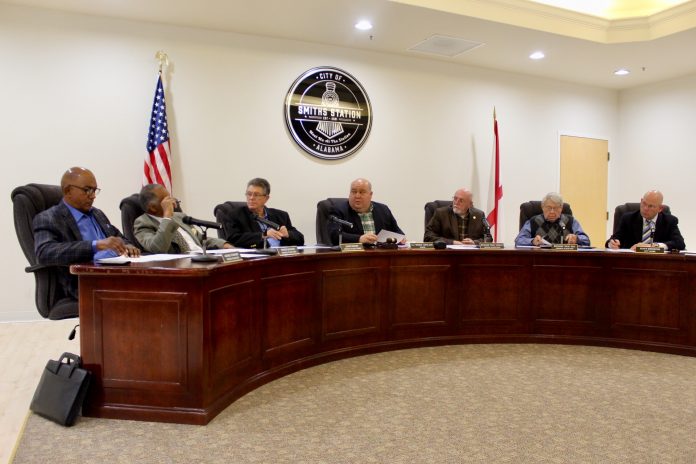 By Morgan Bryce
Editor
The Smiths Station City Council voted to renew its ad valorem tax during last week's city council meeting, part of Mayor Bubba Copeland's continued efforts to better and improve the city's overall infrastructure and aesthetic.
Smiths Station implemented its first-ever ad valorem tax as a city last year, and it must be renewed on an annual basis. From reports provided by Chief Financial Officer Shelby Branton, more than $160,000 has been collected this fiscal year, a huge first step towards progress according to Copeland.
"These monies are a huge help for us … it helped us purchase our first city vehicle and helped cover the cost of our city-wide trash pick-up system among other things. With this, the sky is the limit," Copeland said. "One can only imagine how far we'd be along if this had been enacted years ago. Now, we'll be able to make that dream a reality."
Copeland also recognized Smiths Station resident Kenneth Kelly by proclamation, honoring him for his nearly 40 years of military service.
"I really don't like accolades much but I'm appreciative of the recognition of my service. I didn't work hard because of the pay or recognition, but because it was the right thing to do," Kelly said.
In other business, the council:
approved a resolution for the "Back to School State Sales Tax Holiday" from 12:01 a.m. July 19 to midnight July 21 (Friday through Sunday)
heard updates from Copeland on storm recovery and the planned opening of the historic Jones Store Museum later this year.
The Smiths Station City Council meets on the second and fourth Tuesday of each month with a work session beginning at 5:30 p.m. E.S.T. and regular meeting at 6 p.m. They meet within the council chambers of the Smiths Station Government Center, which is located at 2336 Lee Road 430. For more information, call 334-297-8771 or visit www.smithsstational.gov.