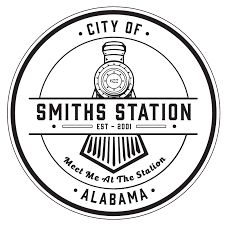 By Morgan Bryce
Associate Editor
On the recommendation of the city's planning commission, members of the Smiths Station City Council voted to approve changes in the size of its territorial planning jurisdiction during last Tuesday's meeting.
With the passage of "Resolution PC 2018-099," the city's planning jurisdiction will be reduced from five miles outside city limits to three to reduce the burden of labor and cost to Smiths Station's Planning and Zoning Department, according to Mayor Bubba Copeland.
"We don't have any business messing around four or five miles outside of our city limits, because in the next 25 years, we will (not expand) out that far. Maybe we will, but I don't see us getting that far as a city," Copeland said.
Copeland also recognized sportswriter Chad Dixon for his coverage and friendship with the City of Smiths Station through prayer and the placing of a Chicago Cubs baseball hat on the council table during the meeting. Dixon was recently diagnosed with brain cancer and is currently undergoing treatment at Mercer University Hospital in Atlanta.
"I have this Cubs hat on my desk in honor of my friend Chad Dixon, who is struggling with brain cancer. He's having his third surgery," Copeland said. "On behalf of the City of Smiths Station, we stand with you Chad and we are here for you."
In other business, the council:
– approved "Ordinance 2018-151.1, Article 4(d)" which allows for the Smiths Station Historic Commission to be allowed to make a motion for the removal of a board member if they miss three consecutive meetings or more
– heard and approved the financial statement for the general fund budget for the month of August.
The Smiths Station City Council meet on the second and fourth Tuesday of each month, with their work session beginning at 5:30 p.m. EST and their regular meeting at 6 p.m.
For more information, visit www.smithsstation.gov or call 334-297-8771. The Government Center is located at 2336 Lee Road 240.