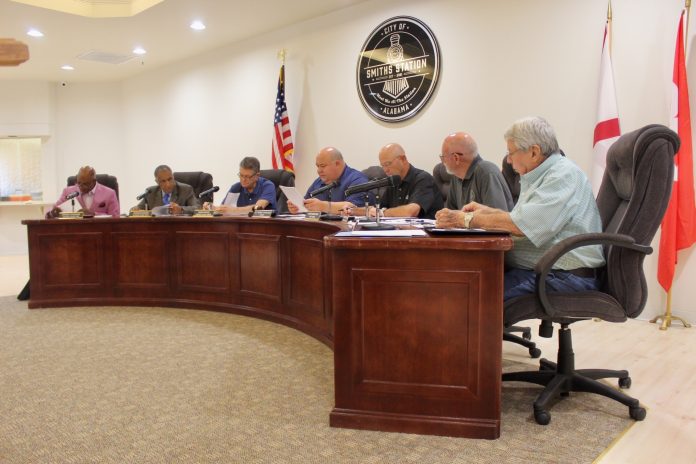 By Morgan Bryce
Editor
With only one business item on their agenda, the Smiths Station City Council took time during their meeting last Tuesday to recognize two prominent citizens by proclamation for their contributions to the city.
The first citizen recognized was the 105-year-old Ella Frances Cook, a resident of the nearby Motts community. Mayor F.L. "Bubba" Copeland knelt and read Cook her centenarian proclamation, which said "born Sept. 22, 1914, she is the mother of 10 children, grandmother to 20 children and has many great-grandchildren … and is a woman of great faith who loves her church family at St. Mark CME Church in Smiths Station and is a longtime member there."
"I was thinking about all the historical events and periods you've lived through, all the things you've witnessed in your lifetime, and it just gives me goosebumps. When I have a chance, I'd love to come sit and spend an hour with you to talk about some of that," Copeland said.
Cook told Copeland and the gathered crowd in the council chambers that her secret to a long, happy life was "to be good and stay on the right side."
The second and final citizen recognized was Hermine Bridges, who has lived in Smiths Station since 1978. Born and raised in Bad Tolz, Germany, she grew up in the midst of her country's involvement in World War II.
According to information on Hermine's proclamation, "she was 17 (years old) when she met a young American soldier named Rex Bridges who was stationed in her hometown and (later) swept her off her feet."
Returning from service in 1952, Rex wrote a letter to then-U.S. President Harry Truman requesting permission for his new wife to be able to join him in the United States. In the three years it took to become a naturalized citizen, she worked to learn the English language and culture while raising two sons.
Hermine spent most of her career in the banking industry, working at Opelika's First National Bank and later First Federal Savings in Phenix City.
Now retired, Hermine is best-known for her lemon pound cake and "having the most manicured lawn in Smiths Station" according to Copeland. Utilizing her Snapper lawnmower, she mows her lawn a couple of times a week to maintain its well-maintained and landscaped appearance.
"I love Smiths Station, and I'm proud to call it home," Hermine said after being read her proclamation.
In other business, the council:
approved the environmental and general fund budgets for September
heard a reminder from Copeland on trick-or-treating festivities officially lasting from 5:30 to 8 p.m. in the city limits and
heard updates on a proposed tornado shelter to be constructed near the Smiths Station Goverment Center.
The Smiths Station City Council meets on the second and fourth Tuesdays of each month with a work session beginning at 5:30 p.m. E.S.T. and regular meeting at 6 p.m. Their meetings are held within the council chambers of the Smiths Station Government Center, which is located at 2336 Lee Road 430.