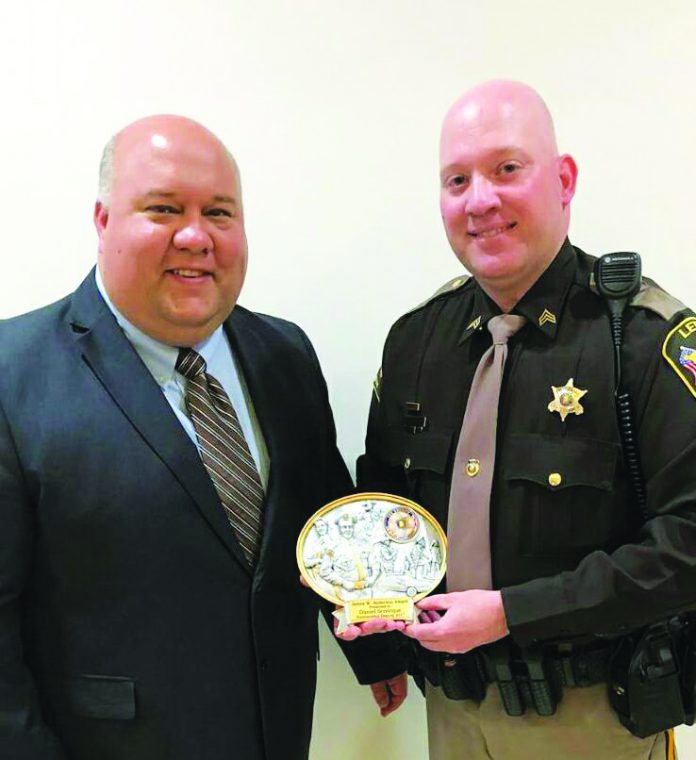 By Morgan Bryce
Associate Editor
The Smiths Station City Council presented Sgt. Dan Scivicque of the Lee County Sheriff's Office with the James W. Anderson Award during its regular meeting Tuesday night.
Named after a former Lee County deputy who lost his life in 2010 in the line of duty, the peer-chosen recognition is given to the officer who demonstrates the same level of service and sacrifice as Anderson.
"It's a great honor. I did not expect such kind words from my captain, and they were very nice  to hear … it's always great to get affirmation," Scivicque said on receiving the award. "First and foremost, my goal is to uphold the law in the county. I do enjoy the public relations side of it and meeting people from all walks of life … I love that."
The council also entered into an agreement with Premier Landscaping LLC to handle its roadside trash collection/disposal, a contract worth $31,200 a year. Copeland said the measure would improve the quality of life and overall streetscapes for Smiths Station residents.
"We've entered into a contract with a company that will maintain our city streets. The county already does it, but this right here will be a double barrel, because the county is so limited … which is why we have to do something to help our city out," Copeland said. "If you go to Opelika, their streets are clean, if you go to Auburn, their streets are clean. We need to have our city streets as clean as theirs are."
In other business, the council:
• approved a general fund budget for the month of January
• announced two citywide events: a seminar March 19 at the Smiths Station High School auditorium on smartphones, sex and social media, presented by Lee County District Attorney Brandon Hughes and Chief Assistant District Attorney Jessica Ventiere; and a meet-and-greet March 20 with Smiths Station's new football coach Mike Glisson.
The Smiths Station City Council meets the second and fourth Tuesday of each month at the Government Center, located at 2336 Lee Road 430. For more information or meeting times, visit www.smithsstational.gov.