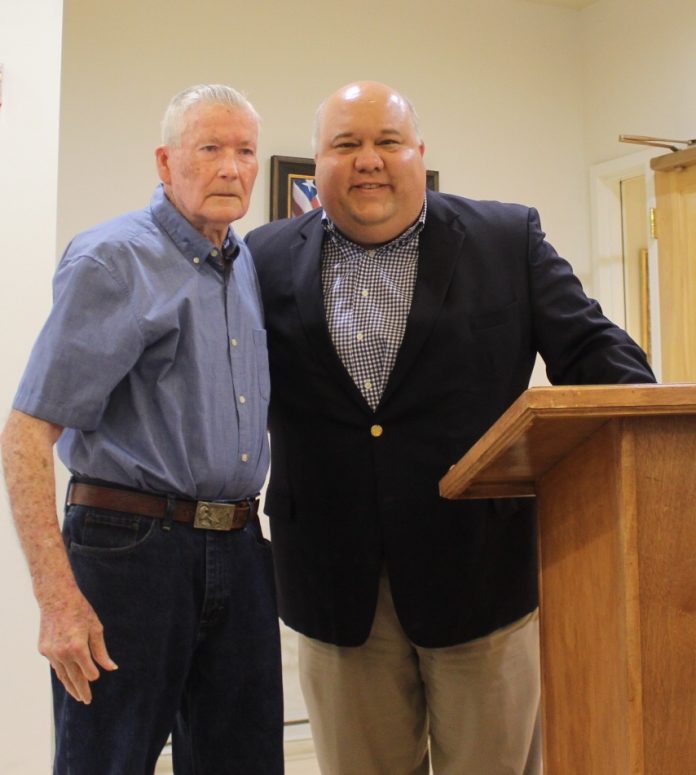 By Morgan Bryce
Editor
Alabama District 38 Rep. Debbie Wood updated the Smiths Station City Council on the happenings of the state's latest legislative session during their meeting last Tuesday.
In her 31-minute discussion, Wood shared some of notable moments from the session, including the passage of landmark legislation like the Gas Tax, the statewide ban on abortion that has drawn national controversy and her appointment to the ATRIP-II Program Committee by Gov. Kay Ivey to address infrastructure needs like bridges and roads.
"It was a very unique session because of us going into special session immediately after starting … which is a first. I really enjoyed serving you and I hope that you'll call me when you have needs," Wood said to the council. "You have a great community here and I can tell you that there were a lot of people praying from Montgomery when those tornadoes hit here and asking how you all were doing."
Mayor Bubba Copeland recognized Smiths Station resident James Mack Dean by proclamation for his 41 1/2 years of service as a bus driver within the city. Dean, a father of four, is an Army veteran and has lived in the city for 54 years.
"Let me say before reading this that I want to say how much of an honor and a privilege it is for me to do this … this is an example of your life coming back around to you. When I was a little, mischievous boy in Smiths Station off Auburn Road, this man used to come pick me up and take me to school," Copeland said. "He taught me a lot about life, and was very kind and patient towards me. This is such a cool moment for me because you were my bus driver and now I am your mayor."
The council also approved the general fund budget for the month of May and a resolution entering them into a contract with the local Red Cross Branch. Copeland explained that they will make a yearly donation to the organization to help further its efforts and give back to a group "that did a lot of good" for the city during the entire tornado recovery process.
The Smiths Station City Council meets on the second and fourth Tuesday of each month with a work session beginning at 5:30 p.m. E.S.T. and regular meeting 6 p.m. Their meetings are held within the council chambers of the Smiths Station Government Center, which is located at 2336 Lee Road 430. For more information, call 334-297-8771 or visit www.smithsstational.gov.