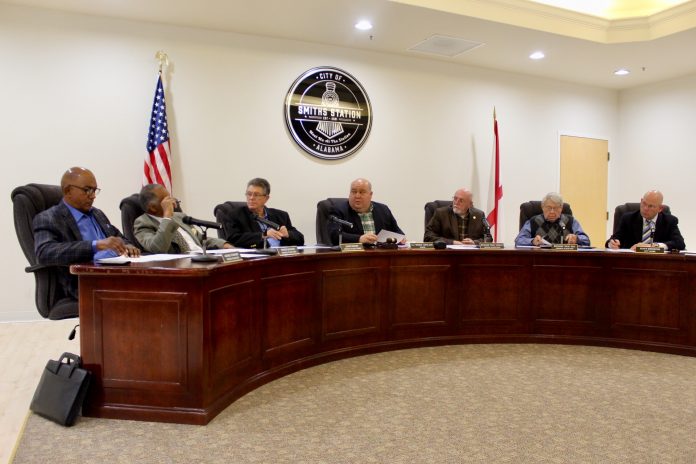 By Morgan Bryce
Editor
During last Tuesday's meeting, members of the Smiths Station City Council discussed the value of their recently approved partnership with the New York-based Center for Municipal Services.
Through their agreement, the center will assume the approval, planning, engineering and construction of new cell towers within city limits. CMS representative David Andrews explained to the council that the city will collect nonrefundable fees of $2,500 for requests to make repairs or modifications to existing cell towers and $5,000 for new cell tower applications, while his company will retain $8,500 in escrow to cover the costs of their services.
"From here on out, our company will process each application and make sure all federal regulations are followed, make sure that all facilities are brought up to code and that each new one built is up to that code and standard. The city will not be out of pocket for all the technical and engineer reviews and building inspections … those will be covered in the previously mentioned escrow fee," Andrews said.
Mayor Bubba Copeland also commemorated April as "Fair Housing Month" in the city through the reading of a proclamation alongside East Alabama Board of Realtors Association Executive Chris Lammons and member Bea Wallace.
The monthlong celebration serves as a remembrance of the passage of the 1968 Fair Housing Act signed into law by then-U.S. President Lyndon B. Johnson which "prohibited discrimination concerning the sale, rental, and financing of housing based on race, religion, national origin, and since 1974, gender; since 1988, the act protects people with disabilities and families with children," according to the HUD website.
In other business, the council:
approved a pre-zoning of property in the city limits to R-1 residential
approved a resolution for the renewal of a contract with Custom Cutts, LLC, who handles the upkeep of the Smiths Station Sports Complex
heard and approved financial statements for March's general and environmental fund budgets ready by City Clerk Scott Johnston.
The Smiths Station City Council meet on the second and fourth Tuesday of each month with a work session beginning at 5:30 p.m. E.S.T. and regular meeting at 6 p.m. Their meetings are held within the council chambers of the Smiths Station Government Center that is located at 2336 Lee Road 430. For more information, call 334-297-8771 or visit www.smithsstational.gov.