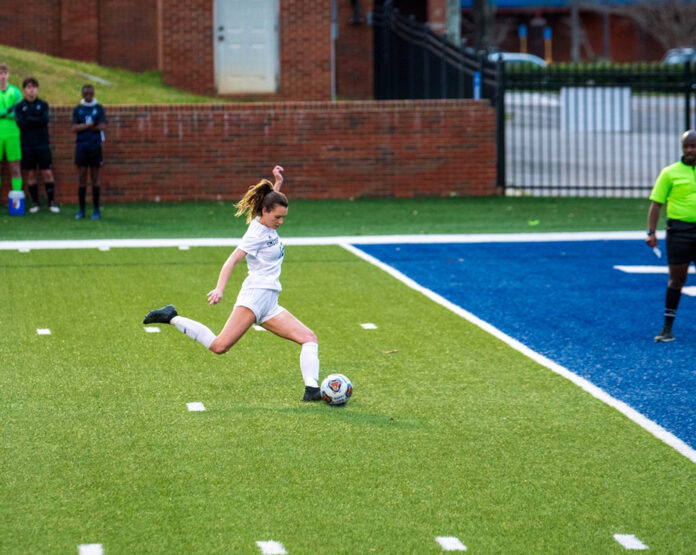 By JD McCarthy
For the Opelika Observer
All season, the Smiths Station girls' soccer team has been looking forward to its game with Auburn. The team got its chance Friday and did not disappoint, winning 2-1 on penalty kicks.
As they have most of the season, the Panthers relied on their defense and generated just enough to get the win.
Auburn was in control for most of the game as it controlled about 80% of the ball and were able to take advantage in the first half, scoring the first goal to pull ahead 1-0.
However, the Panthers defense played "superbly" from there and prevented the Tigers from pulling away.
"It was one of those games where the other team is totally in control, but they let us hang around they couldn't put us away," said Smiths Station Head Coach Dennis Jones. "My defense played really well, they couldn't score on us again and they just let us stay to close."
The Panthers were able to claw their way back into the game in the second half thanks to the Bruce sisters.
Jenna Bruce was fouled inside the Auburn box and her sister, Sarah, made the ensuing penalty kick to tie the game at 1-1.
"My team never got down or hung their head, they kept going and going and eventually it paid off," Jones said. "This is my best no-quit team ever, there is no quit."
That would be the last goal for quite some time as neither team was able to score in the rest of regulation or the 10 minutes of overtime, sending the game to one of the most exciting events in sports: penalty kicks.
The drama wasn't done yet as it took until their fifth attempt for the Panthers to win the game and hand a "very talented" Auburn team their first loss of the season.
"Basically, what it comes down to is everybody did their job. If they were supposed to do it Friday night, they did it," Jones said.
With the win the Panthers improved to 8-1-2 overall and 2-0 in the area, which they are now halfway to winning.
Jones described it as a team effort on defense as he struggled to signal out one girl who stood out above the rest.
"Really, the defense as a whole, my whole back line really played well," he said.
Jones has not shied away from his teams' lofty goals, as they hope to reach the Final Four of the state playoffs, something the program has never accomplished. This win served as proof that his team can compete with the most talented teams in the state.
"It was good for my team to see that even against a talented team as long as you can play smartly, play calm, just keep the score close anything can happen at the end," Jones said. "That's a good confidence booster. They know that as long as they play their game and do what they are supposed to do, they got a chance to beat anybody."