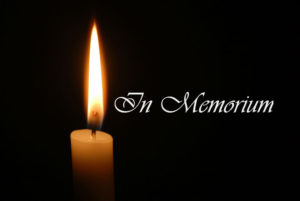 Shirley B. McLawhorn
Shirley B. McLawhorn was born in Tazewell, VA, on April 30,1936, the daughter of Nellie Belcher. She passed away on April 22, 2020, in Auburn, AL.
A graveside service for family will take place this week.
She attended Tazewell County schools and then college in Newport News, VA, where she resided with her cherished aunt, Mattie Juanita Belcher.
After college, she worked on a joint venture of the US Navy and the Newport News Shipyard to build the USS United States.
The ship was the fastest ocean liner to cross the Atlantic in either direction, retaining the Blue Riband for the highest average speed since her maiden voyage.
While in Newport News, she met her husband of 62 years, Captain USAF, James E. McLawhorn.
After they married, Jim and Shirley lived in Williamsburg, VA, where their first son was born.
Shortly after his birth, they were stationed at Lackland and Randolph Air Force Bases in San Antonio, TX.
There they welcomed the birth of their youngest son. Jim and Shirley saw tours of duty in Augsburg, Germany, Biloxi, MS before permanently settling in Jacksonville, Florida.
She was active in her community as a lifetime member of the garden club, schools and the alter guild at St. Peters Episcopal church. She also could be seen riding her bicycle to her post as the neighborhood school crossing guard.
Shirley then worked for Amtrak in Jacksonville, Philadelphia, PA and Washington, DC. She was selected to represent Amtrak in the 92nd Presidential Inaugural parade. She later retired moving back to Jacksonville where she became the primary caregiver to her aunt and in-laws.
A woman of spirit, integrity, and great charm, she was selfless, a friend indeed and always the cool mom.
In 1996, she was honored run with the Olympic flame as a Torch Bearer for the Atlanta Centennial Olympic Games. Shirley enjoyed her garden, reading and spending time with her family in her later years.
Shirley is preceded in death by her mother and aunt Neet. She is survived by her husband, Dr. James E. McLawhorn, USAF retired, sons James M. McLawhorn and Richard M. McLawhorn (Carrie), granddaughter Mattie E. McLawhorn of Auburn, AL; brother-in-law Bruce M. McLawhorn, USN retired (Phyllis), of Lynn Haven, FL; and family friend Rae Hill, of Philadelphia, PA.
The family wishes to thank Johnnie Mae Williams, Gwen Scott, Jeanette Strickland for their love, dedication and care; and James Benson for his friendship and enormous help over the years.