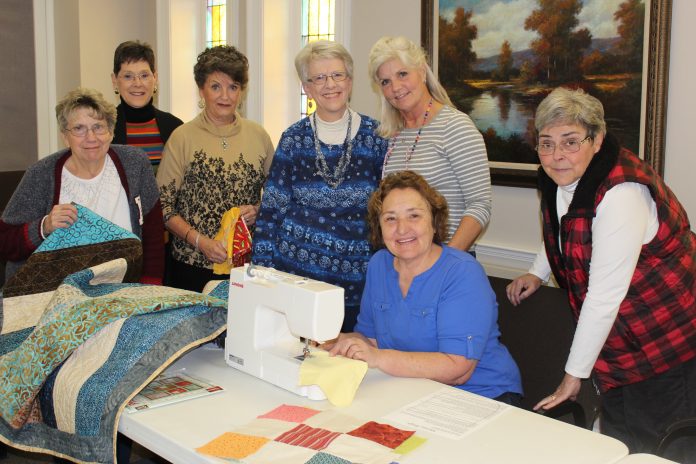 By Ann Cipperly
On Friday mornings, a dedicated group of ladies meet to turn scraps of fabric into beautiful prayer quilts to present to those who are facing serious health issues. The group also sews pillowcases for shut-ins, pencil bags for children and many other projects. With their love of sewing, the ladies prepare easy meals to allow more time for projects.
Members of the group who sew full time are Anne Davis, Sally Phillips, Sally Sewell, Tanya Crispin, Frances Blackburn, Macy Valaer, Linda Rubio, Joan Manning, Deenie Hooper and Kathleen Ingram. Those who assist when needed include Sally Sheehan, Jamie Bell and Linda Spain.
The ladies meet on the third floor at Trinity United Methodist Church where they have a spacious closet filled with tubs of fabrics. They also store their sewing machines and an ironing board.
After learning to sew at a young age, Anne Davis became involved in making quilts, developing a passion for the craft over the years. After Anne retired from Auburn University as an administrative associate in 2012, she had a desire to share her talent and founded the Trinity Sewing Ministry.
As one of nine children, Anne watched her mother sew and make their clothes. She would help her mother sew on buttons and mend clothing. When she was 10 years old, Anne began learning how to sew on a machine.
In high school, she made her clothes using patterns but didn't enjoy it. "Garment sewing is not very forgiving," Anne says, "and it was difficult for me to make something fit properly. I was not that gifted in making clothes like my mother."
Anne discovered that she enjoyed quilting much more. She began quilting in 1999 when the women's ministry at Trinity United Methodist offered several classes teaching home arts, including cooking and quilting.
In the classes taught by Lois Stewart and Ernestine Cooksey, Anne fell in love with fabrics and the entire process. The first thing she made was a baby quilt. The class made several baby quilts and donated them to Women's Hope.
After the classes ended, Anne joined the Cotton Boll Quilt Guild where she learned more about a variety of techniques, as the group hosted different teachers. They also made charity quilts.
When a group of ladies at Trinity asked her to teach a class on quilting, Anne had the idea that instead of just having a class, they would make quilts for others. As they worked on quilts, the ladies also made dolls for missionaries to take to India to use in teaching Bible lessons. Along with a group from Auburn United Methodist Church, they made about 200 dolls.
For a couple of years the group made curtains for Trinity's mission trips to Mexico for the houses they were building. A few years ago, they joined the Cotton Boll Quilt Guild to make children's quilts for Big House.
Along with the quilts, the group started making colorful pillowcases at Easter and Christmas. For the children at Big House, cases are made from novelty fabrics with images such as cartoon characters and kittens. Fabrics with bright spring colors are used for making pillows for shut-ins, nursing homes and assisted livings at Easter, while holiday fabrics are featured on pillowcases at Christmas.
They also make Christmas and Easter gift bags for Trinity to fill with small gifts to take to shut-ns.
About five years ago, they began making Prayers & Squares quilts. "If someone wants the quilt to be prayed over," says Anne, "it can be at the alter on Sunday morning or they can have their Sunday school class pray over it."
The quilt can also be placed in the prayer room where prayer is offered for the recipient, and each person who prays ties a knot in the quilt. "That will remind the person receiving the quilt of those who have prayed for them," says Anne.
"The best part is the prayers that go into the quilt and giving it to someone," she adds. "People will come back and tell me how blessed they were. The second best thing is the fellowship and getting together with the ladies."
Macy Valaer, who has been in the sewing group six months, says it has been a lifesaver for her. "I have multiple sclerosis," she says, "and I am not allowed to do many things, but this is something I enjoy to get together with Godly women for fellowship. I love quilting, and all the things Anne is teaching."
This year Deenie Hooper was on the other side of the table, receiving a prayer quilt from the group.  "I had no idea what it would mean to a person who is sick," she says, "and going through a bump in the road. I look at the quilt, and I am still in awe, of all the love, friendship and prayers it represents. I will never be able to put into words what the quilt means to me!"
Sally Sewell has been making quilts from the beginning. "It serves a purpose in several ways," she says, "and we have helped each other go through a lot of situations. It is a support group and ministry for those going through difficult times."
Another sewer remembers when they were working on little pillowcases for an orphanage in India, and she prayed for all those little children's heads on the pillows.
Last year, the group made a number of prayer quilts that were created by loving hands. They have also made zippered pencil bags for the Lee County Youth Development Center and Samaritans Purse Christmas boxes, Christmas and Easter pillow cases for home bound and assisted living friends, and microwave soup cozies to the Empty Bowl Event to raise money for the East Alabama Food Bank. They also participated in Trinity's barbecue mission fundraiser.
They have an account at the church where anyone can donate funds for fabric and sewing supplies. They also raise funds by selling items at an art show with most of the funds going to missions.
The ladies sew every week throughout the year, except at holidays. "It is a joy," says Anne, "because it is such a blessing to make something with your hands and give it from your heart to someone else."
Slow-Cooker Beef-Tortellini Soup
Anne Davis
1 lb. beef stew meat
1 large onion, chopped (3/4 cup)
1 large carrot, chopped (3/4 cup)
1 medium stalk celery, chopped (1/2 cup)
2 cloves garlic, finely chopped
2 tsp. sugar
1 can (14.5 oz.) diced tomatoes, not drained
2 cans (10 1/2 oz. each) condensed beef consommé
1 tsp. dried basil leaves
2 cups frozen cheese-filled tortellini
1 cup frozen cut green beans
In 3 1/2- to 4-quart slow cooker, add beef, onion, carrot, celery, garlic, sugar, tomatoes and beef consommé in order listed.
Cover; cook on Low heat setting 8 to 9 hours.
About 25 minutes before serving, stir in basil, frozen tortellini and green beans. Increase heat setting to high. Cover; cook about 25 minutes or until beans are tender.
Mexican Cornbread
Macy Valaer
1 lb. lean ground beef
1 tsp. chili powder
Clove of garlic, chopped
Dash of allspice
1 cup cornmeal
1 cup buttermilk
1 tsp. soda
1 can cream style corn
1/2 cup Crisco (melted in the skillet)
2 eggs
1 large onion
1/2 lb. grated cheddar cheese
4 jalapenos, optional
Heat oven to 350. Cook half-pound ground beef with chili powder, garlic and allspice in a pan; drain meat. Place to the side.
Put grease in skillet to melt. Mix cornmeal, buttermilk and soda; add melted Crisco to this.
Put half cornbread mixture in skillet, and then put cream corn, eggs, the meat mixture, cheese and onions. Then pour the rest of cornbread mixture over it. Bake at 350 for 50 minutes or until done.
Penuche Squares
Sally Phillips
This is my "go to" recipe whenever we have family gatherings or I'm asked to provide refreshments somewhere. It is an old recipe from my mother's mother and is a family favorite.
2/3 cup shortening, melted
1 box brown sugar (I prefer dark brown)
3 eggs, beaten
3 cups self-rising flour (3 tsp. baking powder, 3/4 tsp. salt, if all-purpose flour is used)
1 cup chopped nuts
1 1/2 tsp. vanilla
Blend sugar with melted shortening. Add eggs and beat until fluffy and sugar dissolved. Add flour 1 cup at a time. Beat until smooth between additions. Add nuts and vanilla.
Spread evenly in a generously greased jelly roll pan. Bake in moderate 350 oven for about 30 minutes.
Remove from oven and while still hot slice the penuche into squares (I use a pizza cutter). Do not remove from pan until they are almost cool. They should be crunchy on top but chewy in the center.
Chicken Biscuit Stew
Anne Davis
¼ cup butter
1/3 cup flour
Dash pepper
10 ¾ oz. can condensed chicken broth
¾ cup milk
2 cups cubed cooked chicken
1/3 cup chopped onion
1 cup frozen sweet peas
1 cup frozen whole baby carrots
10-oz can refrigerated flaky biscuits
Poppy seed, if desired
Heat oven to 375. Melt butter in 10-inch ovenproof skillet; stir in flour and pepper. Cook 1 minute until smooth and bubbly, stirring constantly. Gradually stir in chicken broth and milk; cook until thickened stirring constantly. Add chicken, onion, peas and carrots; cook until hot and bubbly.
Separate dough into 10 biscuits. Arrange biscuits over hot chicken mixture; sprinkle with poppy seed. Bake at 375 for 20 to 25 minutes or until biscuits are golden brown.
Fruit Salad
Frances Blackburn
Drain a 20 oz. can crushed pineapple.
Stir together with a 3 oz. sugar free vanilla pudding mix, small can mandarin oranges and small Lite Cool whip. Chill until ready to serve.
Pistachio pudding is good too instead of vanilla pudding.
Pasta E Fagioli
Tanya Crispin
3 lbs. lean ground beef, cooked
½ cup olive oil
4 cups chopped onion
2 cups chopped celery
2 (4.5 oz.) jars bottled minced garlic
1 tsp. coarsely ground black pepper
8 (14 oz.) cans beef broth
1 (28 oz.) can crushed tomatoes
1 (6 oz.) can tomato paste
2 ½ tsp. dried thyme
2 ½ tsp. dried basil
2 ½ tsp. dried oregano
2 Tbsp. dried parsley
2 cups Ditalini pasta
2 (15 oz.) cans kidney beans, drained, rinsed
In a large pot over medium heat, cook beef until no longer pink. Drain and set aside.
In the same pot, heat olive oil. Cook onion, celery, garlic and black pepper until vegetables are tender 10 minutes. Stir in beef broth, crushed tomatoes and tomato paste. Season with thyme, basil, oregano and parsley. Cover, reduce heat and simmer 1 hour.
Stir in beef and simmer 15 minutes. Stir in pasta and cook until al dente, 8 to 10 minutes. Stir in the beans and heat through, 10 to 15 minutes.
Cathy's Pecan Pie Bites
Sally Phillips
1 cup packed light brown sugar
½ cup all-purpose flour
2 cups chopped pecans
2/3 cup butter, softened or melted
2 eggs, beaten
Preheat oven to 350 degrees. Grease mini muffin cups generously. Grease them well or they will stick.
In medium bowl, stir together brown sugar, flour and pecans. In a separate bowl, beat the butter and eggs together. Stir in dry ingredients just until combined.
Spoon batter into muffin cups, sprayed with Pam, about 2/3 full. Bake for 13-15 minutes for mini muffins. Run a knife around the edge of each muffin and pop it out.
Bacon Tomato Open-Faced Rounds
Anne Davis
10-oz. can refrigerated flaky biscuits
10 slices bacon, cut into thirds, crisply cooked
10 slices tomato
½ cup mayonnaise
½ cup chopped onion
½ cup shredded Swiss cheese
1 tsp. dried basil leaves
Heat oven to 400. Separate dough into 10 biscuits. On ungreased cookie sheets, press or roll out each biscuit to a 4-inch circle, forming ¼ inch rim round edge of each circle. Arrange 3 bacon pieces on each circle; top each with a tomato slice.
In a small bowl, combine mayonnaise, onion, cheese and basil. Spoon rounded tablespoon of mixture over each tomato slice, spreading slightly.
Bake at 400 for 11 to 16 minutes or until edges of biscuits are golden brown.
Instant Pot Swedish Meatballs Recipe
Anne Davis
1 1/2 cups low sodium beef broth
1 cup milk
2 cans cream of mushroom soup (mixed with 2 cans water)
16 oz. egg noodles
24 oz. bag (frozen and fully cooked) Johnsonville Homestyle Meatballs
1 cup sour cream
First, add beef broth, milk, cream of mushroom soup and water into the Instant Pot.
Next, add in egg noodles into the Instant Pot.
Layer meatballs on top of the egg noodles in a single layer.
Manually set the Instant Pot to cook for 12 minutes, sealed.
When there is 2 minutes of cook time remaining, carefully (using a kitchen hand towel – the steam is super hot) release the steam valve to venting.
Once the steam has completely released, carefully open the lid of pressure cooker away from you.
Stir in one cup of sour cream and mix thoroughly.
Easy Instant Pot Chicken Noodle Soup
Anne Davis
2 Tbsp. butter
1 small onion, diced
2-3 cloves garlic, minced
3-4 carrots, diced
2 stalks celery, chopped, optional
2 cups cooked chicken
7 cups organic chicken broth
6 oz. noodles of your choice
1 tsp. basil
Salt & pepper to taste
In an Instant Pot, combine onions, garlic, carrots and celery along with butter.
Push sauté, and let vegetables cook for 4-5 minutes.
Turn off sauté function, and add chicken, broth and dry noodles – place the lid on the Instant Pot and lock, ensure the valve is closed.
Push manual (high) and set the timer for 4 minutes.
The pot will take 8-10 minutes to come to pressure, then will count down the 4 minutes – it will beep when it's done. At that point, release the pressure, and open lid.
Add salt/pepper to taste, as well as your basil.
This recipe is perfect for using up extra rotisserie chicken – but even if you don't have a rotisserie chicken, you can cook a whole chicken in this Instant Pot in just 25 minutes – keep the meat for many meals to save time.
Banana Nut Bread
Tanya Crispin
1 cup oil or shortening
2 ½ cups sugar
2 cups dark brown sugar, packed
4 eggs
3 ½ cups flour
1 tsp. baking soda
2 tsp. baking powder
3 cups mashed ripe bananas
2 cups nuts
1 tsp. vanilla
Cream oil and sugar; add eggs one at a time. Sift dry ingredients; add bananas, nuts and vanilla. Pour into 2 greased loaf pans. Bake at 350 for about 55 minutes or until tests done.