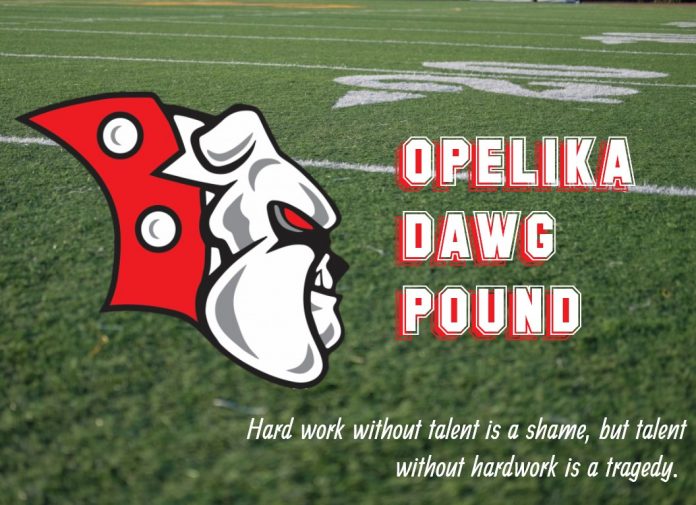 By Morgan Bryce
Editor
Seven members of the Opelika Dawg Pound football team were selected to play in the Diamond Sports Group's "East v. West All American Games" Jan. 17 to 20 in Las Vegas.
Anthony Bryant, Dawg Pound coach and director of the Knee High Foundation, said he is "beyond excited and proud" for his players to receive this recognition.
"These kids have been with our program since Day 1. They're heavily involved in community service, making a difference, and put a lot of effort into their academics," Bryant said.
Melvin Foley, Skylan Holstick, Dominique Key Jr., Kollin and Kyle King, all rotate positions on the defensive and offensive lines for the Dawg Pound, while Jadontae Jones and Omar Mabson contribute from various skill positions. They all are students within the Auburn and Opelika City School systems.
Several of these athletes participated in the Diamond Sports Group's "Diamond All American Bowl Week" last year in Myrtle Beach, South Carolina.
Because of the costs tied with a trip to Las Vegas, Bryant is seeking donations to help cover travel expenses. They can be sent to "kneehighfoundation" via CashApp or thekneehighfoundation@gmail.com through PayPal. An official fundraiser will be launched on the Opelika Dawg Pound's Facebook page in the next few days.
"Everyone of these kids who made is on A-B Honor Rolls at their schools, and they just deserve this opportunity. They don't get in any trouble, and it's really a worthwhile investment in our children," Bryant said. "This is a once-in-a-lifetime opportunity for most of them and I would like the community to come together and do something for them."
For more information or updates, like and follow the organization's Facebook page or visit www.thekneehighfoundation.org.