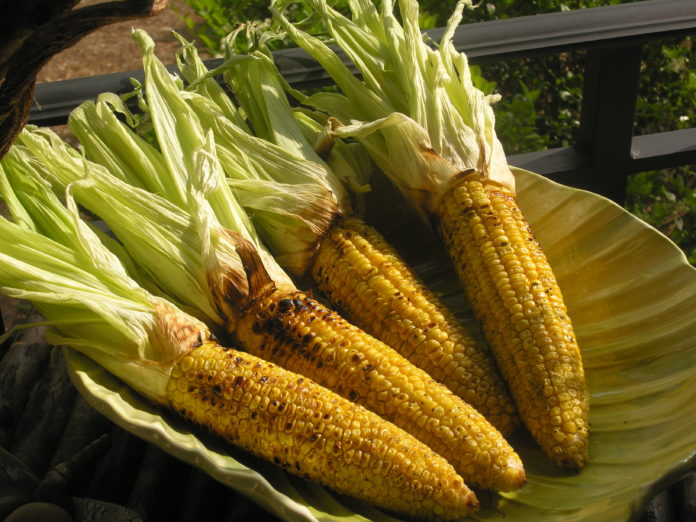 By Ann Cipperly
Days are slowing getting shorter, and soon summer will be gone, as well as the bounty of garden fresh vegetables. The Opelika Farmers Market will stay open through the last Tuesday of this month, while three permanent markets remain open year round: Parkway Market at its new location in Pepperell Village, Opelika Market on South 10th Street and George's Market on Highway 431.
We are fortunate to have these markets in our community to provide fresh vegetables. Fall will usher in other crops, including collards, turnips and other vegetables.
When we lived in Philadelphia, I had a difficult time finding fresh vegetables. The Italian market didn't offer much. When we moved to the outskirts of the city, a bus from New Jersey came to the neighborhood during summer once a week laden with vegetables. I never saw southern favorites on the bus and certainly not black or pink-eyed peas.
We always had a garden when I was growing up in Opelika. My parents never seemed to have enough peas and beans and would go to farmers in the country to purchase bushels. Everyone in the family had to help shell, either on the front porch or under a chinaberry tree in the back yard.
It took me a while to really enjoy peas and beans. They were much better loaded down with garden fresh tomatoes. My parents learned how to grow tomatoes, and I have never had one quite as good.
Mother learned from her parents growing up on a peanut farm in south Alabama. Mom and her sisters had to learn how to cook at an early age to help feed the field workers. Her father had one of the first cars in that area, and Mom remembered he would go pick up workers, who would be hanging all over the car when he returned.
My father learned how to grow vegetables growing up on a farm as well. He always said it was in the "Piney Woods," which I later learned was somewhere between Beauregard and Marvin where both his parents' families were early settlers.
Dad was the seventh child, born when his father was 53 years old and his mother was in her early 40s. When he was 7 years old, he came home from school one day to learn that his mother had rheumatoid arthritis and would never walk again.
From that young age, he began taking care of his parents. His greatest regret was having to leave school early to work the farm, as he had a love of books and reading. He became self-educated.
After Dad and Mom married, they lived next door to his parents to take care of them. I was 5 years old when my grandfather died. Dad then built another room on our house for my grandmother to live with us. We took care of her as long as she lived. She passed away when I was almost 14.
Christian, hard working, loving; those are the words that describe my parents.
Our favorite meals always included plenty of fresh vegetables, and of course my Mom's fried chicken that she made every Sunday. Mom would be at the stove turning sizzling chicken, while tantalizing aromas from the kitchen filled the house and drifted to the front porch.
I could hardly wait for the fried chicken and creamed corn to cook. I would sit in the swing on the porch, then head to the kitchen to check on the progress every five minutes, hearing my sweet Mom yell "Don't slam the screen door!" It was too late every time.
During summer Mom canned and froze fresh vegetables for the winter months.
It seemed everyone in the family had a garden and preserved the harvest. I can barely remember my mother's parents' garden in Opelika. They moved to Pensacola, Fla. when I was 9 years old, along with my mother's siblings.
Our summer vacation was always to Pensacola, with wonderful dishes filling tables with summer bounty's and thin-layered stacked cakes, one with chocolate and another with huckleberries. Tables were set under shade trees where Little Granny would take your plate to wash if you lingered too long at the dessert table.
My Mom and Little Granny could cook all day without a recipe, but I watched them cook. The creamed corn and fried chicken were always cooked in a black cast iron skillet.
Most summer vegetables are the best when simply prepared and seasoned. These days I oven roast most of my vegetables, which is a quick and easy method.
After coming back from a farmers' market, I get the vegetables cooking while they are fresh. Squash is sliced and placed on a cookie sheet with a rim. Whole okra with the stems removed goes on the other side and wedges of sweet onions are placed in the center.
After a drizzle of extra virgin olive oil and a sprinkling of sea salt, the pan goes into the oven. Depending on what else I am cooking, I will oven roast at 350 or 375 for about 30 minutes, stirring occasionally. Then I check to see if it is right doneness for our family.
My Yankee husband, Don, has not learned to appreciate wonderful southern vegetables. Although he says he has tried them, it is about like the man from California who came to Ampex in Opelika years ago. When they tried to get him to eat grits, he said, "Ok, but just bring me a little one."
At least Don does like corn, which is one of his favorite vegetables. He especially likes the Oven Roasted Corn I have been making this summer. For years, I cooked corn in boiling water, but the baked method seems to preserve more flavor.
Don also enjoys Butternut Squash Soup. I have seen butternut squash at farmers' markets this summer and thought of Don's brother's Butternut Squash soup.
The scrumptious soup can be prepared with or without heavy cream. Don's brother Ed was director of global sales for American Airlines and traveled the world like their parents, who lived in Portugal, Europe and many places across the country.
While Ed had a busy schedule, cooking was his hobby. We enjoyed visiting him in New York and later Dallas and enjoyed many wonderful dishes he prepared.
Being in the kitchen cooking fresh vegetables and making butternut squash soup brings back memories of all those we loved in both our families. Each recipe and dish is a memory and a reminder of being thankful for the people God has placed in our lives.
As you clip recipes from the column each week, I hope they will become favorites at your home and create happy memories of good times around the table with family and friends.
Ann Cipperly can be contacted at recipes@cipperly.com.
Recipes:
Grilled Corn on the Cob
10 ears fresh corn with husks
½ cup olive oil
Salt to taste
Unsalted butter, softened
Remove outer husks from corn; pull back inner husks but don't remove; tie if necessary. Remove silks. Wash corn; dry with paper towels.
Brush corn with olive oil; sprinkle with salt. Place corn on grill with husks hanging over the edge to avoid burning.
Grill over medium-high heat about 20 minutes, covered, turning every few minutes.
If desired, serve with butter.
Oven Roasted Corn on the Cob
Ears of fresh corn, husks and silks removed (can use frozen)
Butter, room temperature
Salt and pepper
Preheat oven to 400. Line a large baking sheet with foil and place corn in a row along the baking sheet. Spread butter on top of each ear. Bake for 20 minutes: remove from oven, flip the corn and spread with softened butter. Bake an additional 10-15 minutes. Turn corn occasionally during the second half of baking.
Serve with salt and pepper, if desired.
Oven Roasted Corn Wrapped in Foil
Ears of Corn, husks and silks removed
Butter, room temperature
Preheat oven to 400 degrees. Spread butter on each ear. Wrap in foil.
Place on cookies sheet and roast 20 to 25 minutes.
Spicy Wrapped Roasted Corn
6 ears of corn
Spread:
1 Tbsp. mustard
1 tsp. salt
1 tsp. horseradish
Dash of pepper
1 stick butter, softened
Mix spread ingredients together. Spread on ears of corn. Wrap each one ear loosely in a piece of foil. Place on baking pan.
Bake at 400-425 for about 25 minutes.
Oven Roasted Squash, Okra and Onions
Line a cookie sheet with foil for easy cleanup. Slice squash onto one side of cookie sheet and place whole okra with the stem removed on the other. Cut one or two sweet onions into wedges. Drizzle with olive oil and sea salt; toss to coat.
Bake at 375 degrees for about 30 minutes or until squash is tender and onion begins to brown. Stir occasionally.
Oven Roasted Green Beans with Cherry Tomatoes, Red Onions
2 lb. fresh green beans, trimmed
6 Tbsp. olive oil, divided
Salt and pepper to taste
1 pint grape or cherry tomatoes
1 or 2 red onions, thinly sliced
2 cloves garlic, minced
2 Tbsp. balsamic vinegar
Preheat oven to 400. In a large jelly-roll pan or cookie sheet with a rim, toss green beans with 4 Tbsp. olive oil and season with salt and pepper. Roast about 20 to 25 minutes or until tender. Stir in tomatoes and roast 5 minutes more.
While beans cook, add remaining 2 Tbsp. oil to skillet. Cook onions until tender and lightly brown, stirring often. Add garlic and cook 3 minutes. Stir in vinegar.
Toss onion mixture with green beans and serve. Serves about 8 or more.
Baked Corn Casserole with Two Cheeses
2 eggs, lightly beaten
1 1/2 cups sour cream
2 cups fresh corn kernels or frozen corn, thawed
8 oz. Monterey Jack cheese, cut into 1/2-inch cubes
1/2 cup soft breadcrumbs
4.5 oz. can chopped green chilies, chopped
1/2 tsp. salt
1/4 tsp. pepper
1 cup shredded cheddar cheese
Combine eggs and sour cream in a large bowl. Stir in corn and remaining ingredients, except cheddar. Pour into a greased 2-quart casserole dish.
Bake uncovered at 350 for 30 minutes or until a knife inserted in the center comes out clean.
Sprinkle cheddar cheese over top. Bake for 5 minutes more or until cheese melts. Let stand 10 minutes before serving. Serves 6.
Whole Tomatoes in Herb Vinaigrette
Makes a lovely dish for a luncheon.
6 whole tomatoes
Vinaigrette:
2/3 cups salad oil
1/4 cup vinegar
1 garlic clove, minced
1/4 cup chopped parsley
1/4 cup chopped green onions
1 tsp. salt
1/4 tsp. black pepper
1/2 tsp. dried thyme, optional
Garnish: lettuce, chopped green onions and parsley
To peel tomatoes, drop each one in boiling water for a few seconds and then in cold water. The skins will slip off. Cut out stem core.
Mix vinaigrette ingredients. Add tomatoes and marinate for several hours or overnight.
Place tomatoes on a bed of lettuce. Drizzle vinaigrette over each tomato. Garnish with green onions and parsley.
Ed's Butternut Squash Soup
2 medium butternut squash, split and seeded
2 onions, chopped
4 medium apples, peeled, cored and sliced, optional
3 Tbsp. butter
6 cups chicken broth
Salt pepper to taste
1 cup heavy cream, optional
Sour cream and/or croutons for garnish
Preheat oven to 375. Spray Pam on a baking sheet and place squash cut side down. Bake for about 40 minutes or until fork tender (very soft). Set aside to cool.
In a large soup pan, cook onions in butter about 5 minutes. If using apples, cook in pan until tender. Add 4 cups of the stock and bring to a simmer.
Scoop out the squash and add it to the stock. Simmer for about ten minutes. Either transfer to a blender in small batches or use a submersible blender to achieve desired smoothness. Salt and pepper to taste.
Serve as is or add heavy cream for a creamy soup. Garnish with sour cream and croutons, if desired.
Grilled Vegetables with Lemon Mustard Sauce
Basting sauce:
1 stick butter, sliced
1/3 cup chopped shallots or onions
1/4 cup olive oil
3 Tbsp. Dijon mustard
2 Tbsp. fresh lemon juice
2 Tbsp. chopped fresh thyme
Vegetables:
2 ears fresh corn, cut crosswise into 4 pieces
1 eggplant, sliced into thick rounds
1 red onion, sliced into wedges
1 red and green bell pepper, seeded, cut lengthwise into strips
1 zucchini or yellow squash, quartered lengthwise
10 or more asparagus spears
Combine basting ingredients in saucepan; stir over medium heat until butter melts.
Brush sauce over vegetables. Grill until tender and lightly charred, about 6 minutes, brushing occasionally with sauce. Season with salt and pepper.
Heat remaining sauce. Serve with vegetables.
Pesto Stuffed Tomatoes
4 large tomatoes, any variety
1/4 cup pesto (homemade or jarred pesto)
1/4 cup breadcrumbs
2 Tbsp. chopped fresh parsley
2 Tbsp. minced garlic
1 Tbsp. extra virgin olive oil
1/4 cup grated Parmesan cheese
Preheat oven to 350 degrees. Core tomatoes and scoop out seeds and inner flesh. Mix pesto, breadcrumbs, parsley, garlic and olive oil. Divide mixture evenly among tomatoes. Bake for 20 minutes. Top each tomato with one tablespoon of grated Parmesan cheese. Bake another 5 to 10 minutes until the cheese is brown and bubbly. Serve immediately.
Makes 4 servings.
Mom's Eggplant
1 large eggplant
Salt and pepper
½ cup flour
1 Tbsp. sugar
1 cup milk
1 egg
Cracker meal
Oil
Peel and slice eggplant, cutting into strips. Salt and pepper. Let eggplant rest 30 minutes on paper towels.
Combine flour, sugar, milk and egg to make a batter. Dip eggplant strips into batter, then roll in cracker meal.
Fry in oil until golden brown. Drain on paper towels.
Fresh Green Beans with Caramelized Onion
1 lb. fresh green beans 
2 medium-size sweet onions 
2 Tbsp. butter 
2 Tbsp. brown sugar 
1 to 2 tsp. balsamic vinegar, optional
Cook green beans in boiling water to cover 15 minutes; drain and chill overnight, if desired. 
Cut onions into thin slices, and cut each slice in half. 
Cook onion in a nonstick skillet over medium-high heat 8 to 10 minutes (do not stir). Cook, stirring often, 5 to 10 minutes or until golden brown. Reduce heat to medium; stir in butter and brown sugar. Add green beans; cook 5 minutes or until thoroughly heated. Toss with vinegar, if desired.
Janine's Spaghetti with Fresh Tomatoes
2 lb. very ripe tomatoes
1 small onion, finely minced
1 clove garlic, minced
2 Tbsp. fresh parsley, finely minced
1/2 tsp. dried basil (or use finely chopped fresh to taste)
1/4 cup olive oil
Wine vinegar
Salt and pepper to taste
1 lb. spaghetti
Freshly grated Parmesan cheese
Peel and dice tomatoes; add onions, garlic, parsley, basil and olive oil. Season to taste with vinegar and salt and pepper. Set aside.
Boil spaghetti until al dente; drain. Toss hot spaghetti with tomato mixture. Serve with Parmesan cheese. Serves 4 to 6.
Tomato mixture can be prepared ahead and refrigerated, but bring to room temperature before mixing with pasta.
Cheese Topped Tomato Slices
3 large firm tomatoes
1 cup sour cream
1/2 tsp. salt
1/4 tsp. pepper
1 Tbsp. flour
2 Tbsp. chopped green onions
2 Tbsp. chopped canned green chilies, optional
1 cup cheddar cheese, grated
Peel tomatoes, if desired. Slice thickly and place in shallow pan. Mix other ingredients except cheese and pour over tomato slices. Top with cheese. Broil about 4 minutes until cheese is melted and tomatoes and heated through.