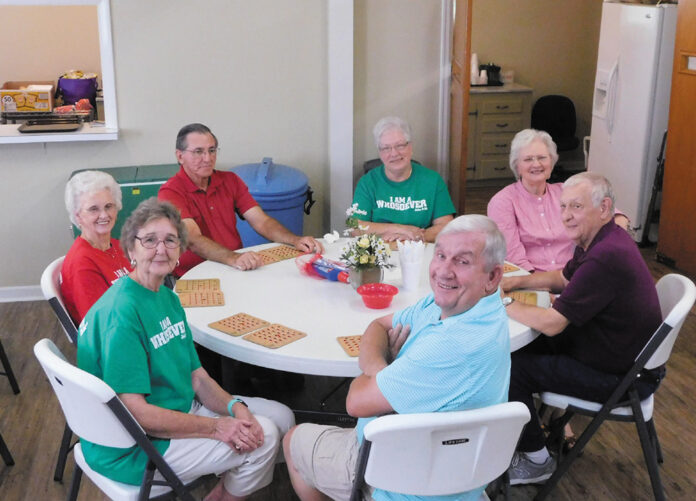 CONTRIBUTED By
Stacey Patton Wallace
Life begins at 55. At least it does at the Senior Adult Ministry (SAM) at Central Baptist Church of Opelika. Back in 2012, Central Baptist had a new minister named Ross Kilpatrick. He called three ladies of the church together to discuss having something special for senior adults. Kilpatrick suggested having a monthly game day for the group.
Two of those ladies, Fay Parker and Sue Fitzgerald, are part of SAM's current seven-member team. According to Parker, each member of the team has a particular job to ensure that everything runs smoothly.
"I'm the spokesperson for SAM," Parker said. "Also, Sue and I buy the prizes for the games."
Team members Bonnie Funderburk, Jean Rice and Angie Trammell plan SAM's luncheon meals and cook them. Parker said that Virgil Funderburk and Reggie Trammell, the team's two male members, provide moral support, put up/take down the tables, ice down drinks, help serve the food and provide any physical back up needed.
  Fitzgerald said that the main purpose of SAM is to minister to senior adults, giving them a chance to socialize and have something fun to do. 
"They have a really good time" Fitzgerald said. "They go away happy; it gives them a purpose."
In the early days of SAM, the group played bingo, dominoes, checkers, etc. However, bingo was by far the most popular game, so SAM had bingo and snacks each month. People donated prizes and also brought finger foods.
After that, the church began to allocate money for SAM and provided the entrée, and the seniors brought covered side dishes, a natural thing for Baptists.
However, Fitzgerald said, "Then people decided that they would rather bring $5 for lunch so that they wouldn't have to cook."
After all, senior adults are retired, so who wants to cook?
Also, Parker said that before the pandemic, SAM traveled to Fort Benning to see the Infantry Museum. They were planning a trip to the Pharmavite Plant in Opelika, but they couldn't go because of COVID. Unfortunately, COVID shut down SAM after March 11, 2020.
However, 16 months later, Central Baptist senior adults were excited when July 14 arrived because SAM was back in business. Recently, Pat, who moved from Mississippi to Opelika to be near two of her children, came to a SAM meeting.
Pat said that she learned of Central Baptist Church and SAM because Parker had posted a picture on Facebook.
"I didn't want to go to a big church, and Central Baptist wasn't too big or too small," Pat said. "Also, Sue and Jerry Fitzgerald were extremely welcoming and friendly."
Pat said she really enjoyed SAM. Although she said she had never won anything, she won twice at bingo.
In addition, Fitzgerald said that each SAM meeting has a theme. For example, October's theme is, "Fall is in the air." Bingo prizes will be fall-related gifts such as: a bucket of mums, candy, apple pie wafers, pumpkin cookie mix, fall decorations and Halloween toilet paper, which plays scary music when it is unrolled. Also, SAM team members collected baby pictures from everyone. At the meeting, the pictures will be displayed on a board. Then everyone will try to guess who is who and will write their answers on paper. The one who has the most correct answers will win a prize.
The SAM team members have all been blessed through serving senior adults. Parker said, "We laugh a lot; laughter is good for the soul. We have proven that old folks can have fun."
Fitzgerald enjoys making the senior adults' lives brighter. She recently chatted on the phone with Miss Irene, a 98-year-old, who had been hospitalized, and wanted to know when SAM was meeting. When Fitzgerald asked her how she was feeling, Miss Irene said, "I'm feeling so good, but I need some bingo."
Funderburk said, "I didn't realize how much I had missed SAM. I just get joy out of serving seniors. The fellowship is inspirational and uplifting."
Trammell also enjoys serving people and watching them have a good time.
"Getting to be together makes us more like a family," she said. Rice agreed and said, "I just enjoy being with them. We have a good time."
SAM meets on the second Wednesday of the month at Central Baptist Church of Opelika at 1611 2nd Avenue. The gang will be ready to have fun.