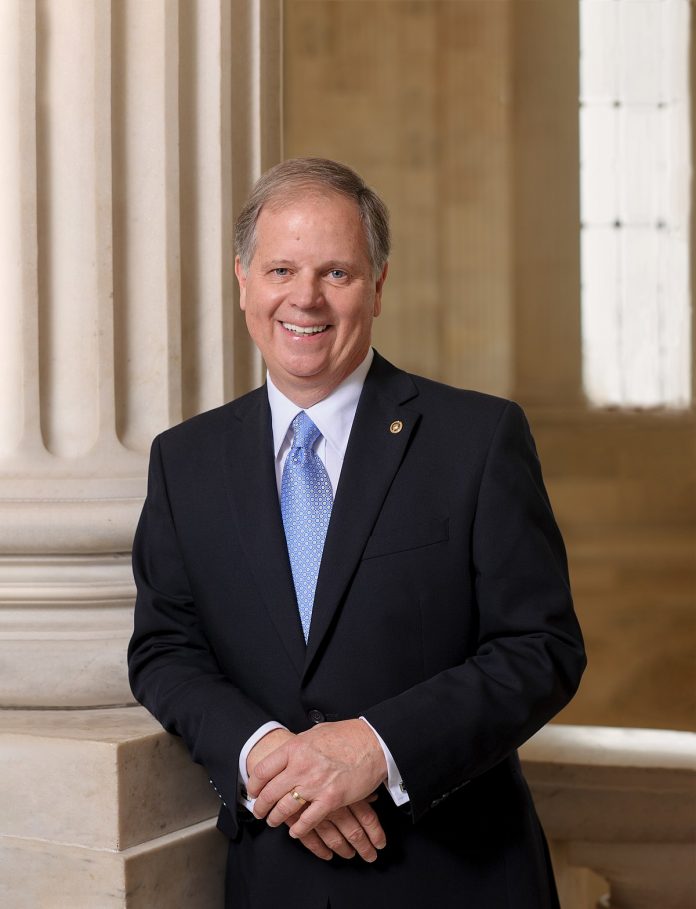 Special to the
Opelika Observer
In a letter to Department of Defense (DoD) leadership, Sen. Doug Jones (D-Ala.) is urging the selection of Huntsville as the location for the new U.S. Space Command headquarters.
DoD officials conducted site surveys at Redstone Arsenal this week in an effort to determine where U.S. Space Command will be headquartered.
Senator Jones laid out the rationale for selecting Redstone Arsenal in a letter to Acting Secretary of Defense Patrick Shanahan, who he met with in Washington recently.
"Redstone Arsenal is already home to a number of Defense Department and civilian space entities," Jones said, who is a member of the Senate Armed Services Committee, wrote. "Proximity to these existing DoD and civilian facilities would be an incomparable advantage to Space Command. Additionally, Redstone Arsenal has ample space, capacity, connectivity, and support for SPACECOM, and the Redstone airfield, as well as Huntsville International Airport, can easily accommodate C-17 aircraft. Moreover, the Huntsville area provides unmatched quality of life and low cost of living in one of the most military-friendly regions of the country."
"The Huntsville, Alabama area clearly fulfills – and surpasses – all of the criteria for Space Command Headquarters," Jones added. "The state of Alabama would welcome Space Command to join Redstone's renowned and first-rate installation. I strongly recommend the selection of Huntsville as headquarters for Space Command."
Space Command's creation was approved by Congress in 2018 after direction from the President. Locations will be evaluated based on mission requirements, capacity, environmental impact and cost. Other candidate locations include Air Force bases in Colorado and California. The Air Force expects to select a preferred location sometime this summer.
Taxpayer Identity Protection Act
Last week, the Senate unanimously passed bipartisan legislation authored by U.S. Sens. Doug Jones (D-Ala.) and Susan Collins (R-Maine) to thwart identity theft tax refund fraud and prevent American taxpayers and seniors from falling victim. Their bill, which was included as a provision in the Taxpayer First Act, previously passed the House of Representatives and now heads to the President's desk to be signed into law.
The Taxpayer Identity Protection Act would require the IRS to expand its Identity Protection PIN (IP PIN) pilot program nationwide during the next five years. An IP PIN is a six-digit number assigned to eligible taxpayers that allows their tax returns and refunds to be processed without delay and helps prevent the misuse of their SSNs on fraudulent income tax returns. This legislation would allow taxpayers to opt-in to the IP PIN pilot program if they desire an extra layer of identity protection.
"The fact that this bill passed Congress with bipartisan support is great news for all taxpayers, especially the seniors who are more likely to be targets of tax return fraud and scams. This is a concrete step that will help protect American taxpayers by reducing identity theft and saving over a billion dollars in taxpayer money each year," Jones said.
While the IRS has made significant progress in combatting identity theft refund fraud, it continues to be one of the biggest challenges facing the agency, costing victims a total of $1.7 billion in 2016 alone. In 2010, 76,000 low-income senior citizens were victims of this theft. In 2017, the Federal Trade Commission received more than 82,000 complaints related to tax-refund fraud. Those who have been defrauded often wait months—even years—to receive the refunds to which they are legally entitled.