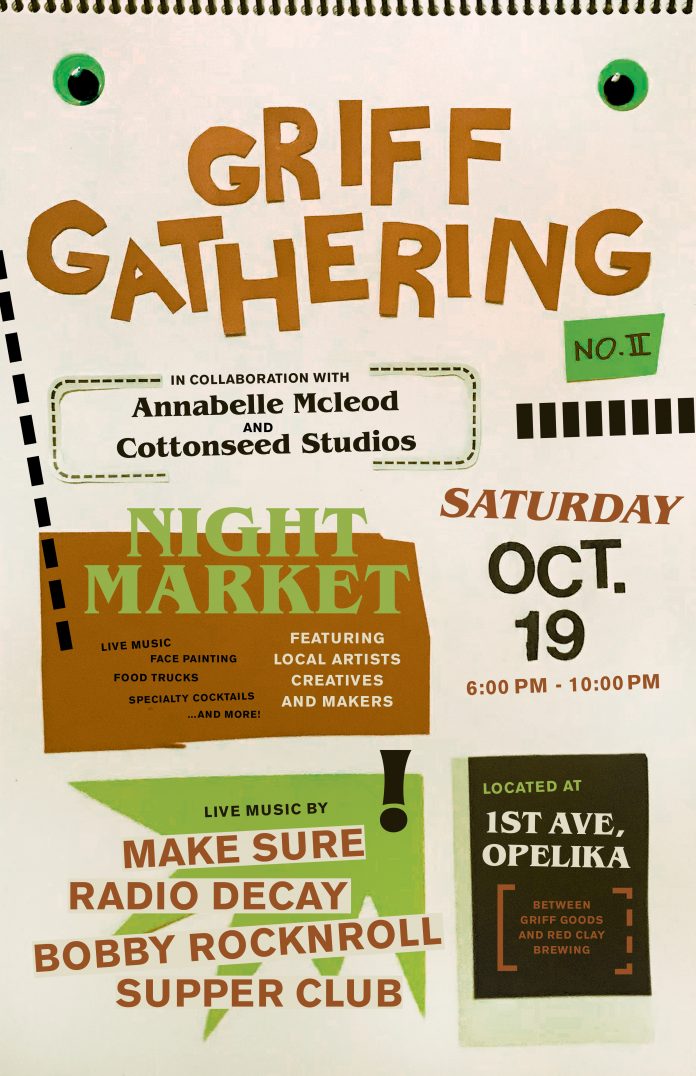 By Morgan Bryce
Editor
The second Griff Gathering will take place on Oct. 19 from 6 to 10 p.m. at First Avenue between Griff Goods and Red Clay Brewery.
This event is made possible through collaboration with Annabelle McLeod and Opelika's Cottonseed Studios. Among that evening's activities are face painting, food trucks, specialty cocktails and live music from well-known local regional bands, including Make Sure, Radio Decay, Bobby RockNRoll and Supper Club. There will also be a night market featuring work from local artists, creatives and makers. Attendance is free.
The inaugural Griff Gathering was held in August, featuring a night market, art exhibit by R.C Hagans and preview of Griff Goods' fall clothing line.
According to Griff Goods' owner Abby Griffin, the event is a way to bring the community together for a fun-filled evening and support the local arts scene.
"Our goal for this event is to connect Auburn and Opelika with local artists and makers and grow support for our creative community while supporting local businesses," Griffin said.
For more information or updates about the event, like and follow the shop's social media pages. Griff Goods is located at 719 1st Ave.