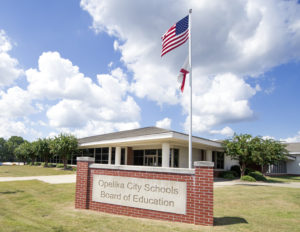 By Donna Williamson
Opelika Observer
The Opelika City Schools' Board of Education approved the system's Code of Conduct for 2017-2018 with the addition of the belief statement, which according to Assistant Superintendent Kenneth Burton, was already in place but inadvertently omitted last year. A statement on teaching child sexual abuse was also added because of Erin's Law, which was signed by former governor Robert Bentley in 2015. According to Burton, the law requires that students receive education on sexual abuse in all K-12 public schools and that annual Child Abuse Mandatory Reporters' training be provided to all faculty and staff. Burton said that this was added as a source of information.
Board members voted to allow Dr. Mark Neighbors, superintendent, to approve a contract with ZFX to install, train and remove cabling system for the Opelika High Theatre Society's October production of Peter Pan. According to Public Relations Coordinator Becky Brown, only adults will be trained to use the cabling system.
The board also approved the membership renewal for School Superintendents of Alabama in the amount of $9,267.20. Neighbors said that there is only one school system in the state that is not a member.