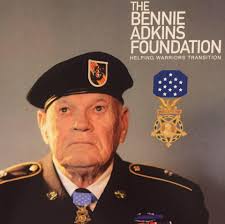 By Morgan Bryce
Editor
Applications are now being accepted for the Bennie Adkins Foundations scholarship through the end of June.
Named after Opelika native and Medal of Honor recipient Bennie Adkins, the foundation gifts scholarships to these Special Forces veterans "to (give back) and honor the legacy of (their) courage, sacrifice, selfless service and patriotism" and help "aid them in their transition from military to civilian life."
This will mark the third year the foundation has offered these scholarships, which was established on April 13, 2017.
Following are scholarship eligibility requirements:
• Applicants must be Special Forces soldiers rank E5 to E9
• On active duty, recently separated (within five years) or retired within five or more years
• Must have been accepted by or already attending an accredited college, university or vocational institution.
For more details, information or to apply, visit www.bennieadkinsfoundation.org. The application deadline is June 30.