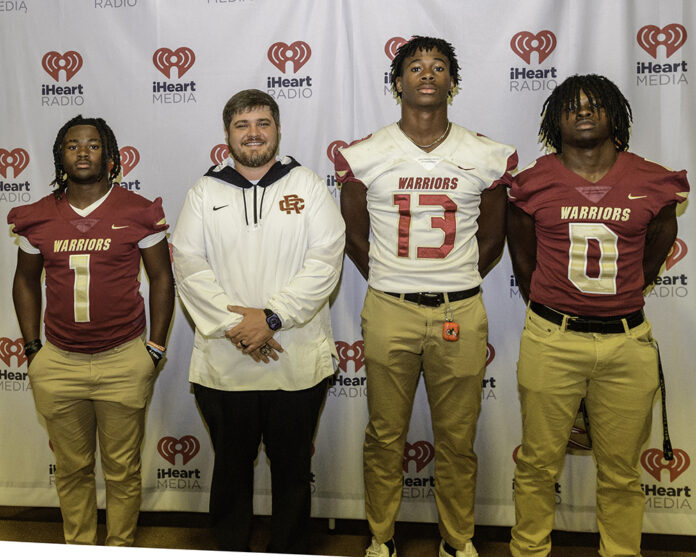 BY JAKE GONZALEZ
FOR THE OBSERVER
RUSSELL COUNTY —
In 2020, Russell County finished its season with a winless record, losing all nine games. A coaching change later, second-year head coach Dillon Griggs has set the team on a championship standard.
"We had a brand new field and got a new Nike contract," Griggs said. "Last year we had the first winning season in like 13 years. We had the No. 1 offense in the region, but you know, my big thing was it is not good enough. We have to take the next step. We are thinking about championships. That's the expectation here this season."
Last season, the Warriors made a massive improvement on the 2020 season by going 6-4 and finishing fifth in the region, just missing that fourth and final playoff spot. To put in perspective how much of an improvement the Warriors made, look at the difference in the scoring averages between the 2020 and 2021 seasons. In 2020, they averaged 1.6 points per game. They only scored twice in the nine-game season. In 2021, the Warriors averaged just below 24 points a game at 23.8.
"The belief in each other and the brotherhood starting to form in our locker room — It has been amazing to watch," Griggs said. "You are starting to see that translate every day. I'm starting to see big boy football. I have a lot of high expectations for this team."
On defense, this team has nine returning starters. Griggs said he is excited for what this defense can do and what the new Defensive Coordinator Kendall Lacy has been doing. On offense, the Warriors are returning six starters from the No. 1 scoring offense in the region last year.
"On offense, we want to continue what we did last and continue to put points up on the board," Griggs said. "Our quarterback in Robert Calhoun, who from his sophomore year to his junior year, has taken leaps and bounds. There are sometimes I'm there at practice and I'm like, 'you look like a different animal.'"
Russell County saw some changes in its region this season with three teams moving out and three teams coming in. The four teams that left region 2 are Opelika, Lee, Eufaula and Valley high schools. The three teams that came into region 2 were Pike Road, Stanhope Elmore and Wetumpka. Griggs believes that this region did not get any easier with the addition of those three schools but became a gauntlet.
The Warriors start their season with a game at home against Harris County, Georgia. This is the tenth time that these two schools have faced Harris County, winning the last matchup 35-14 in 2018.