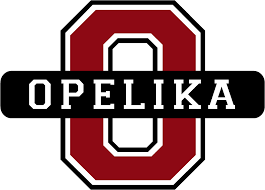 By Beth Pinyerd
For the Opelika
Observer
At the April 23 Opelika City School Board meeting, a resolution was presented to O.G.R.E.-Opelika's Greatest Robotics Engineers. The Opelika Robotics team was established in 2018 under the direction of Brenda Howell and lead mentor Matthew Zacune. OHS robotics competed in the Georgia Robotics Invitational tournament and Showcase in October 2018 and was selected by the #1 alliance and won first place. In February 2019, the OHS robotics competed in the 2019 FRC Palmetto Regional Tournament in Myrtle Beach, South Carolina. The team was awarded the Pit Safety Award and was selected as the #8 alliance advancing to the quarter finals.
In March 2019, the OHS Robotics team competed in the 2019 Rocket City Regional competition in Huntsville and was selected by the #2 Alliance, advanced to the championship round and won first place earning their invitation to the Houston World Championship 2019.
OHS Robotics represented Opelika at the First Robotics World Championship competition in Houston in April 2019 and spent three days competing with teams from all over the world.
The Opelika City School Board of Education recognized Brenda Howell, Mandi Edwards, Matthew Zacune and the 2018-19 OHS robotics Team, for the honor and pride they have brought to themselves, their families, Opelika High School, and our community.
Don Shirley was recognized as 2019 Outstanding Teacher of American History awarded by the Alabama Society of the Daughters of the American Revolution.
OHS senior Adam Cason was recognized as a National Merit finalist.
Unless otherwise posted, the Opelika City Schools Board of Education meets on the fourth Tuesday of each month at 4 p.m. at the Board of Education office located at 300 Simmons St.
For more information, visit www.opelikaschools.org.