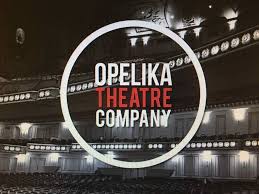 By Renee Messing
Observer Society
Reporter
Mary Burger (as played by Messing) here, Society Reporter for the Opelika Observer, as promised to guests attending the wedding of the year – "I'm Getting Murdered In The Morning" written by Lee Mueller, directed by Marty Coleman Moore and presented by The Opelika Theatre Company, here's the dirt on this fabulous production.
Guests arrived to the Southside Center for The Arts at 7 p.m., and after a rather lengthy introduction, we were informed of a delay in the wedding party's arrival. It seems along with several other details that were left unfinished, or frankly, completely ignored by the wedding director Betty Jean Johnston that there were issues with the limo.
Thank goodness Dr. John Roberts, chef de cuisine, was able to promptly serve a wonderful meal catered by Backwater BBQ.
The bride, Brenda Montugue, wore an interesting design by TJ MAXI in black and white while the wedding party of Harold Montugue – father of the bride, Benny Tutwaider – best man and Bunny Kelly – maid of honor, wore various creations of black, red and white. Appropriate for a fourth wedding. Of note, the mother of the bride Mildred Montugue chose a shocking red ensemble that raised a few eyebrows.
The groom, Eddie Joe Crock, held faithful to his roots and arrived in blue jeans, and the mother of the groom, Shelia Coquette, wore a black mini-dress that left nothing to the imagination.
One can only assume she herself may have been on the prowl. Her late husband, God rest His soul, must have been turning over in his grave!
Music was provided by DJ Brian Waldo with the assistance of Neil Niswender of Auburn Audio Visual much to the delight of the wedding guests, as it seemed that the DJ was preoccupied with some sort of spinach-eating contest.
Unfortunately, the festivities were interrupted by the demise of Al Martin, who was shot on the dance floor! Mr. Parker, head of security specializing in damage control, quickly assessed the situation (with my help of course) and the killer was soon discovered to be one of the waiters and was promptly removed from the premises. Soon after, dancin' and singin' and movin' to the groovin' continued.
The families would like to extend a special thank you to all the guest in attendance for your participation in this most unusual evening.
Until next time, this is Mary Burger, Society Scene reporter for the Observer.
Editor's note: This fictional article is a summary of Opelika Theatre Company's Saturday night murder mystery show. No one was injured in the production of this show.