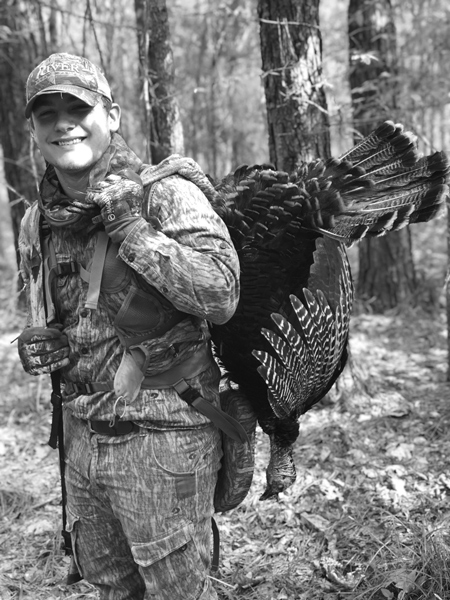 Photo submitted to the Opelika Observer
Special to the
Opelika Observer
With the close of another turkey season, Alabama Black Belt Adventures Association is excited to announce Reeltown resident and 14-year-old Jake Hornsby as this year's Big Gobbler Photo Contest Winner.
Jake's photo received 460 votes and edged out nearly 30 other contestants to claim the title. Additionally, the bird was Jake's first turkey which was called in by his father and harvested with his grandfather's Remington 870 making it a true experience they will never forget.
Jake and his father, Brandon hunt in Lowndes County and have been hunting together for 10 years. In recounting the story, Brandon noted "The one we ended up taking weighed 12 pounds, had a 4.5 inch beard and 1/2 inch spurs. There weren't any super tight expensive chokes, high end turkey loads or professional calling involved. Just a 14-year-old boy with an old, worn out, passed down shotgun with a factory full choke, some cheap Remington turkey loads and some amateur calling from his dad. When we went back to gather up all of our gear and head out, Jake looked at me with the biggest smile and said 'Daddy, I love deer hunting, but this turkey hunting…ain't nothing like it!'"
Jake has been awarded a National Wild Turkey Federation (NWTF) framed and doubled matted Lynch and Gibson turkey box calls print (limited edition) by Melissa Gayman Ball donated by the NWTF Alabama Chapter. He also received a newly released book titled "Memories of Spring" by avid outdoorsman Ron Jolly and wildlife photographer Tes Randle Jolly.
"Each year the region's hunters never fail to showcase some of the finest turkey hunting opportunities in the country with their successful hunts," said Alabama Black Belt Adventures Association Executive Director Pam Swanner. "Additionally, we know it's really the time afield with family and friends that's embedded in our outdoor heritage and traditions. Seeing young people experience the bounty of the Black Belt is one of the many reminders of why this region remains so special to so many."
This year's contest had just shy of 30 entries of successful turkey hunts throughout the Black Belt region. The contest was open throughout turkey season as a way to further educate the public on the abundance of natural resources found in Alabama's Black Belt region. To view all of the other contest entries visitwww.alabamablackbeltadventures.org.

About the association:
The Alabama Black Belt Adventures Association is committed to promoting and enhancing outdoor recreation and tourism opportunities in the Black Belt in a manner that provides economic and ecological benefits to the region and its citizens.