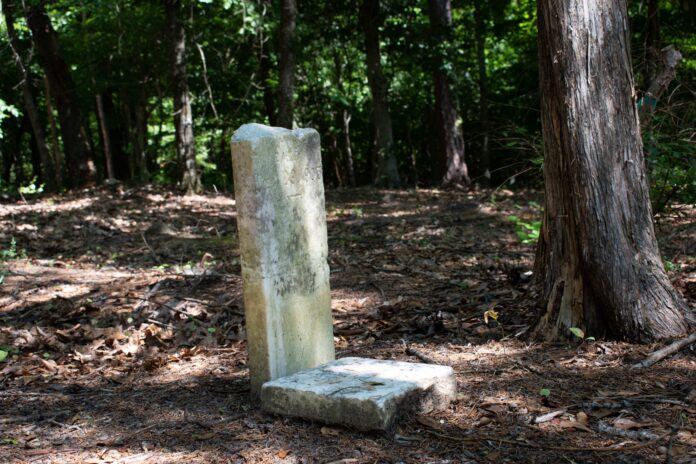 Resolution sought in Frederick Road land dispute
BY KENDYL HOLLINGSWORTH
KENDYLH@OPELIKAOBSERVER.COM
OPELIKA —
Alabama native Helen Keller once declared, "Alone, we can do so little; together we can do so much."
May is Historic Preservation Month, and with it came a continued fight to preserve and protect the historically designated George and Addie Giddens Cemetery in the 2500 block of Frederick Road.
Collaboration and cooperation have been key in ongoing efforts to reach a resolution in a dispute regarding development of the seven-acre parcel of land. Everyone involved is now one step closer to achieving that resolution following an on-site meeting to determine new plans regarding the space.
"Opelika wants to be progressive and grow, and with that growth comes development and properties and these historical spaces," said Carmilla Tindal, president of the Lee County Cemetery Preservation Commission. "Ultimately, there has to be a marriage and a compromise where that growth and progress can take place with the preservation, the protection and the respect and the dignity of our historical spaces in our communities."
Plans to purchase and develop the property were put on hold when a research team consisting of Auburn University professors, a former graduate student and the LCCPC determined the land was home to three burial sites.
"There's over 100 burials back there at Site 3, in what initially started as only 20 to 40 that we estimated," Tindal said. "And then the more we started to clear the land, the more indentions and fieldstones were found. Then the science just kind of came and backed it up."
Dr. Robert Bubb, Auburn University professor and the team's lead preservationist, said he began research on the sites about three years ago, but the situation garnered more attention from the community when Tindal posted about it on Facebook.
"It's been a whirlwind, but I'm happy about it because this is something that we battle all the time," she said. "… We've been talking for a couple years now about, 'How do we get eyes on the fact that these things are happening in our communities?' And a lot of times, it is us in secret going against really big development companies."
The land previously belonged to the Giddens family, but an out-of-state descendant sold it several years ago to Shey and Terri Knight. Recent city documents list the current landowners as the Knights and Walter and Theresa Lott.
The 7-acre property lies between a single-family home and a business. It is currently zoned as residential land, but following a recent public hearing, the area could soon be rezoned to office retail space if the council votes to approve the motion at a future meeting.
HISTORY
George Giddens, an African American and original owner of the property, was born around 1870 shortly after the end of emancipation. Later in life, he and his wife, Addie, came to own about 105 acres of land south of Pepperell Mill, as well as several other houses in Opelika, according to Bubb.
They purchased the property where the cemetery is in 1901.
"Landownership for African Americans at that time was rare," Bubb, who also founded Research to Preserve African American Stories and Traditions (rPAAST) said. "To have that much property was even rarer. The records that we have indicate that his and Addie's parents were likely sharecroppers. It was very difficult to be successful as a sharecropper, as the system typically kept workers impoverished. We do not know exactly how he afforded the properties, but it is clear that he was very successful at a fairly young age."
The Giddens family allowed burials on their property for those who could not afford plots in the segregated section of Rosemere Cemetery.
"George and Addie Giddens were successful during a time when society made it difficult for African Americans to get ahead," Bubb added. "In response to their success, they looked out to and after their community. … I think when we realize the blessings that we have received in our life journey, maybe we can also reach out to others and help them on their journeys like the Giddens did."
Both Tindal and Bubb spoke to the importance of learning about and preserving historical sites such as the George and Addie Giddens Cemetery.
"These are sacred spaces that deserve a certain amount of respect, and they deserve dignity," Tindal said.
"Hopefully, the overall community can recognize them as such," Bubb said. "… [Those interred] should be remembered and respected even if many lie in unmarked, unknown graves."
RESEARCH
Bubb said he was first alerted to the burial sites in 2018 by LCCPC member Edna Ward, who remembered them from her youth. However, it wasn't until 2019 that he was able to begin the research. Seven months later, he contacted Shey Knight and began physical work with his permission.
Later, Auburn University geosciences graduate student Hayden Malloch joined the team to assist in the research and develop a thesis on the burial sites. According to Tindal, Malloch used ground-penetrating radar (GPR) to locate more than 100 burials. Dr. Megan Buchanan, archaeologist and Auburn University associate professor of anthropology, as well as Auburn Assistant Professor of Geosciences Stephanie Shepherd Prater oversaw Malloch's research.
Of about 150 supposed graves found, the team identified three people buried there as far back as the early 1900s, each with a story and legacy of their own. The oldest, Viola Johnson, had a marked headstone — a rarity for African Americans prior to the 1920s, Bubb said.
As soon as they confirmed the burials, they set out to find descendants.
"The descendants are critical," Bubb said. "We do not decide how a cemetery is preserved, those in the descendant community need to make those decisions."
One of those descendants, Barbara Bethany, is the granddaughter of George and Addie Giddens. She has since contributed her voice to the research and been part of educational outreach about the cemetery. Tindal said she also chose its name.
In February 2022, Bubb submitted a nomination to the Alabama Historical Commission for the George and Addie Giddens Cemetery to be placed on the historic cemetery register. It was accepted later that month.
Communication between Bubb and Knight was consistent until late March 2022, according to Tindal's Facebook post. The team had made significant progress marking off Sites 1 and 2 and clearing them for GPR, but after communication halted, Tindal said a quick stop by the property revealed those sites had been "encroached upon" with heavy machinery. The work swept away valuable fieldstones and other surface-level indicators of graves.
"At this point, all trust is lost," she recalled. They feared the same would happen to Site 3, so Tindal took the matter to social media to raise awareness and "call people to action."
Bubb, Tindal and Buchanan all noted that a permit is required to make any changes to a historically designated site, including removing trees and repairing grave markers. Without a permit, these kinds of actions violate the Alabama Burial Act. A legal investigation is ongoing.
MOVING FORWARD
This month, those involved have amped up communication and met together to resolve the matter. They also created and signed an agreement outlining some conditions "to protect and improve the integrity of the three burial sites, while preserving the dignity and respect of the individual and familial legacies associated with all three sites."
The document was shared with the city council, according to Bubb.
"We met Monday morning (May 9) with members of the LCCPC and several members of the community," Knight said. "We had a positive meeting and agreed to work more closely with the goal of demonstrating how people can come together and achieve a common goal."
Also present at the meeting were developer Bryan Stone, owner of BC Stone Homes, LLC, and community leaders Billy Allen, Oscar Penn and John Andrew Harris.
Bubb, Tindal, Allen, Penn, Harris and LCCPC member Tiffany Hillyer all spoke in support of the land's rezoning during a public hearing that took place at the May 17 Opelika City Council meeting.
Harris recalled the "harmony, peace and understanding" that went into the meeting May 9.
"You can always have a good community when you have people come together," he said. "I didn't know what to expect, but when I went in there and everybody was … talking, coming to a consensus, that made me feel good."
Stone agreed, adding that he was happy to see people come together for the common goal of preserving the cemetery. Though the group has agreed on the new draft for development, he said plans won't be finalized until an archaeologist confirms the latest GPR findings.
"We basically designed the site around what we found," Stone explained. "There is one anomaly that we don't think we can design around that nobody thinks is a grave, but we have to verify it. And if turns out to be a grave, we're probably just going to stop from my standpoint. … I don't think I will purchase it."
Ward 2 and President Pro-Tem Councilwoman Erica Baker-Norris said the council was "saddened" when they heard about the dispute, but glad the group was moving toward a resolution.
Knight added that they are also seeking input from the descendants on how to preserve the space.
"Moving forward with this space, I believe that Shey Knight and Mr. Bryan Stone do have the best of intentions and that we can work together, and this can serve as a model in our community moving forward," Tindal said.
"I am remaining hopeful for redemption here. I don't think we are so far gone that we can't come back from it."