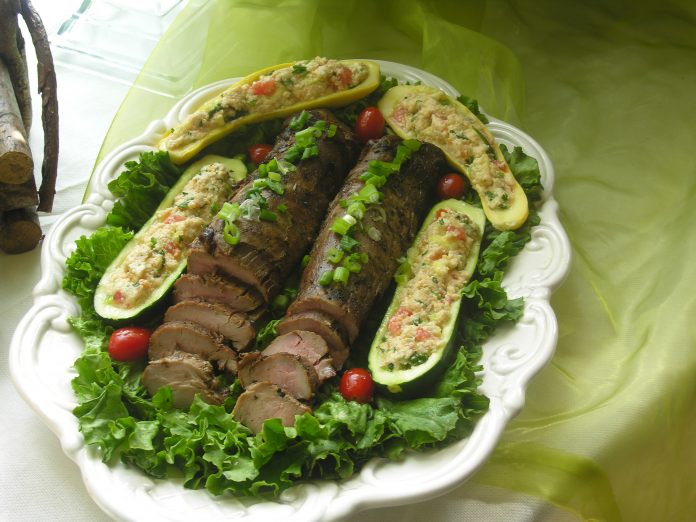 By Ann Cipperly
"Summer afternoon- summer afternoon, to me those have always been the two most beautiful words in the English language." Henry James
As the sun lowers on the horizon, serve an easy, make-ahead supper to family and friends, featuring farm fresh vegetables. Plan a menu with an entrée that can be marinated a day ahead and simply grilled or baked. Select a dessert that can be prepared a couple of days in advance, such as an ice cream dessert that is quickly assembled and provides a refreshing ending to a summer meal.
If you don't grow your own vegetables, there are several options for purchasing farm fresh. The Opelika Ogrows Market on Tuesday afternoons offers produce and freshly baked items, while the year round Opelika Farmers Market on South 10th Street and the Parkway Farmers Market in the Pepperell Village have abundant produce. George's Market is located outside Opelika on Highway 431 and features meats and a variety of prepared foods.
Opelika's locally owned grocery store, Wright's Market, is also a popular location for fresh meats, produce and other items.
Pork tenderloin is a favorite entrée at our house, as it is easy to prepare, low in fat and cooks well on the grill or in the oven in a short amount of time. Now that all our children are living in other areas, they always request pork tenderloin when they visit.
While we use several pork tenderloin recipes, Debbie Whitney's recipe is popular with a marinade of balsamic vinegar, brown sugar, soy sauce and garlic. Trim the silver lining from the pork before marinating. Whether you grill it or bake it in the oven, be sure to let it rest 10 minutes before slicing or all the juices will run out, making the pork dry.
We also like Chef David Bancroft's Smoked Gouda and Rosemary Stuffed Pork Tenderloin served with an optional Mango-Chili Sauce. The pork is spread with a rub and stuffed with grated smoked Gouda, crumbled Sister Schubert rolls, basil and rosemary.
While Chef Bancroft serves his pork dish with a sweet potato hash, Oven Roasted New Potatoes are an easy accompaniment to either pork dish. Don't peel them, simply drizzle with olive oil and sprinkle with salt before baking. Pepe Cope adds fresh chopped rosemary to potatoes before roasting. She and her husband also cook fried okra on the grill burner as an appetizer while the meat cooks.
For an easy appetizer, serve fresh figs filled with a cube of cheese and baked. It is so easy, looks attractive and tastes yummy. I have been experimenting with a gallon of fresh figs I recently purchased. The Bacon Wrapped Figs Stuffed with Goat Cheese is also good.
Another option is a cheese tray with toasted squares of sour dough bread and sliced figs or fig preserves. A dish of toasted nuts is a tasty addition. Instead of serving crackers with cheese, I brush squares of sour dough or French bread with olive oil and bake at 375 for about ten minutes or until crispy. It goes much better with a cheese tray than purchased crackers.
With squash being abundant at the markets, select a recipe to serve as a side to pork. Stuffed Zucchini and Squash, Baked Stuffed Yellow Squash or Sunny Squash Pie are good choices. Carolyn Dudley's Green Tomato Casserole also provides a flavorsome side. It is a great way to serve green tomatoes without frying.
For a refreshing cap to supper, keep the Chocolate Ice Cream Dessert or Banana Split Pies tucked in the freezer. If you don't have time to assemble a dessert, serve vanilla ice cream topped with sliced fresh peaches.
As dusk falls, light candles and linger a moment longer to savor a summer evening, with good food and friendship.
Ann Cipperly can be contacted at recipes@cipperly.com.
Recipes:
Fresh Figs and Cheese
Fresh figs
Goat cheese or blue cheese
Cut an x on the top of figs. Place a small piece of cheese into the figs. Bake at 350 for 8 to 10 minutes until cheese is soften.
Bacon Wrapped Figs Stuffed with Goat Cheese
Jana Gwin
½ lb. bacon, sliced thin or prosciutto
1 pint fresh figs, dried figs or dates
4 oz. goat cheese, blue cheese or Manchego
Salt
Preheat oven to 350 degrees.
Lay bacon onto a baking tray and bake in oven for 5-10 minutes, just until bacon starts to brown but is not yet crispy. Pull from the oven and let cool.
While bacon is cooking, cut a small x in the bottom of each fig. Sprinkle a tiny pinch of salt into the fig and then stuff a little piece of cheese into the middle of fig.
Wrap each fig with bacon, starting by covering the x cut into the bottom to prevent cheese from leaking out. Secure bacon with a toothpick. These can be made up to 2 days in advance.
When ready to serve, heat oven to 450 degrees and roast figs in oven for 5 minutes or until bacon is crispy. Remove from oven and let cool for 5 minutes before serving.
Baked Fig Crostini
4 oz. chopped cooked bacon, optional
4 oz. crumbled goat cheese, softened
2 Tbsp. finely chopped toasted pecans
12 fresh figs
1 Tbsp. honey
Toasted baguette slices
Preheat oven to 350°. Stir together bacon, softened goat cheese and finely chopped toasted pecans. Cut figs in half. Press back of a small spoon into centers of fig halves, making a small indentation in each. Spoon bacon mixture into indentations. Bake on a baking sheet 7 minutes. Drizzle with honey. Serve immediately with toasted baguette slices.
Grilled Pork Tenderloin with Balsamic Glaze
Debbie Whitley
1/2 cup soy sauce
1/4 cup balsamic vinegar
4 cloves garlic, minced
1/4 cup brown sugar
Mix all of the marinade ingredients together and pour into a large Ziplock type bag or 9 x 3-inch dish. Place tenderloins in bag and squeeze out as much air as possible before sealing. Place bag or dish in the refrigerator and marinate overnight.
Remove tenderloins from marinade about 30 minutes before you are ready to grill. Heat grill to medium heat.
Grill pork, turning often, until an internal temperature of 150 is reached. Pork will continue cooking while resting.
Allow tenderloin to rest on a platter for about 10 minutes or longer before slicing for juices to redistribute.
Note: Instead of grilling, you can bake the pork in a 375 oven for about 40 minutes or until desired doneness. Remove pork from marinade and roast on cooking sheet.
Smoked Gouda and Rosemary Stuffed Pork Tenderloin
Chef David Bancroft
2 lbs. trimmed and rolled-out pork tenderloin (approx. 2 loins)
Pork Loin Spice Rub:
¾ Tbsp. kosher salt
1 tsp. black pepper
1 tsp. garlic powder
½ tsp. cinnamon
Stuffing:
10 oz. smoked Gouda (grated)
4 crumbled sister Schubert rolls
½ cup chopped basil
1 minced rosemary sprig
2 Tbsp. extra virgin olive oil
1 tsp. allspice
1 tsp. kosher salt
Preheat oven to 425°. Add Gouda, bread crumbs, fresh herbs, olive oil, allspice, and salt to a mixing bowl. Using your hands, crumble the mixture together until the olive oil is evenly mixed through the stuffing. Roll out one pork loin long ways from left to right on prep surface. Separate the stuffing into two portions. Starting from the top, begin spreading the stuffing one inch away from the top edge. Evenly distribute the stuffing and press gently to tamp it down.
Starting from the bottom, begin rolling the pork loin towards the top. Using butchers twine, tress the loin tightly. Repeat with second loin. Place each roast onto greased baking sheet. Sprinkle spice rub evenly onto both pork loins.
Bake in oven for 18-20 minutes or until center temperature reaches 150°. Remove from oven and allow roast to rest for 5 minutes before removing twine. Slice roast into desired thickness and serve with jam, if desired.
Mango-Chili Jam (optomal)
1 cup frozen mangos
2 diced jalapenos
2 diced garlic cloves
1 Tbsp. olive oil
½ cup white wine vinegar
1 Tbsp. sugar
¾ cup water
½ Tbsp. kosher salt
Heat oil in small sauce pot. Add jalapenos and garlic and sauté gently for 20 seconds. Add mangoes, vinegar, and sugar and simmer for 5 minutes. Add water and salt and simmer 3 minutes. Remove from heat and puree mixture until smooth.
Stuffed Zucchini or Squash
2 zucchini or squash
2 tomatoes, seeded and chopped
2 green onions, chopped
2 Tbsp. fresh parsley
2 cloves garlic, minced
½ cup breadcrumbs
1 cup Parmesan cheese, divided
2 Tbsp. olive oil
Salt and pepper to taste
Slice zucchini into halves lengthwise; scoop out enough of the pulp to form a shell. Reserve 6 Tbsp. of pulp.
Combine reserved pulp with remaining ingredients, using half of Parmesan cheese.
Stuff shells with filling; top with remaining Parmesan cheese. Place on greased baking dish. Bake at 350 degrees for 30 minutes.
Roasted New Potatoes
Pepe Cope
1 bag small red potatoes
Extra virgin olive oil
1½ Tbsp. fresh rosemary, chopped (optional)
1 tsp. seasoned or kosher salt
Quarter potatoes; place in 9 x 12 pan. Drizzle with olive oil and sprinkle with rosemary and salt. Roast at 400 degrees for 45 minutes.
Fried Okra on the Grill
Pepe Cope
We cook fried okra on the grill burner as an appetizer while cooking the meat.
Fresh okra
1/2 cup milk
1/2 cup plain flour
1/2 cup corn meal
1/2 tsp. salt
Slice okra into about 10 pieces. Soak okra in milk for 10 minutes. Combine dry ingredients; coat okra. Put okra one piece at a time in hot oil on grill burner. Fry until golden brown. Remove to drain and salt to taste immediately.
Baked Stuffed Yellow Squash
Dell Chester
8 medium yellow summer squash
½ cup finely chopped onion
½ stick butter
2 tsp. Worcestershire sauce
½ cup dry breadcrumbs or crushed croutons
1 egg, slightly beaten
Salt and pepper to taste
Italian five shredded cheese (Kraft)
Sliced cherry tomatoes
Cook unpeeled squash in boiling salted water until just tender; drain and cool. Cut off stem ends. Lay squash horizontally and cut off ½ inch thick slice. Carefully scoop out flesh, leaving shell intact. Chop together coarsely the cut off stem (not green part), the top slice and scooped out filling. Drain well.
In a heavy skillet, melt butter. Sauté onion until tender. Stir in squash and breadcrumbs. Season lightly with salt and pepper. Remove from heat, cool slightly. Stir in beaten egg and Worcestershire sauce. Stuff squash. Layer a few sliced cherry tomatoes on top and sprinkle with cheese.
Place on greased baking sheet. Cool and refrigerate until ready to bake. Bake at 350 degrees for 20 to 25 minutes. Makes 8 servings.
Green Tomato Casserole
Carolyn Dudley
5-6 green tomatoes
Salt and pepper to taste
1 cup grated Cheddar cheese
1 stick butter
Cracker crumbs
Remove stems and core from tomatoes; cut tomatoes into thin slices. Butter casserole dish. Layer half of tomatoes in casserole dish, and sprinkle with salt, pepper and ½ cup cheese; dot with half the butter. Repeat layers. Cover with cracker crumbs. Dot with remaining butter. Cover dish and bake at 400 degrees for 40-45 minutes.
Sunny Squash Pie
Mary Ann Swanson
1 (6-oz.) can refrigerated crescent rolls
2 tsp. Dijon mustard
¼ cup butter or margarine
4 cups (1 ½ lb.) yellow squash
1 onion, chopped
1 garlic clove, crushed
¼ cup fresh parsley
½ tsp. each dried basil, oregano, thyme
Salt and pepper to taste
2 eggs
¼ cup milk
2 cups shredded mozzarella cheese
Preheat oven to 375 degrees. Unroll crescent rolls; press into a 10-inch tart or pie pan, sealing seams. Bake for 6 minutes or lightly browned. Gently press crust down with a spoon. Spread crust with mustard; set aside.
Sauté squash, onion and garlic in butter until tender. Stir in herbs; set aside. (If using fresh herbs, triple amount.) Whisk together eggs and milk; stir in cheese and squash mixture. Pour over crust.
Bake at 375 for 20 minutes or until a knife inserted in center comes out clean.
Chocolate Ice Cream Dessert
Jennifer Jones
1 package Oreo cookies
1 ½ sticks butter
1 ¾ cup powdered sugar
1 can evaporated milk
1 cup semi-sweet chocolate chips
1 tsp. vanilla
½ gallon vanilla ice cream
Crush cookies and mix with ½ stick softened butter. Press into a greased 9 by 13 inch dish. Chill for one hour.
On medium heat, mix powdered sugar, evaporated milk, chocolate chips, vanilla and 1 stick butter. Bring to a boil for eight minutes, stirring constantly. Cool completely.
Scoop ice cream into small pieces and pat over cookie mixture. Pour cooled sauce over ice cream. Return to the freezer.
Remove dessert from freezer about 15 minutes before serving. Cut in squares. Garnish with a strawberry or cherry. Makes 10 to 12 servings.
Banana Split Pies
Virginia Beck
2 deep-dish pastry shells, baked and cooled
4 to 6 bananas
1 Tbsp. lemon juice
1/2 gallon Neapolitan ice cream
8 oz. whipped topping
Chocolate sauce
Caramel sauce
Chopped nuts
Maraschino cherries, chopped
Thinly slice bananas; sprinkle with lemon juice and arrange on
bottom of baked pastry shells. Soften ice cream slightly and
spread over bananas. Freeze until firm.
Spread whipped topping over ice cream. Drizzle with chocolate sauce and/or caramel sauce. Sprinkle with nuts. Top with chopped cherries. Freeze until firm. Remove from freezer for about 15 minutes and cut into pie servings. Refreeze. Let stand about 15 minutes before serving.
Grilled Vegetables with Lemon Mustard Sauce
1 stick butter, sliced
1/3 cup chopped shallots or onions
1/4 cup olive oil
3 Tbsp. Dijon mustard
2 Tbsp. fresh lemon juice
2 Tbsp. chopped fresh thyme
Vegetables
2 ears fresh corn, cut crosswise into 4 pieces
1 eggplant, sliced into thick rounds
1 red onion, sliced into wedges
1 red and green bell pepper, seeded, cut lengthwise into strips
1 zucchini or yellow squash, quartered lengthwise
10 or more asparagus spears
Combine basting ingredients in saucepan; stir over medium heat until butter melts.
Brush sauce over vegetables. Grill until tender and lightly charred, about 6 minutes, brushing occasionally with sauce. Season with salt and pepper.
Heat remaining sauce. Serve with vegetables.