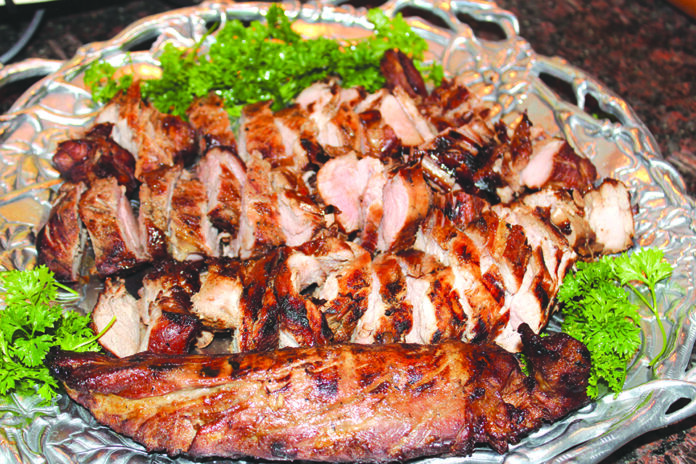 Labor Day traditionally signals the end of summer, and for our area, it is also the beginning of an exciting football season with the Auburn Tigers' first game Saturday against Mercer. It will be a busy weekend with tailgating and cookouts. Be sure to plan on plenty of good food from appetizers to desserts.
For a cookout, pork tenderloin has become our standby over the years. While it is a tender cut of meat, marinating it enhances the tenderness and infuses tantalizing flavors.
Pork tenderloin is generally packaged in twos, but sometimes you can find individual ones. Be sure you are getting pork tenderloin and not pork loin, which is not as tender and takes longer to cook.
Before marinating the pork tenderloin, cut the silver lining off to be sure the meat is absorbing the flavors of the marinade. Plan to marinate the pork overnight for the most intense flavors.
One of our favorites is a marinade adapted from one Chris Adams shared years ago. Our family will request this often when they visit. I have experimented with the recipe over the years to be able to cook it in the oven if the weather is too bad for grilling out.
Since everyone likes the flavor of the marinade, sometimes I will measure an extra amount in a container to heat for a few minutes and drizzle a little over the cooked meat or serve it on the side. If doing this, be sure to use low sodium soy sauce. Other times, I will serve Martha Hicks' Apricot Mustard Sauce on the side. This is also good for making sliders with leftover pork.
I never use the marinade from the meat except sometimes when I am cooking the pork in the oven. I will brown the meat in a little oil in a skillet on the stove top. When the meat is brown, sometimes I pour in a little of the marinade in the skillet and let it boil for a few minutes. Then the meat with the marinade is placed in the oven and baked until desired doneness. That creates a nice sauce with it.
Other times, after I brown the meat in the skillet, I will not add any marinade before baking. I prepare it this way if I am making sliders and can't grill the meat.
Of course, the easiest way to cook the pork tenderloin is on a grill, turning it until it is brown on all sides. Whether you grill the pork or cook it in the oven, it is important that you let the meat rest for 15 minutes before slicing for juices to redistribute. Otherwise, all the juices will run out, leaving the pork dry. Set a timer to be sure you have let it rest long enough.
As the pork grills, it fills the patio with aromas of caramelizing brown sugar, ginger and garlic as it glazes the meat.
Another delectable pork tenderloin is Debbie Whitley's recipe, served with or without the plum sauce. The recipe is similar to the other one, except Whitley's marinade uses balsamic vinegar instead of red wine vinegar, and it doesn't use ground ginger.
Bobbie Umbach's recipe is for grilled pork tenderloin or pork chops. She makes a tasty mustard sauce ahead of time and serves it on the side with the pork for a delicious dish.
Check out all of the recipes for pork tenderloin to see which one suits your family's taste. Select from the tasty sides and desserts for a wonderful meal on Labor Day.
Labor Day is observed the first Monday in September. The holiday was created by the labor movement in the late 19th century and became a federal holiday in 1894. Labor Day is a time set aside to pay tribute to American workers.
With the upcoming busy weekend, the recipes also feature a selection of appetizers for tailgating or watching the game at home. Enjoy a relaxing weekend with family and friends as you savor delicious meals.
Magnificent Shrimp Dip
Kelly Cox
This dish works best if layered in a bundt or tube pan. Coat the pan with cooking spray. Layer the pan the following manner:
Layer 1 on bottom of pan – ½ lb. mozzarella cheese
Layer 2 – small shrimp (cocktail shrimp works well but use your judgment) Use as much as will cover the cheese.
Layer 3 – 1 bottle of cocktail sauce
Layer 4 – In a separate bowl mix together:
Two 8 oz. pkgs. cream cheese
4 Tbsp. Worcestershire sauce
Tabasco to your liking
Garlic salt to your liking
Pour this mixture on as the fourth layer.
Diced tomatoes, green onions for garnishing before serving
Cover pan and allow chilling overnight. When ready to serve, invert pan onto serving tray.
Garnish with diced tomatoes and sliced green onions. This dip works best with a heavy cracker. Your guests will enjoy it. There will not be leftovers.
Artichoke-Red Pepper Cheese Spread
Rose Ann Denson
This is a hearty appetizer that looks as good as it tastes.
Two 8 oz. pkgs. cream cheese, softened
1/4 cup finely chopped green onion tops
14 oz. can artichoke hearts, drained and finely chopped
1 cup freshly grated Parmesan cheese
2 garlic cloves, pressed
2 Tbsp. olive oil
1 Tbsp. lemon juice
1/2 tsp. ground red pepper
3/4 cup bottled roasted red bell peppers, drained and chopped
Stir together cream cheese and green onion tops, blending well. Set aside. Stir together artichoke hearts and next five ingredients.
Spread one-third cream cheese mixture on bottom of 4-cup glass bowl lined with plastic wrap. Layer with half of chopped roasted bell peppers, 3/4 cup artichoke mixture and one-third cream cheese mixture. Repeat layers with remaining chopped roasted bell peppers, artichoke mixture and cream cheese mixture. Cover and chill at least 2 hours. Invert onto a serving plate and remove plastic wrap. Garnish as desired.
Steakhouse Spinach and Artichoke Dip
1 tsp. oil
¼ cup chopped red onion
14 oz. can artichoke hearts, drained
2 cups mayonnaise
½ cup sour cream
¾ cup shredded Monterey Jack cheese
2 Tbsp. lemon juice
1 Tbsp. minced garlic
Dash hot pepper sauce
10 oz. pkg. frozen chopped spinach, thawed and drained
¼ cup grated Parmesan cheese
¼ cup diced tomatoes for garnish, optional
Tortilla chips, corn chips or crackers for serving
Preheat oven to 350 degrees. Sauté onion in oil; set aside. Chop artichoke hearts. Combine remaining ingredients except Parmesan cheese and tomatoes. Add onion and artichoke hearts to mixture; blend well.
Pour into a greased baking dish. Top with Parmesan cheese. Bake until bubbly, about 20 minutes.
Garnish with diced tomatoes. Serve with tortilla chips, corn chips or crackers. Can be prepared ahead, refrigerated and baked.
Grilled or Oven-Baked Marinated Pork Tenderloin
Recipe is easy to double or triple
1 pkg. pork tenderloins
Marinade:
1/3 cup soy sauce
1/4 cup brown sugar
2 cloves garlic, minced
1 tsp. ground ginger
2 Tbsp. red wine vinegar
Combine marinade ingredients in glass dish; add pork. Refrigerate overnight.
Grill Method: Cook pork on grill for about 30 to 40 minutes or until desired doneness. Allow to rest 15 minutes before slicing. Good served with Martha Hicks' Apricot Mustard Sauce.
Oven Method: Preheat oven to 350 degrees. Drizzle a little oil in a skillet and brown pork. You can then put it in the oven until desired doneness or you can pour some of the marinade in the skillet and bring to a boil. Place pork and marinade in baking dish and bake for about 25 minutes or until desired doneness. If cooking with the marinade, be sure to use low sodium soy sauce.
Allow pork to rest 15 minutes before slicing. Serve with sauce drizzled over pork or serve on the side.
Pork Tenderloin Sliders
Grilled or oven-roasted pork tenderloin, sliced
Martha Hicks' Apricot Mustard Sauce
Hawaiian sweet rolls or Sister Schubert's yeast rolls
Slice rolls and heat. It is easier to slice rolls before baking instead of slicing while hot.
Spread apricot mustard sauce on rolls. Top with warm pork tenderloin.
Martha Hicks' Apricot Mustard Sauce for Pork Tenderloin
1 small jar apricot preserves or orange marmalade
¼ cup grainy mustard
¼ stick butter
Lemon juice
Heat all together until butter is melted. Serve with pork.
Grilled Pork Tenderloin with Plum Sauce
Debbie Whitley
Hunter's favorite recipe. This is good with or without the Plum Sauce.
1 – 2 lb. pork tenderloin (2 tenderloins)
1/2 cup soy sauce
1/4 cup balsamic vinegar
4 cloves garlic, minced
1/4 cup brown sugar
Mix all of the marinade ingredients together and pour into a large Ziplock type bag. Place tenderloins in bag and squeeze out as much air as possible before sealing. Place bag in the refrigerator and marinate for at least an hour, up to 24 hours.
Remove tenderloins from marinade about 30 minutes before you are ready to grill.
Heat grill to medium heat.
The key to properly grilling pork tenderloin is to evenly cook the pork through by grilling each of the four sides.
Once grill is heated, grill first side for around 15 minutes (times vary per grill, you are looking for a nice crust to form, but not too much charring!).
After 15 minutes, roll tenderloin onto the next side and grill for another 15 minutes.
Allow tenderloin to rest on a platter for about 10 minutes before slicing for juices to redistribute.
Plum Sauce
3/4 of a 16 oz. jar plum jam
2 Tbsp. vinegar
1 Tbsp. brown sugar
1 Tbsp. dried minced onion
1 tsp. crushed red pepper flakes
1 clove garlic, minced
1/2 tsp. ground ginger
In a saucepan over medium heat, combine all ingredients. Bring to a boil, stirring. Serve Hot.
Grilled Pork Chops or Pork Tenderloin with Mustard Sauce
Bobbie Umbach
6 large thick pork chops or pork tenderloin
1 tsp. salt
¼ tsp. pepper
½ cup lemon juice
½ cup olive oil
2 Tbsp. chopped parsley
½ tsp. sage or thyme
1 garlic clove, mashed
1½ cups heavy cream
¼ tsp. salt
1/8 tsp. pepper
1 tsp. dry mustard
2 Tbsp. tomato paste
½ tsp. Worcestershire sauce
2 Tbsp. fresh basil leaves
Rub pork chops or tenderloin with salt and pepper. Mix lemon juice, olive oil, parsley, sage or thyme and garlic together and pour over meat. Marinate at least 4 hours or overnight, turning several times.
Simmer cream, salt and pepper in a saucepan for about 10 minutes or until it is slightly reduced. In a bowl, beat mustard and tomato paste together. Beat in hot cream and Worcestershire sauce. Refrigerate.
When ready to cook, pat pork dry and grill over hot charcoal until done. While chops are grilling, gently reheat sauce and add basil.
Serve immediately and pass reheated mustard sauce separately. Makes 6 servings.
Marinated Pork Tenderloin
Leese Street
2 pork tenderloins
Marinade:
1/2 cup peanut oil
1/3 cup soy sauce
1/4 cup red wine vinegar
3 Tbsp. lemon juice
2 Tbsp. Worcestershire Sauce
1 clove garlic, crushed
1 Tbsp. chopped fresh parsley
1 Tbsp. dry mustard
1 1/2 tsp. pepper
Combine marinade ingredients. Place marinade and pork in Ziplock bag. Marinate overnight.
Grill pork about 12 to 14 minutes, turning once, or until desired doneness. Let rest 15 minutes before slicing. Serves 6.
Moriah's Bacon Potato Salad
8 small potatoes
1 lb. bacon
½ red onion
2 Tbsp. dill relish
3 eggs
½ cup Ranch dressing
Prepare homemade ranch dressing and refrigerate. Peel and cut potatoes; boil potatoes in water until tender. Drain water and refrigerate.
Boil eggs for 12 minutes and let cool before peeling.
Cook bacon and cut in small pieces.
Chop onion and eggs. Mix all ingredients and refrigerate until ready to serve.
Pear-Blue Cheese Salad
Lucinda Samford Cannon
1 (10-oz.) bag mixed field greens
1/2 sliced red onion
1 pear, cored and sliced
1/2 cup chopped candied pecans
1/2 cup crumbled blue cheese
Strawberries
Dressings:
1/4 cup maple syrup or honey
1/3 cup apple cider vinegar
1/2 cup mayonnaise
2 Tbsp. packed brown sugar, optional
3/4 tsp. salt
1/4 tsp. freshly ground black pepper
1/4 cup olive oil
(If too sweet for your taste, add 1 tsp. Dijon mustard.)
Place salad greens in a large bowl. Add red onion, pear, pecans, blue cheese and strawberries and toss to mix evenly.
Dressing: Combine syrup, honey, vinegar, mayonnaise, brown sugar, salt and pepper in a blender, and blend thoroughly. With motor running, slowly pour in olive oil. Blend until mixture becomes creamy, about 1 minute.
Pour over salad mixture, and toss to coat greens evenly. Serve immediately. Serves 6.
If you need to serve more, double salad but no need to double the dressing.
Fresh Corn, Tomato and Mozzarella Salad
Jamie Flick
4 ears fresh corn on the cob, cleaned and washed
1 (10.5 oz.) pkg. grape tomatoes, halved
8 oz. fresh mozzarella, cut into bite-size pieces
10 basil leaves, chiffonade (roll leaves and slice thinly)
1/4 cup fresh lemon juice
1/4 cup extra virgin olive oil
2 garlic cloves, minced
1/2 tsp. kosher salt
1/2 tsp. fresh ground coarse black pepper
Cut corn off cob; place into a medium mixing bowl. Add tomatoes and mozzarella. Sprinkle with basil. Set aside.
Add fresh lemon juice, olive oil, garlic, salt and pepper to a pint size canning jar. Shake to combine. Pour dressing over salad. Toss to combine and then serve.
*If you are traveling with this salad or making ahead, you can prep the salad and dressing, and wait to pour dressing over salad until ready to serve. Refrigerate until ready to serve.
Carol's Potato Salad
Jamie Flick
5 lbs. red potatoes
4 celery stalks, diced
2-3 Tbsp. grated onion
1 1/2 cup Hellman's mayonnaise
Salt and pepper, to taste
1 to 3 Tbsp. bread and butter sweet pickle juice
Boil potatoes and let cool. Peel and slice them very thin.
To make dressing, mix together mayonnaise, salt and pepper. Add sweet pickle juice one tablespoon at a time until it makes a creamy consistency.
Add dressing to potatoes to just coat. Don't overdo it. Extra dressing can be saved in the refrigerator for another batch.
Refrigerate overnight.
Key Lime Mini-Tarts
Lynn Carter
1 can sweetened condensed milk
1/2 cup key lime juice
8 oz. frozen whipped topping, thawed
4 pkg. frozen mini phyllo dough shells
Raspberries, optional
Beat milk and lime juice in large bowl with electric mixer on medium speed until smooth and thickened. Fold in whipped topping.
Spoon heaping teaspoonful lime mixture into each phyllo shell. Cover and refrigerate tarts at least 1 hour but no longer than 24 hours.
Garnish with raspberries. Makes 60.
Chocolate Pies with Meringue
Bake two piecrusts and cool
Filling:
3 cups sugar
2 Tbsp. self-rising flour
3 heaping Tbsp. cocoa
2 large cans evaporated milk
1 stick butter or margarine
6 egg yolks
1 tsp. vanilla
Mix dry ingredients together well in a boiler. Add milk, margarine and beaten egg yolks. Cook on medium heat until thick. Remove from heat and add vanilla; beat well. Pour into cooled piecrusts and cover with meringue.
Bake at 350 degrees until meringue is brown.
Meringue Topping:
6 egg whites
6 tsp. sugar
¼ tsp. cream of tartar
1 tsp. vanilla flavoring
Beat until stiff; spread over pies.
Cheese Ball
Bobbie Umbach
1 lb. Wisconsin cheese, grated (sharp cheddar cheese)
8 oz. pkg. cream cheese, softened
½ small onion, finely chopped
1 Tbsp. Worcestershire sauce
5.5 jar chopped stuffed olives
1 tsp. chili powder
Dash cayenne pepper
1 cup chopped pecans
1 Tbsp. chopped parsley
2 Tbsp. paprika
2 Tbsp. chili powder
Blend cheeses with electric mixer; add onion, Worcestershire sauce, olives, 1 tsp. chili powder, cayenne pepper and pecans. Mix until smooth and then add parsley.
Let chill, then shape cheese into a ball and roll in a mixture of paprika and 2 Tbsp. chili powder. Wrap airtight and refrigerate. Can be frozen. Serves approximately 30.